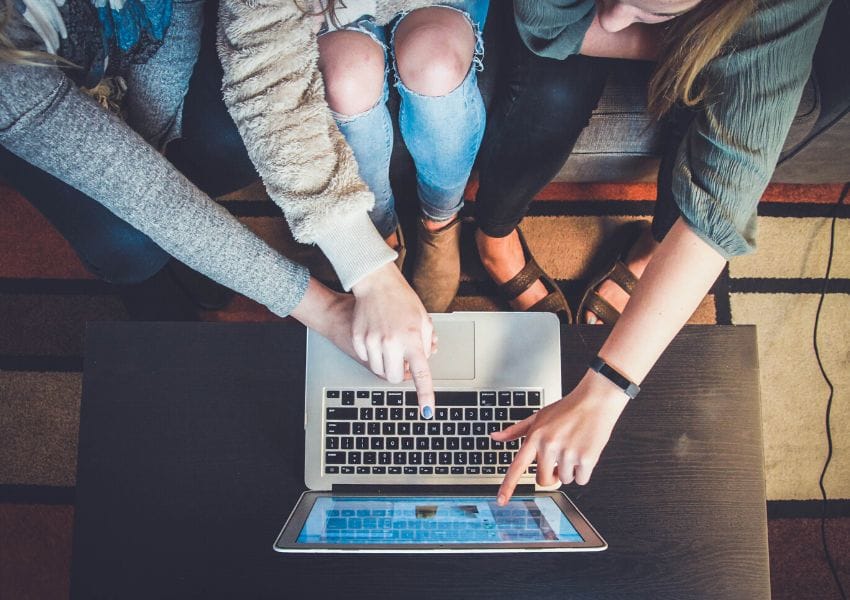 There are a lot of elements that go into hosting a successful event: setting goals, tons of planning, and our personal favorite, promotion and marketing. While there are a lot of different ways to promote your event, it's important to give it a "home" with a website. And a good Search Engine Optimization (SEO) strategy will help increase the visibility of your site. We have broken down 10 ways to increase traffic to your website using SEO.
Focusing on your website's SEO can help increase the traffic to your page through a simple online search. A well-optimized website can drive a ton of traffic from search engines like Google, and for no cost. 
Your SEO strategy can even help you connect with people who're specifically searching for your website or event. When we run paid ads, we put our event in front of people who may or may not be interested. But if people are searching for your event on search engines, that means they're interested in your event which can lead to a higher conversion rate. 
SEO is a broad field and there are a lot of strategies, research, and work involved. In this blog, we will share a few "do's and don'ts" for you to keep in mind when creating a search engine optimized website.
6 things to implement for a SEO savvy website
Keyword Research

Meta Tags Optimization

Structured Data

Quality of the Content

Linking

Social Share
4 things to avoid that could hurt the SEO for your website
Duplicate Content

Keyword Stuffing

Paid bad backlinks

Abusing Structured Data
No matter the event, there will be certain keywords connected to it. Those specific words should be sprinkled throughout your website, description, and title. Can you imagine how challenging it may be to find a website about a wine event if the word "wine" is nowhere on the site? There are several tools that you can use to perform your keyword research. The trick is to do some keyword research and find ones that have a good search volume and are low in competition. Some useful tools are Keywords Everywhere and Ubersuggest. 
And while some people may still plug in keywords to find what they are looking for, some people opt to use the voice search capability on their phone. That means your website will need to provide concise answers to questions like, "What is there to do tonight?" 
It's estimated that by the end of 2020, more than 50% of the searches will be initiated by voice; therefore, you should adapt quickly, according to Cardinal Digital Marketing. 
Similar to structured data, meta tags provide search engines with specific data to increase your ranking in search results. Specific meta tags like the title and meta description show up during searches and provide people with a brief overview of what your website and its content is about. Meta tags are also visible during social shares. The title should average 55 characters and should include keywords specific to your content. The meta description, on the other hand, should be around 165 characters and provide users with a brief overview of your content while remaining concise. 
Within the body of your website, you should include header tags. In addition to headers, break up large bodies of text so it can help search engines determine what specific sections of your website is about and rank its importance. Pictures should also have meta tags, also known as alt text. The alt text describes the visual content of pictures on your website which is a great way to improve your SEO and appear at the top of search results.
Structured data is a standardized formula used to help search engines categorize your event page. It can enhance your website ranking on search results, which in turn will enhance your click-through rate (CTR). 
Specific data and words can help search engines like Google and Yahoo display your website alongside other similar search results. For example, if your website includes information like the date, time, location, and name of your event, it will likely show up at the top of a search result. 
Information that's plugged into the structured data will also allow people to view your event using specific keywords that appear on your page. You should also be aware of the structured data guidelines to ensure your website is eligible for Google searches. 
It goes without saying that most people are attracted to websites that are user-friendly, eye-catching, but also helpful and useful. High-quality pictures and using a trusted content management system to host your website will ensure you don't lose any customers. 
Websites that look like they could be potential spam or not maintained may fall victim to turning guests away unintentionally. Event planners can maintain quality content by striving to give resourceful information like parking, map of the area, reminders, and expected weather. 
Backling to other websites that are relevant to your event will improve your visibility in search results. You could link back to sites where guests can purchase their tickets or link back to sites like Facebook, where they can RSVP. 
And while backlinking is very important, having other websites link back to your website is just as important. Try reaching out to other businesses or promoters who could feature your event and link back to your site.
As mentioned earlier, you can link back to Facebook, but don't underestimate the value of sharing your website and event information on social media. Social shares on Facebook and other social platforms can even drive traffic back to your website. 
Instagram can also improve the visibility of your site and get more eyeballs on your event. Also, partnering with influencers and having them share your event is another excellent way to get social shares.
There are several don'ts to keep in mind when optimizing your SEO strategy that could negatively impact your website. 
Not consistently updating your website and refraining from including graphics and images can impact your SEO overall, however, here are the top four things to avoid. In addition to the six do's, these 10 ways to increase traffic to your website using SEO will keep you at the top of search results. 
Repeated or similar information on your site could hurt your SEO optimization, according to Yoast. Because the same content is showing up on different pages, search engines may rank your website lower in searches.
Although it's essential to sprinkle keywords throughout your website, using them in excess could also hurt your SEO optimization. In addition to having users read the same words repeatedly, search engines may remove your site from results altogether, according to Alexa. 
Just like some people may pay to have extra followers on Instagram, there's a dark side to backlinks, too, according to Hubspot. Paying to have other sites link back to your website could potentially cause you to be flagged as spam and reduce your chances of showing up in internet searches. Not all paid Backlinks are bad. You have to make sure the source is trusted has a good domain authority and the Backlinks are relevant.
There are several structured data tools that can be implemented on your website to help the search engine bots to better understand your content. These scripts can help in improving the ranking of your website on search engines and drive more organic traffic to your page. 
Some users misuse the structured data, the most common is false reviews in the script. Initially, Google might rank your website high on the search results but once the bots detect spammy structured data, your content and website will be penalized.
While creating a website for your event as a communication channel with guests, there are few do's and don'ts for SEO you should consider to improve your chances of showing up in search engine results. The aforementioned 10 ways to increase traffic to your website using SEO will ensure you have a site that is helpful and stands out in search results. 
Linking back to relative links and including important keywords are great ways to increase your visibility in searches. However, overusing keywords and duplicating information on the website could hinder your SEO optimization.