Ready to start creating your next event on UNATION? This guide will help show you all the tips, tricks, and more you'll need to know to set up your event. Let's get started!
You'll first want to make sure you're signed into UNATION. If you don't already have an account, no worries, you can sign up and create one for free! 
Once you're signed in, head to your Dashboard and follow the prompts to create an event. We'll cover all of the required fields and event publishing in-depth below.

Event Basic Info: Filling Out the Fields
Tip: any fields with a red asterisk (*) means they're required to be filled out before you publish the event.
Be sure to make it something fun that represents the experience you'll be providing!
This is one of the first things people will see when searching for events.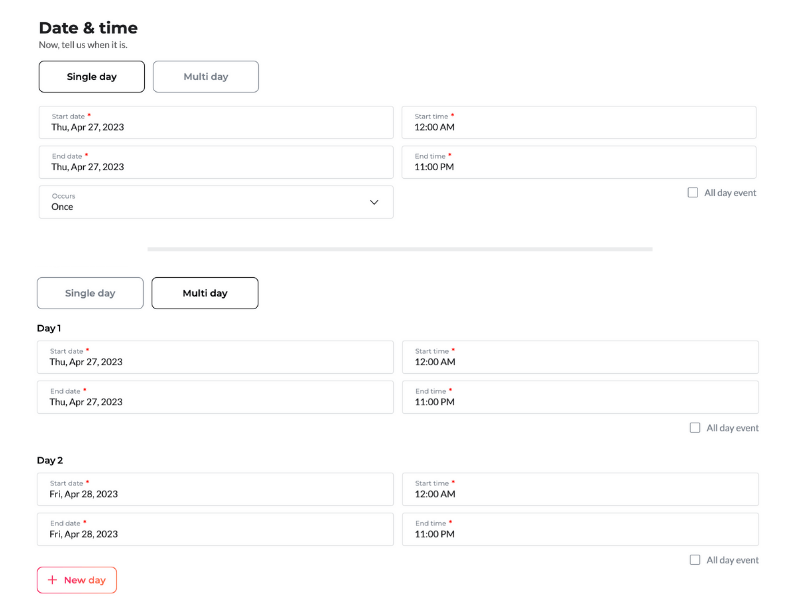 What is the difference between creating a Single Day Event and a Mulit-Day Event?
Choosing a Single day event will be best if your event begins and ends on the same day. A Multi-day event will be best if your event spans multiple back-to-back days.
What does the Occurs dropdown do?
The Occurs dropdown will allow you to indicate if the same event repeats on a regular basis. This can apply to a Single or Multi-Day Event.
Example:
Farmers' Market that happens every first Sunday of the month
Thursday Happy Hour that occurs every week
Tip:
Be sure to select the desired address from the list that autopopulates in the Street dddress field. This allows us to connect the location to Google Maps, and makes it easier for your attendees to find your venue when they discover your Event!
To give your attendees details on where to park for your event, turn on the Parking Info toggle. This will allow you to enter information like "Valet parking available" or add a lot address.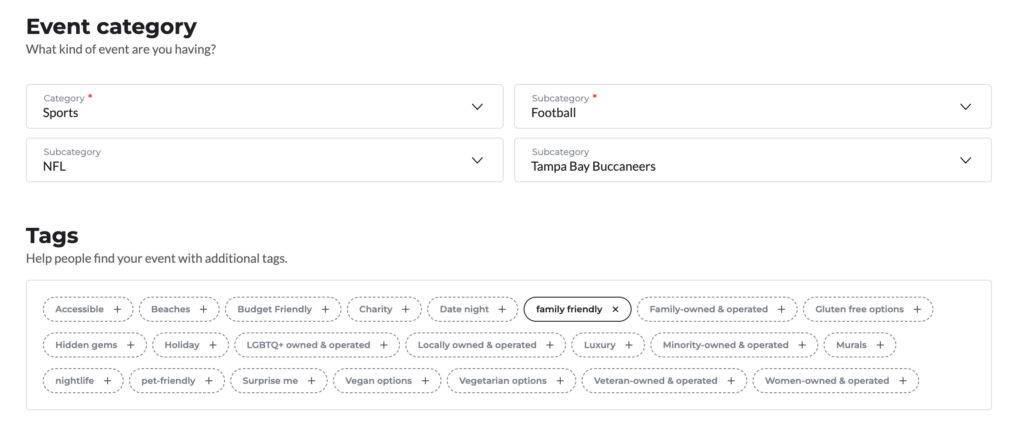 Select your Categories and Tags
You'll also be able to make your event more discoverable on our platform and other search engines by selecting Categories & Tags that describe your event. 
Not only do they put your event on the right pages on our site, but they also make your event more discoverable when people are searching the internet for events like yours.

The options will get more specific as you proceed through the levels. Only the Category and Subcategory are required, but you can continue to narrow it down!
Click Continue to move on to the Event details page. Don't worry, your work is being autosaved as you go!
The photo you choose for the Event theme will serve as the Featured Image for your event. It will display as a banner on the event page, as well as the preview image when your event is being discovered on our platform or shared on social media.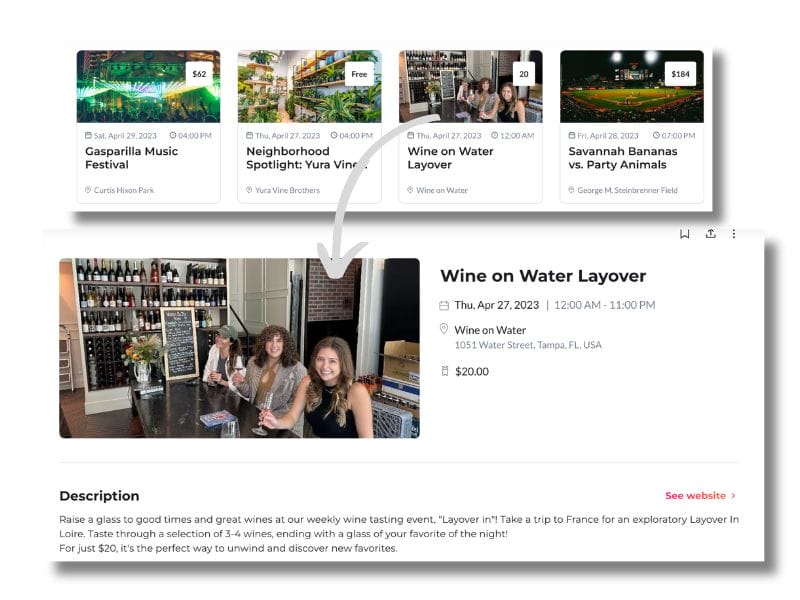 Write an exciting description for attendees so they know exactly why they should be attending your event! This can be edited after your event is published, so if you need to make changes leading up to your event, you can add all the details here.
Additional details (optional)
If your event is 18+ or 21+, you can specify that here, so that our platform can categorize it that way. 
The website field is available if your event already exists on an external website, like your business'. You can link to another URL so that everything is connected. If you have social media pages like Facebook or Instagram where users can learn more about you, you could add that here.

Next is the Admission page, where you'll see a few different ticketing options for your event. Let's talk about them. 

If you plan to create paid tickets for your event, the first thing you'll need to do is connect a Stripe account so that you can quickly and securely receive your money. It's easy! When you click Connect, you'll be directed to your UNATION Stripe account page where you can input your information, including your banking information for payouts. 
You have the ability to create your own tickets that are directly integrated with the UNATION platform for a seamless customer experience.

If your event tickets cost money, you can stay on the default 'Paid' button under Create ticket. Enter the relevant information. For additional ticket levels, tap the +Ticket Level button. You can add as many ticket levels as you need! Be sure to give them unique names, like General Admission, VIP, etc. and include what differentiates them from each other in the description.

If your tickets are free, you can toggle to the free button and fill out all of the same relevant information.

Use the Custom Sales Start checkbox to set the start of ticket sales for a future date, if you are not ready to begin selling them at the time that you're creating your event.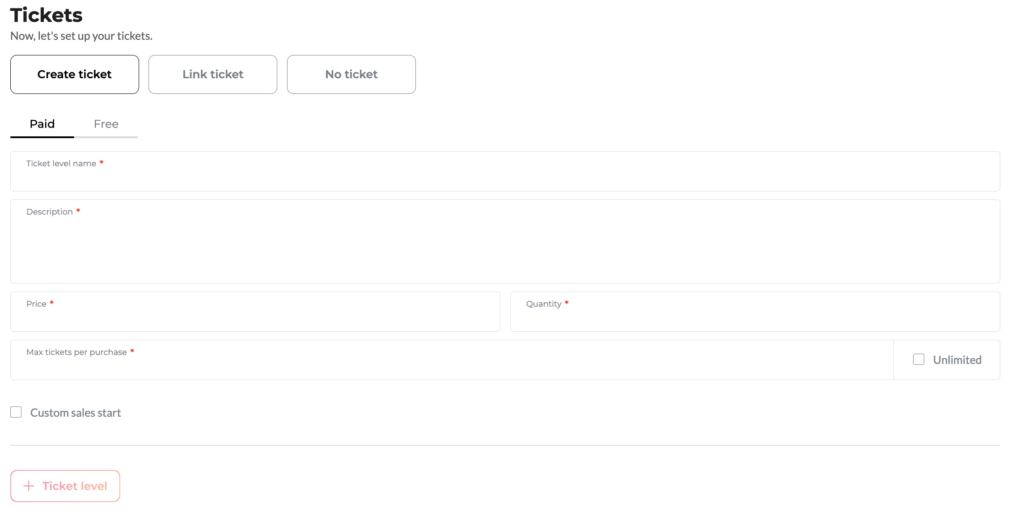 What if my tickets already exist on another website, like Eventbrite?
No problem. Tap the Link Ticket button and enter the URL of the website hosting your tickets. Be sure select Paid if there are ticket costs so that we can reflect it on your UNATION event. Toggle to Free if your tickets don't have costs associated.

I'm not selling tickets but the venue has a cover charge. How should I enter that?
You can tap the No Tickets button, and select the Paid option. This will allow you to enter a cost associated with your event without creating tickets! You can reiterate the venue cover or any other non-ticket related costs associated with your event in the Event Description.

Check the Pricing Details
If you're creating paid tickets with UNATION, you can view the Pricing Details calculator that will adjust in real time as you enter your ticket prices. Using the checkboxes, you can choose to absorb the associated Processing and Registration fees or pass them on to your customers to be included in the ticket price.
What is a processing fee?
This is the cost associated with processing a credit card used to purchase each ticket.

What is a registration fee?
This is the cost associated with registering each ticket. 
Create a Custom Promo Code
Create a custom code to offer event attendees a special discount on tickets. This code will not reflect on your event page — it will be just for you to share!

You can type in your own code like EVENT1234 or if you click Autogenerate code, we'll do the work for you and come up with a code that is totally unique to your event. 

Don't forget to select whether the promo code discount will be in a dollar or percentage amount.

What is the difference between a total cart discount and a fixed ticket level discount?
A total cart discount will be applied to the cart total during checkout. For example, if an attendee is purchasing 2 general admission tickets and 2 VIP tickets for a total of $100, and is using a $20 promo code, the total would be $80.  

A fixed ticket level discount will only be valid for the ticket level that you select, while other ticket levels will remain at full price. For example, if an attendee is purchasing 1 general admission ticket at $20 and 1 VIP ticket at $25, and is using a 20% VIP promo code, the total would be $40 — with the general admission ticket remaining at the full price, and the VIP ticket being discounted by 20%. 

If you want to create multiple levels of promo codes at different discount amounts, that's easy! Simply click the + Promo code button to start adding information for a new code. 

Use this field to select which types of information (if any) you want to collect from customers at the time that they purchase a ticket. Their Name and Email are collected by default. We have some pre-populated options but you also have the ability to add custom fields, and you can choose whether the collection fields are optional or required by selecting the dropdown on the right-hand side of the pills.
What would I use the custom fields for?
You can create fields for things like:
T-shirt size
How did you hear about us?
A checkbox answer type will allow the attendee to select more than one answer; a radio button answer type will allow the attendee to only select one answer. 
Add Detail to Ticket Email
When your attendees purchase a ticket or RSVP to your event, they will receive a confirmation email from UNATION that you have the ability to customize. Add a message, web link, and information about your event sponsors (if applicable.) This section is totally optional! If you choose not to fill it out, your customers will still receive a ticket/confirmation email for your event.

Publishing and Editing Your Event
Once all the required fields are filled in, you're ready to publish your event. Go to the bottom navigation bar and hit the "Publish" button to complete.
If you're not ready to publish your event, you can schedule it to be published at a later date and time.