Mobile users, rejoice! An enhanced mobile experience has come to UNATION.
That's right, we're once again making it easier to find events and explore fun things to do in your city. Select a city from our list of curated metros, pick your radius of choice, and discover tons of amazing content right at your fingertips.
Wondering what features you can use to explore your city? Check them out below–we know you'll love them as much as we do.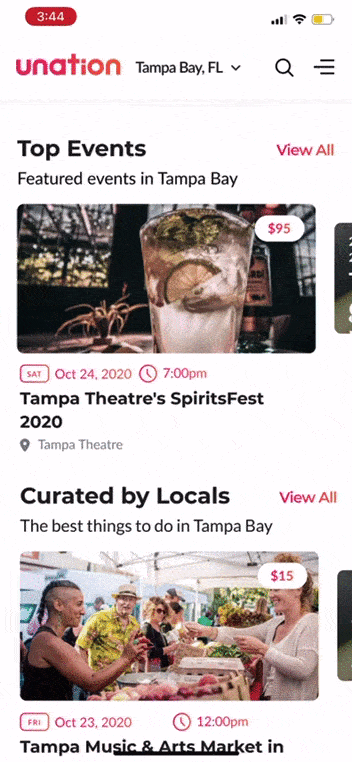 Top Events
Top Events, formerly known as "Featured Events," are upcoming events and activities that we think you'll really want to know about.  These are some of the best things to do around the city and are front and center, so they're easy to find.
Curated by Locals
These events and hand-curated by our amazing City Managers. Not only do they love attending events in the city they live in, but they love sharing those events with everyone.  
If you don't feel like searching through hundreds of events yourself, our team finds the best of the best to highlight. 
Online Events
COVID-19 has drastically changed the event world, but that hasn't stopped people from hosting events. Now you can search through online-only events so you can still have a little fun while staying home. 
City Guides
Love reading those Stuff to Do City Guides? We do too, and now you can find the City Guides on the mobile browser! 
Get easy access to our most recent and relevant articles and get an inside scoop on the best things to do around our curated cities. From special holiday features to new happenings, the Stuff to Do City Guide is the perfect enhancement to your mobile experience.
Trending Categories
See popular categories in your city and discover content based on your interests. And who knows, maybe you'll find something you didn't even know you'd love!
Access to Your Favorite Social Channels
Social media is a great way to stay up to date on events, new content, giveaways, and connecting with the community. Get quick access to our social channels and follow us on your favorite platforms.
More Updates Coming Soon!
We love making event discovery easier and easier, that's why we're always working on new ways to explore our cities. Keep an eye out, we've already have more exciting updates planned.
In the meantime, check out UNATION on your mobile browser and start exploring your city like never before. Making plans truly has never been easier!