Think of us as that really fun friend who's always telling you about the hottest events going on around town. We're serious about our friendship, and we're serious about bringing you the best events in your city! Now your friend (and you!) can discover those awesome events even easier with the new and improved Android app. So let's get to it and dive in to all the exciting updates!
A New Way To Discover Events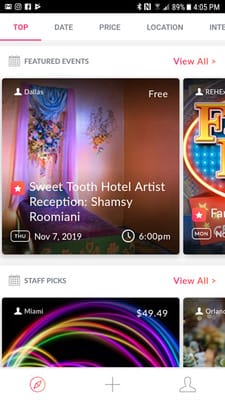 Everyone gets caught up scrolling aimlessly on their phone, but no one wants to scroll through stuff they aren't interested in. That's we've changed the event discovery experience on the Android app to allow you to search for events the way you prefer. Have friends coming in town this weekend? Cool, check out the date tab's 'This Weekend' section for a long list of things to do when they're here.
Feeling frugal? Heard that. The first section in the price tab is all of the 'Free' events going on around you – and thankfully there are a ton! Whatever your priority, we've made it easy for you to find the matching events.
Top Events That You Don't Want To Miss
When you first open the Android app, the best events are right at your fingertips! The top events tab includes featured events that we feel are a must-see, which why they are front and center. These are the happenings everyone is talking about, so we starred them to make them easily noticeable.
We've also included the staff-picked events (look for the 'U') that have been hand-selected by our local curators. And of course, we've included events just for you. You can also see events from the people you follow, events you've created, and the events you're invited to all in the same place. 
We have upgraded the look and feel when creating new events, particularly as it relates to the event theme. Out with the old portrait style images, in with the hip and commonly used square pics. Go ahead, re-use your latest Instagram post! Easy peasy lemon squeezy, amiright?
You may also notice some fun and pretty dang cute stock themes that will make your event look *in our best Cousin Eddy voice* "reaaal niiice." Stock themes are great for adding some pizzaz, but we always encourage you to use a custom theme that will accurately depict what attendees can expect at your event.
Just like the rest of the app, there is a new look when editing your profile and accessing your settings. We've combined the information into one spot called Options, so you can easily update what's most important to you like your interests and search radius. Now you can make sure you are getting the exact results that you want when discovering events! 

There you have it! Those are the highlights of what's new on Android. There are plenty more changes to see, but don't let us bore you with our recap–check them out for yourself! Download the new Android app now!