We know purchasing tickets to an upcoming event can sometimes be a hassle–especially when tickets are sold on different websites for different prices. We're here to help make it easier for you to buy tickets to your favorite events with multi-source ticketing! 
What is multi-source ticketing, and how does it make purchasing easier? Let us tell you!
What is multi-source ticketing?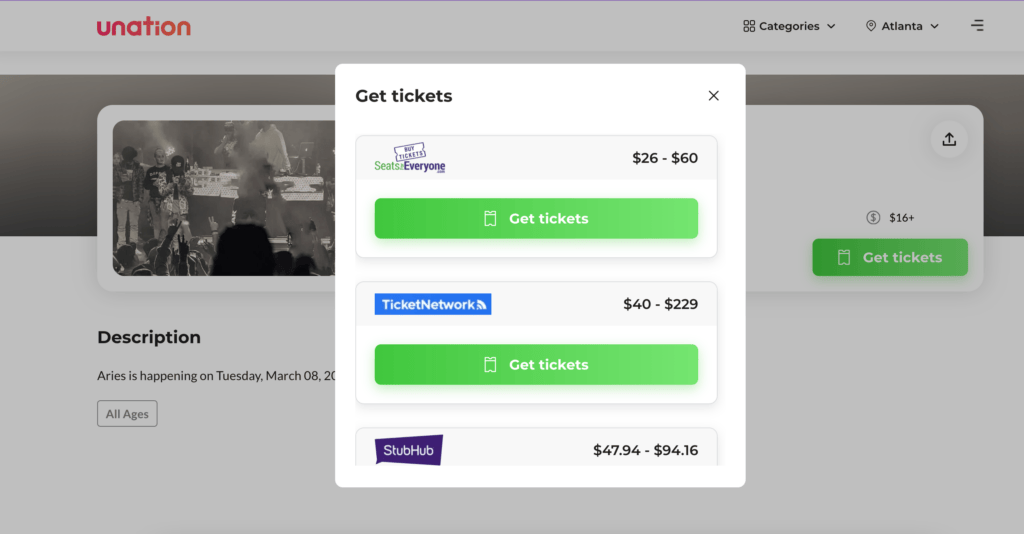 In short, multi-source ticketing allows you to see available options on different ticketing sites where the ticket is being sold. No more looking back and forth between different browser tabs and apps just to make sure you're getting the best value for your seats.
With multi-source ticketing, you can view various partner websites like Ticketmaster, StubHub, Ticket City, TicketNetwork, Seats for Everyone, and more. If tickets for your desired event are on these platforms, you can see them through the UNATION event. Hit the "Get Tickets" button, see what's available and find the best option that fits your needs. It's that easy!
UNATION makes finding things to do easier
To find more things to do around your city, be sure to download the UNATION app or check us out on unation.com. Keep checking back, we're continuously dedicated to not only making the ticket purchasing process easier but the entire event discovery process too. 
There will be more updates happening soon, until then, happy discovering!