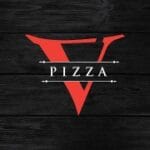 V Pizza specializes in the art of traditional Napoletana pizza making. What are Napoletana pizzas? A rare class of artisan pizza typically made exclusively in Italy. Lucky for us, V Pizza has set up this FIRST of 4 stores right here in San Marco! Pizza lovers, rejoice! In addition to that V Pizza turns out some of the most delicious calzones, salads, and desserts this side of the Atlantic Ocean!
Established in 2014. V Pizza may be new to the San Marco area, but hey, we brought pizza! And not just any pizza. Since opening day on May 27th, 2014 we have striven to bring Jacksonville true Napoletana pizza in the exact way you would eat it in Naples, Italy. This means the freshest imported ingredients, prepared in the old world style in the old world ovens and served up hot! Our 90 second cook times don't hurt either! V Pizza is the idea, creation and funding of three Jacksonville natives. The main goal was to bring true Napolitano pizza to our home town. We knew that if we were going to reach our goal and serve something authentic, that we were going to have to use tools and ingredients that can only be gotten a world away (without using the excuse of distance to compromise anything). Prior to opening, the owners all agreed that authenticity was our number one priority. Even if there was initial resistance we would hold true to that commitment until our community knew the taste and benefits that come from something that has been perfected by Italians for over a thousand years.

Upcoming Events

Parking

City Guides

Experiences

Reviews

Follow Us
Check out the Stuff to Do Guides featuring V Pizza's and see what San Marco locals have to say.
Want your business featured in our City Guide? Fill out the form below for more info.