Previous Next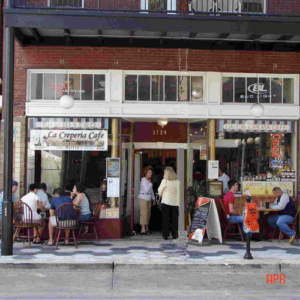 Le Creperia Cafe Ybor
Restaurant, Cafe
Share
La Creperia Cafe is located in the middle of Ybor City on 7th Ave. It's certainly a go-to anytime you're in the mood for delicious food. This French bistro is perfect for breakfast, lunch, dinner, and dessert. Whether you prefer your crepes sweet or savory, the options are endless! 
We cannot resist the Romeo Y Julieta crepe that's filled with Nutella, bananas, and strawberries…it's heavenly. The coolest part is that the crepes are made right in front of you.

Upcoming Events

Parking

City Guides

Experiences

Reviews

Follow Us
Featured Guides
Check out the Stuff to Do Guides and see what Tampa locals have to say.
Get Featured
Want your business featured in our City Guide? Fill out the form below for more info.