PHOTOS Experience all of the amazing things to do in Ybor City! Find yourself surrounded by history at the Ybor City State Museum, or stroll through the diverse restaurants, bars, and shops of Centro Ybor.
Make awesome plans with these locally-curated guides.
When spending a day in the historic Ybor City, it's only right to start at Florida's oldest restaurant, Columbia. A pitcher of their famous sangria for the table is a must!
After filling up on 1905 salads and Cuban sandwiches, we had to get some caffeine in us from Foundation Coffee. With a little boost of energy, we strolled down 7th to the Snaphouse, an adorable selfie studio full of walls with different themes and props.
When the photo shoot was over, Hotel Haya was calling our name. Their restaurant Flora Fina has stunning cocktails that taste equally as amazing as they look. And it wouldn't be a proper day in Ybor if we didn't stop in at Chill Bros. We had to get a cone of Guava Pastelito ice cream and even some pints to go.

Some Cool Tips You Should Know.

Wear Comfy Shoes
Exploring 7th Avenue is one of the best things to do in Ybor, so wear your walking shoes to see all of the restaurants, bars, and shops.

Bring Your Camera
From historic cigar factories to colorful murals, Ybor City has lots of photo-worthy spots.

Get a Ride
Should you choose to drink, please be responsible, take the trolly (it's free!), get a rideshare, or have a designated driver.

Dance the Night Away
No matter your music taste, Ybor City has a bunch of music venues, clubs, and bars to get your groove on.

Download the UNATION App
Ybor is home to a lot of events, including The Cuban Sandwich Festival and Vintage Roost Market. Download the UNATION app to make sure you never miss one!
Learn More About Ybor City
Want to be an expert on Ybor City? Learn more about this historic neighborhood.
About
Step into the heart of Tampa Bay and experience the historic Ybor City! Everyone…
Step into the heart of Tampa Bay and experience the historic Ybor City! Everyone who visits can dive into it's cigar industry history at the
Ybor City Museum State Park
. Discover vintage finds on 7th avenue at
Revolve Clothing Exchange
, or shop
Black and Denim's
collections inspired by iconic cultural influences in art, literature, history, and music. Get your caffeine fix at the
Blind Tiger Cafe
, and while strolling through The
Centro Ybor Mall
, stop by
Tampa Bay Brewing Company
for a drink, or grab a meal at
Asiatic Street Food & Noodle
. For a night out with friends to dance and enjoy music,
The Ritz Ybor
is the place to be.
"Ybor City is always lively throughout the day and night! It's the perfect place to spend a day out with family exploring the many shops and restaurants they have to offer, but also the best place for a night out with friends!" –
Jenna, Stuff to Do in Tampa Bay | UNATION
Getting Around
Ready to head to Ybor? Here's how you can plan…
Ready to head to Ybor? Here's how you can plan on getting around:
Transportation
Parking
Our most frequently asked questions about Ybor City.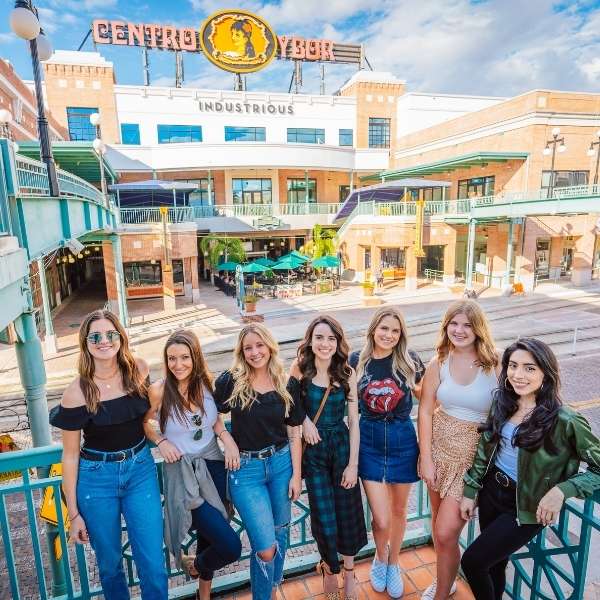 Get the best local restaurants, activities, and more from around Ybor City straight to your inbox!