Same-Day Help for Client Campaigns, Case Study Opportunities and Facebook Ads Mastery
Exclusive membership for Facebook Advertising Freelancers and Media Buyers
How much more confident would you be in your business if you were able to consistently deliver results for clients and spend profitably on virtually all campaigns you ran?
If you were able to retain clients for longer and raise your prices knowing the value you brought to the table?
Working as a FB Marketer can be challenging at the best of times. The platform runs over 300 algorithm changes per year making almost impossible to stay across what's working at any one time when you're trying to figure it all out on your own – EVEN if you're the best there is out there!
Because of this, campaigns don't always perform the way you expect them to. Things can go from boom-time to nail-biting in a day and campaigns can easily experience failure to launch time and time again.
FATC was created to provide marketers – at all levels with the tools, support and resources needed to succeed in the space.
Inside the membership, you'll gain access to:
– Same-day campaign support…
– Monthly expert coaches & industry based training fro launching, testing & optimising campaigns…
– Access to lead directory where we match you with paid gigs or internships..
– Exclusive member events and resources (global monthly meetups, discounts, & perks)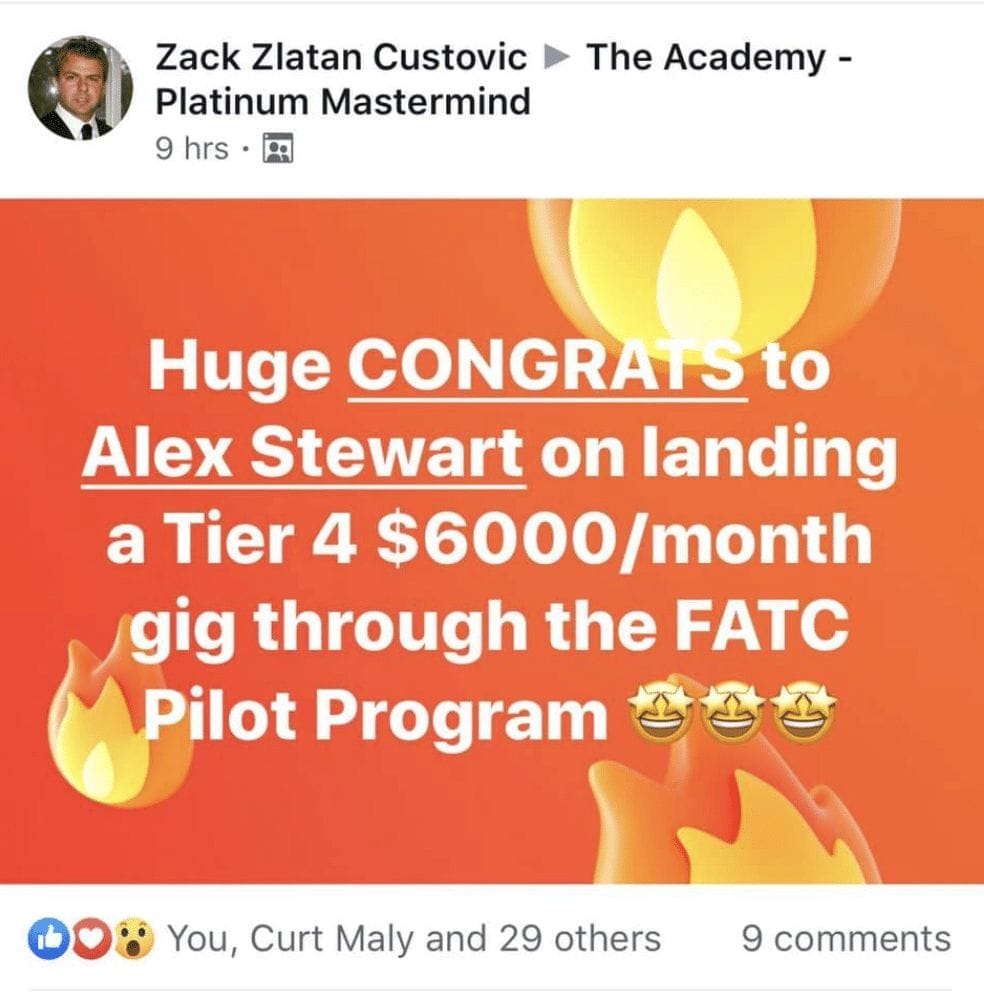 Thousands of businesses and agencies are using our directory each month to find marketers they can trust. Let us connect you with case studies and paid gigs!
How it works: the amount you will be able to charge will be based on your experience and competence. In order to be listed on directory and get matched with opportunities you will need to pass an assessment.
Once a business places a request, we will match them with you based on their needs, required experience level, niche, and budget. It will be up to you to sell yourself in but these are good quality leads.
There is demand for all experience levels, including beginners – if you are brand new to Facebook Ads you will initially be matched with internships to protect the client as you train yourself up.
You've been thinking about taking the plunge into the freelancing world, first step: build a competence that clients will pay for!
The first step to working with clients is to become skilled in a service offer that the market is willing to pay for.
Facebook advertising and bot building are two skills that have proven invaluable for freelancers – if you think about it, mastering the art of paid traffic is kind of like holding the keys to the kingdom. Once you know how to successfully sell online, the opportunities available to you and your own future ventures are limitless!
This is far more than just "becoming a Facebook Marketer", it's about understanding and mastering the art of being able to successfully sell online - a skill that will serve you far beyond your freelancing career!
All the training is industry-based. Meaning, it's based on what Cat's teams are doing inside actual ad accounts with clients – ie: what's actually working and not just what sounds good theoretically. 
Created to provide marketers - at all levels - with the tools, support and resources needed to succeed in the Facebook Advertising space!
We'll show you how to run split tests, copywrite for ads, launch campaigns, optimise results, assess clients, build bots, and scale results.
Consider us the secret weapon to nailing the competence you intend on using to get client results! Training processes are shared with you and you are provided with support around these – lots of support!
Apply for paid gigs and internships
So here's what you want to know – do we actually send you paid gigs and internships?
Yes, we do. We have thousands of businesses reaching out to us each month wanting to be connected with marketers – people like you, no matter the level you're at.
Now – here's the catch – to protect the businesses we will assess your level of competence and according to this you will be matched with different types of clients (ie: different levels = different prices). If you are brand new you will be matched with internships to help you get your teeth cut in at low risk.
Whilst we don't guarantee a number of leads – our members do very well from it and it's a big reason why so many are with us for years.
The aim is so that you can focus on refining your skillset and not have to worry so much about how you will generate leads!
Get hands on support for your client campaigns
Because let's be real – you can be the best damn Facebook marketer in the world but when even Facebook doesn't know what time of day it is, you're going to need a tribe of people to support you when things go pear shaped, even if it's just to protect your own sanity.
You probably won't find better support for your campaigns than here. Short of actually being at your 24/7 beck and call, we're pretty fast at helping out. We roll up our sleeves and go into the accounts with you. Because sometimes what's missing was staring right at you all along. Consider us an investment in helping you to retain your clients for longer.
Talk with one of our promotional experts.
Build your promotion package
Choose from our most popular packages, or customize one based on your needs.