Dunkin Donuts "Coffee Break"
UNATION & Dunkin Donuts partnered across all 14 StuffToDo Cities and Social Platforms to show our essential workers a little love.
Learn More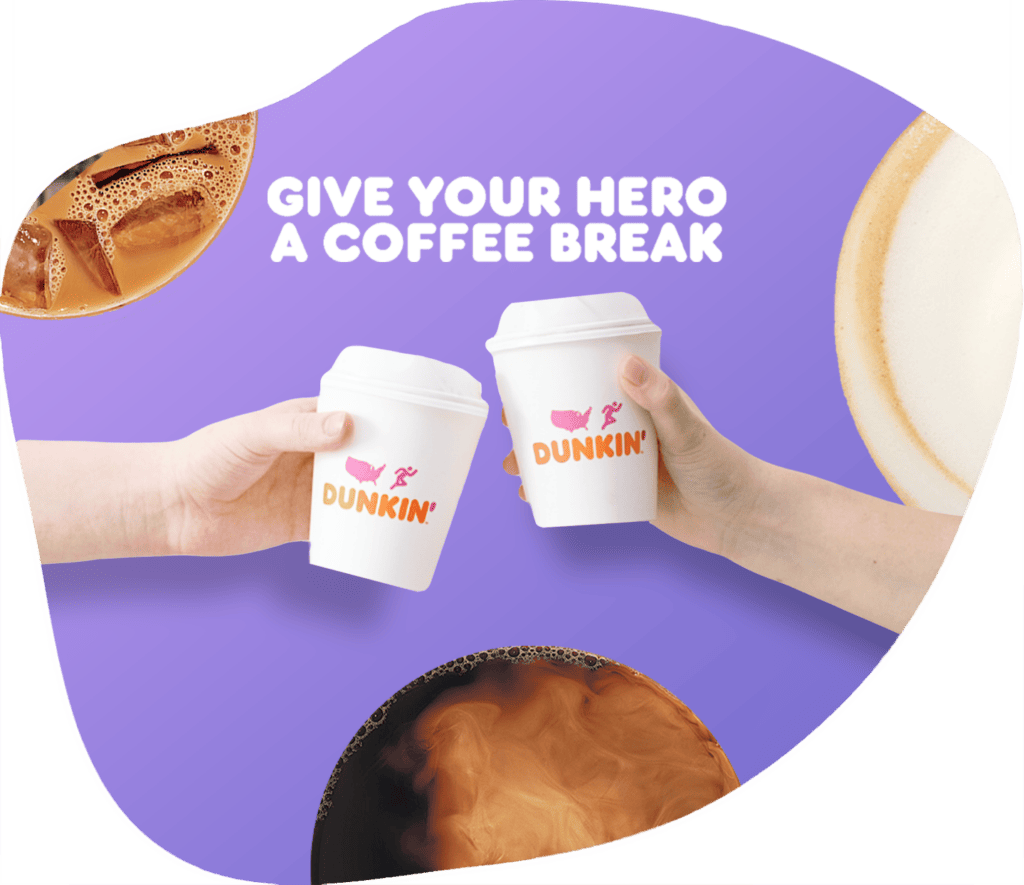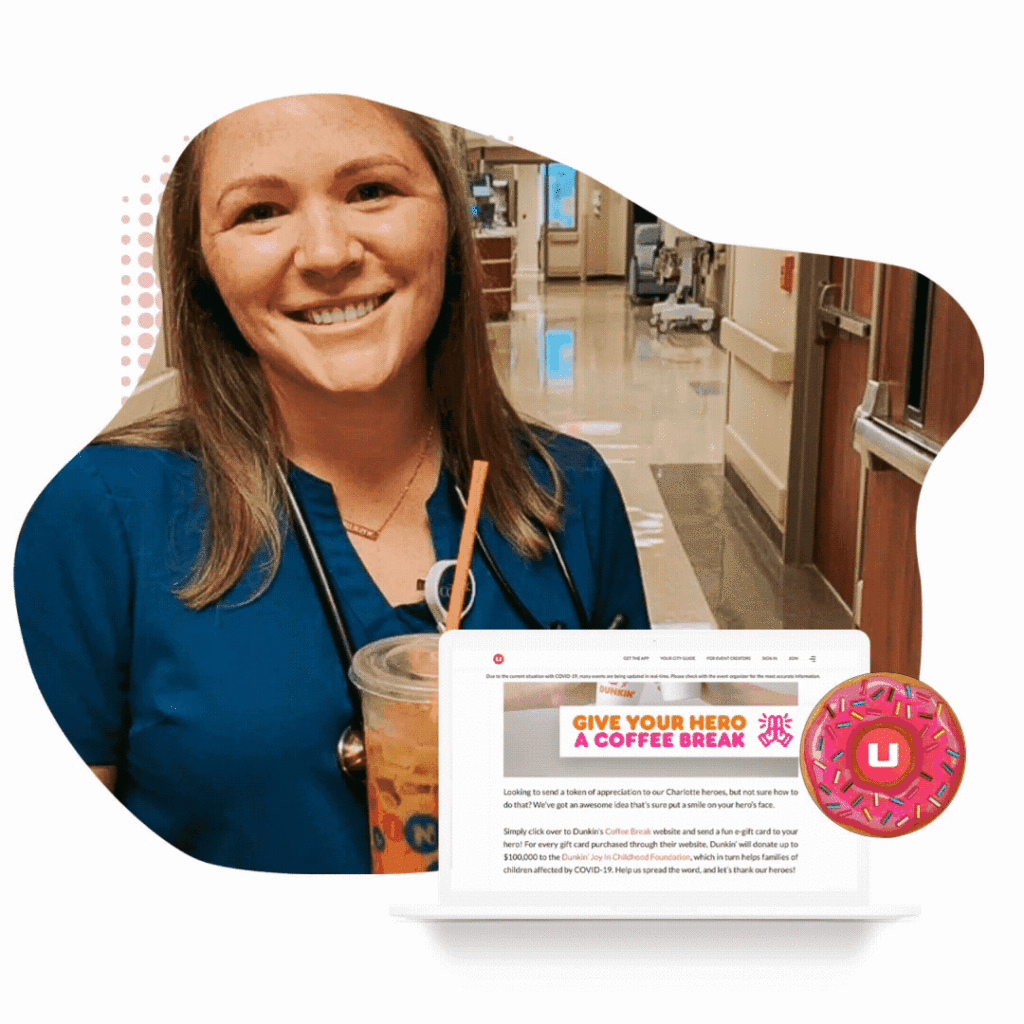 Campaign Goal
Our goal was to connect our community to the heroes on the frontlines with the Dunkin' Donuts "Coffee Break" campaign serving as the conduit. This allowed our followers to thank a hero in their life with a Dunkin' e-gift card.
For every card sent, Dunkin' donated $1, up to $100,000, to the Dunkin' Joy in Childhood Foundation Emergency Fund. These funds specifically benefited local non-profits helping families affected by COVID-19.
Campaign Overview
UNATION's sole focus is to connect people through the events in their local communities. In this case, the event was to show kindness to and support our essentials workers during the Covid-19 crisis.
As an evolution, these posts became opportunities, rather than just advertisements. This campaign provided increased impressions, higher click-through rates, and an incredible digital story that heightened awareness around the campaign as well as the cause it supports and funds.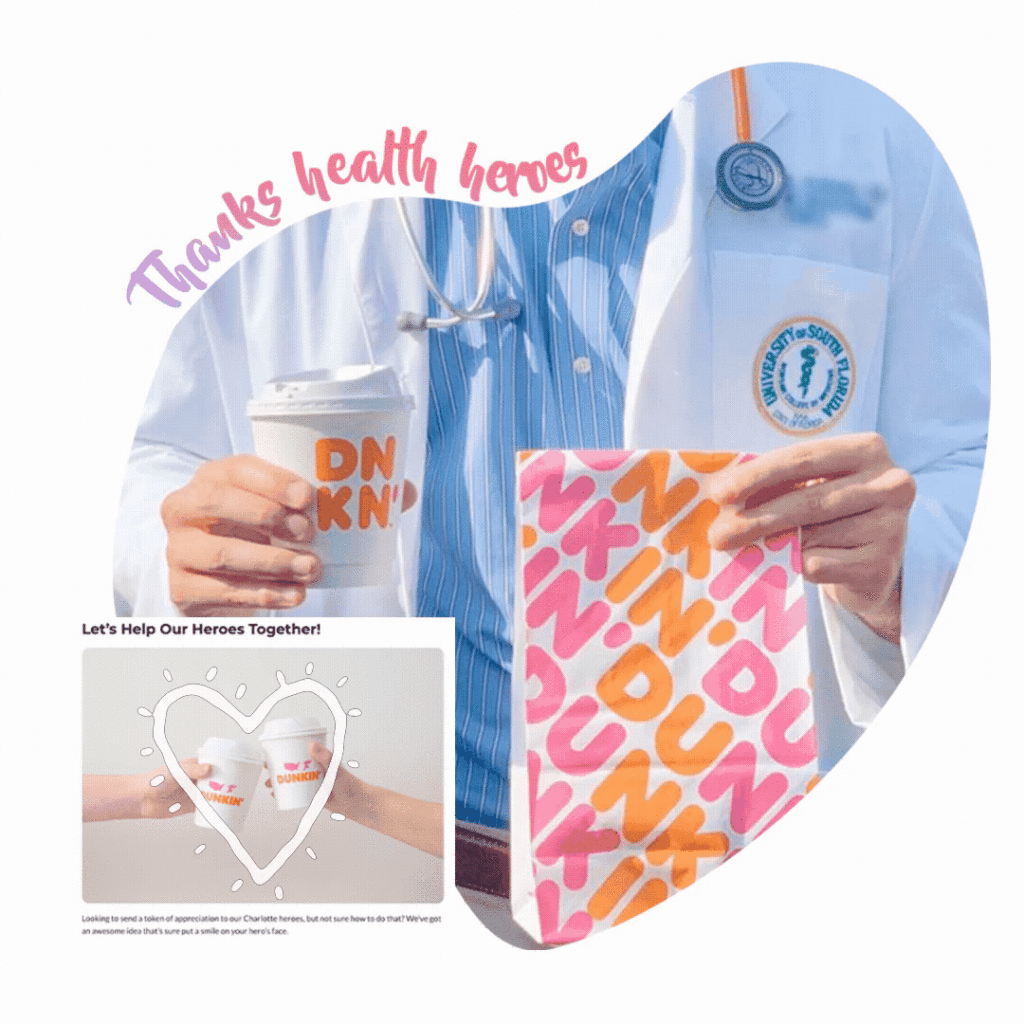 Feature Placement
As a robust event discovery platform, UNATION gained the trust of users in all of our cities on multiple platforms, and promoted your campaign as one of the best ways to collaborate and support their communities.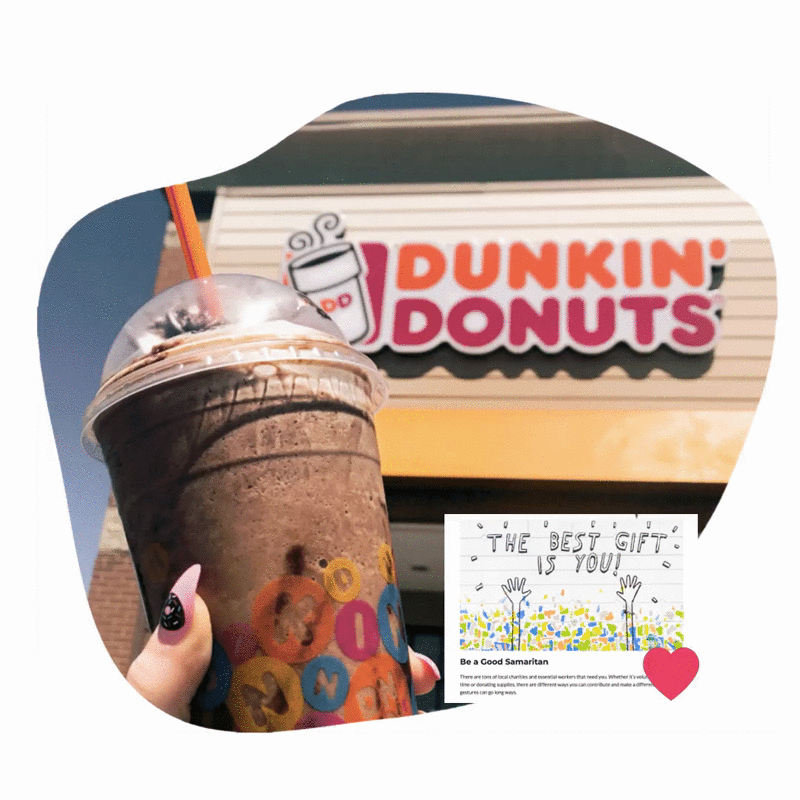 City Guide
The "Coffee Break" campaign was featured in the conclusion of our "Good Samaritan" blogs in all 14 cities. We were able to showcase local charities and how they were supporting essential workers. From volunteering time or donating supplies, we were able to explain how small gestures, like sending a Dunkin' gift card, can go long way.
Social Features
Social media as a whole was a huge driver of success for this campaign. We were able to create original content across @StuffToDo Instagram, Facebook and Tiktok that enabled UNATION to reach audiences of all ages and demographics.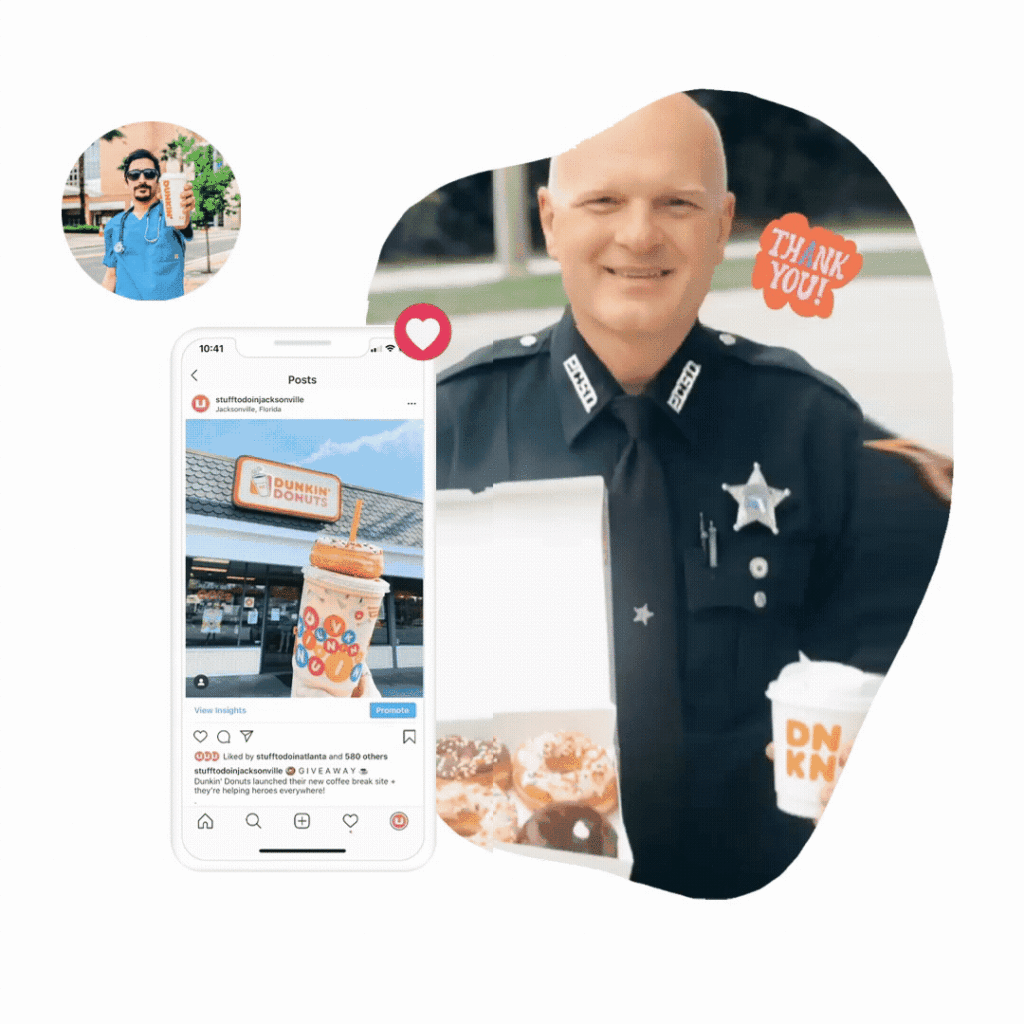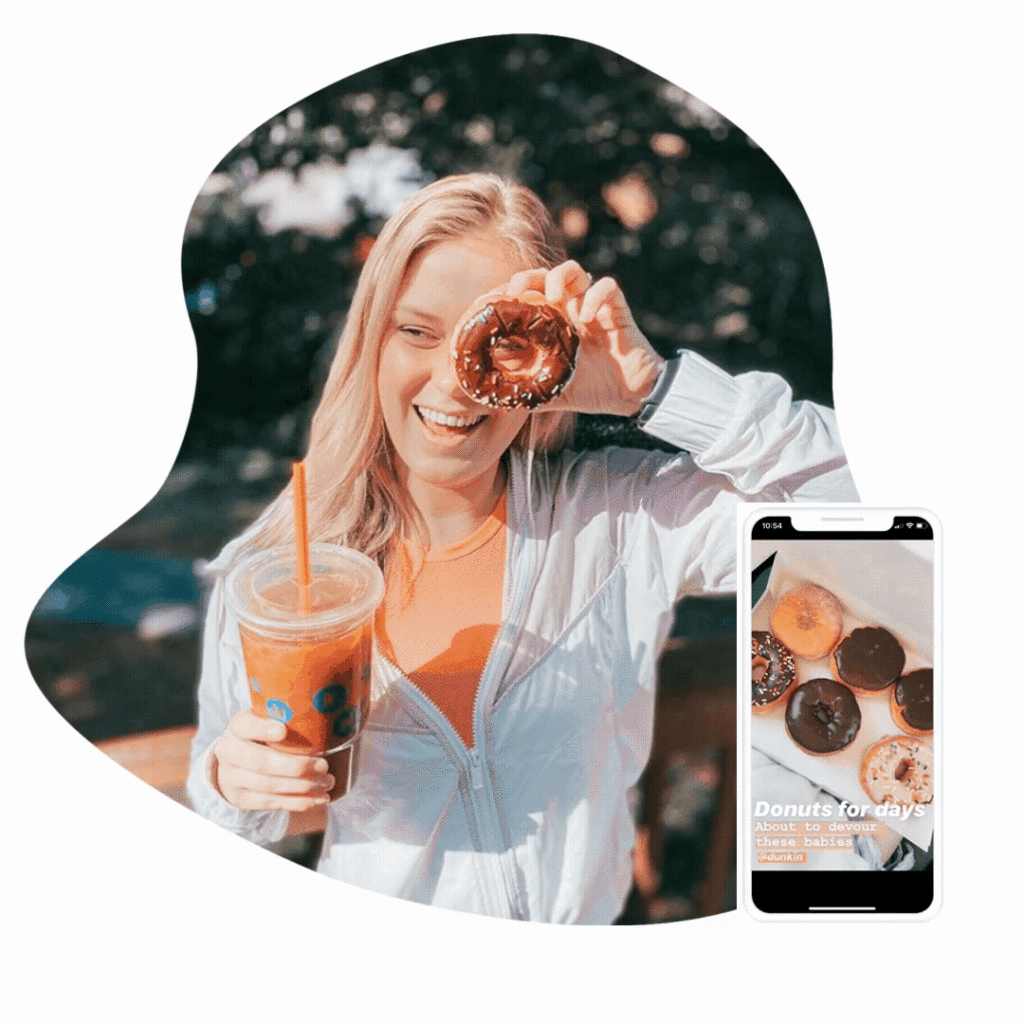 Stuff To Do Instagram Features
The combination of stories, polls, videos, and photos gave followers the opportunity to join Dunkin' Donuts and be the hero in an essential worker's day. In addition, each page engaged their followers around nominating front-line workers for a gift card so they could treat themselves to something delicious.
Facebook Pages
Facebook allowed us to share a mix of videos, photos, and blogs with a broad audience that was consistently conversating around Covid-19 and the people on the front lines. When provided an opportunity to spread a little joy, our followers rose to the occasion.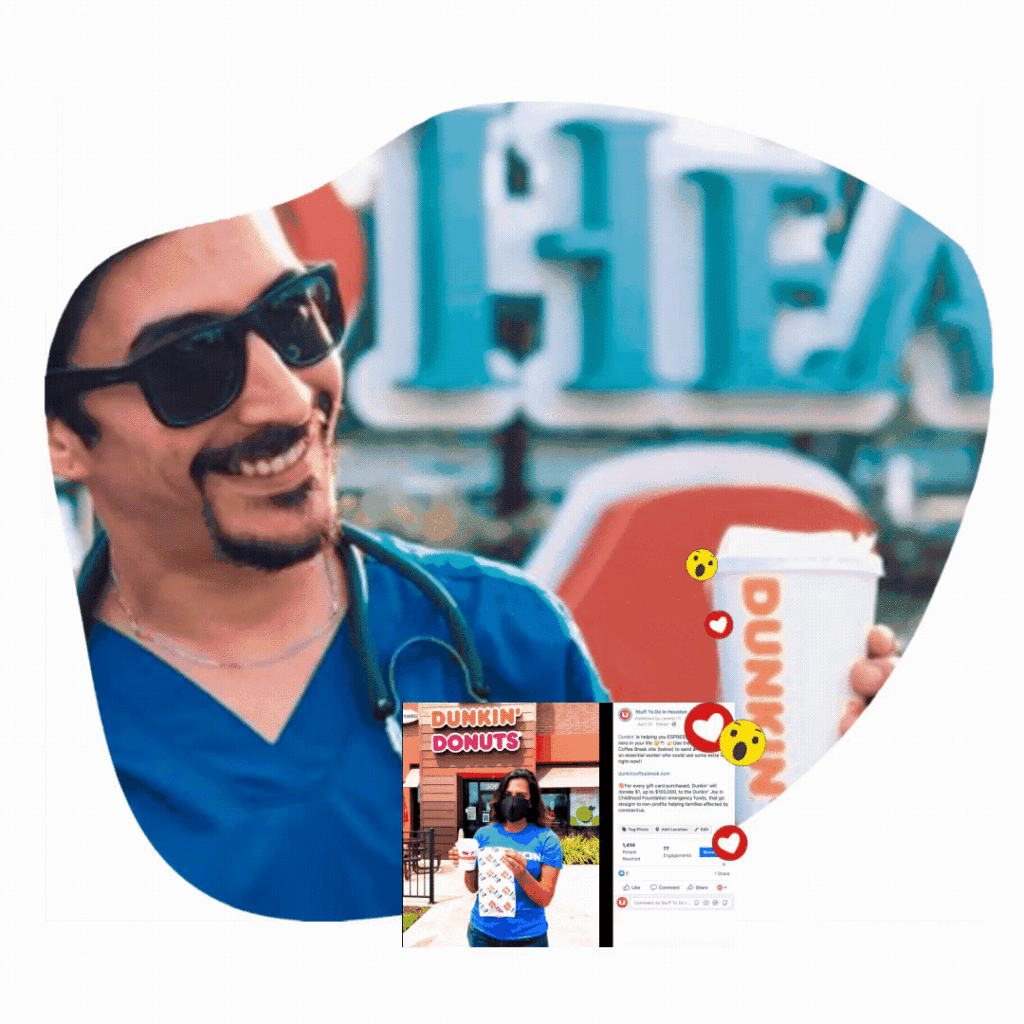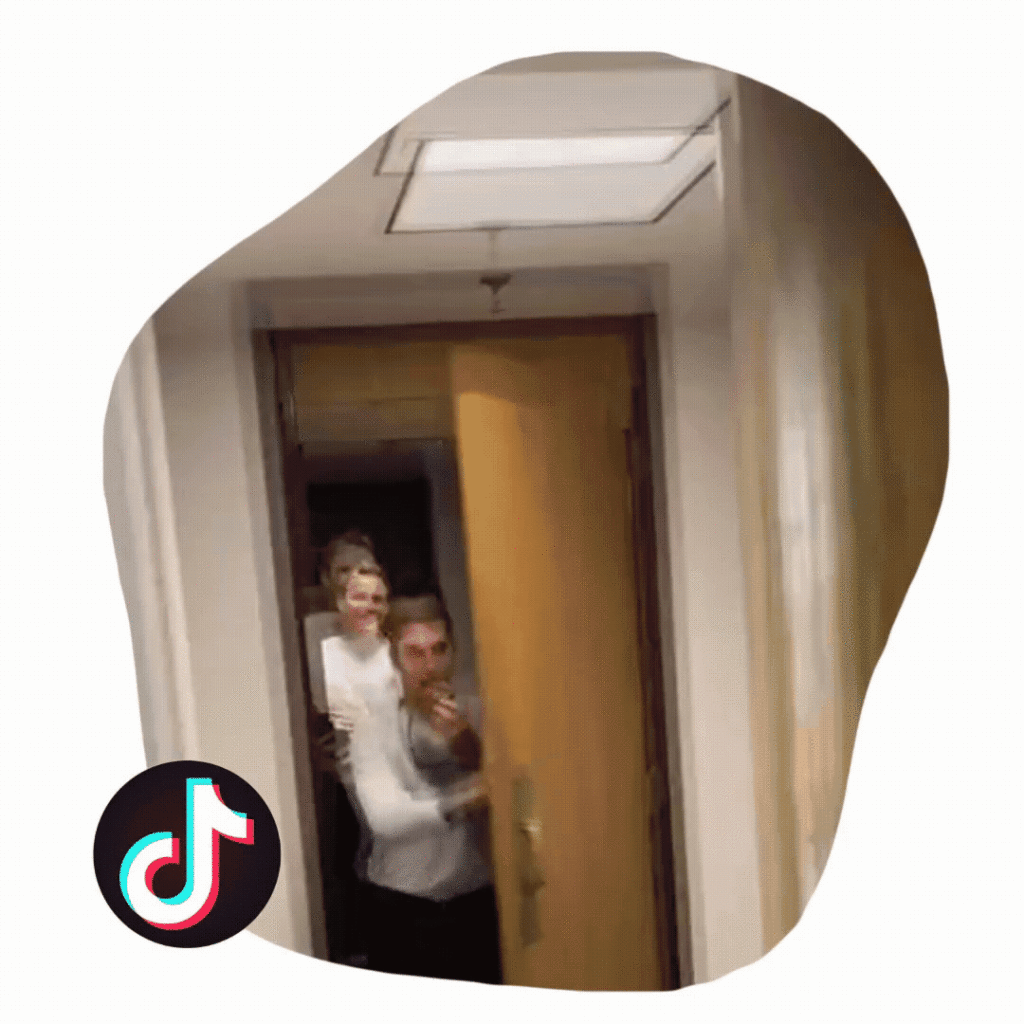 StuffToDoTikTok
The creation of video enhanced the story-telling element of this campaign in an exciting way and TikTok was the perfect place to do that. Our team even got our local fire station in on the fun while making their day with a special donut delivery.
Campaign Highlights
All
Video
Facebook
Instagram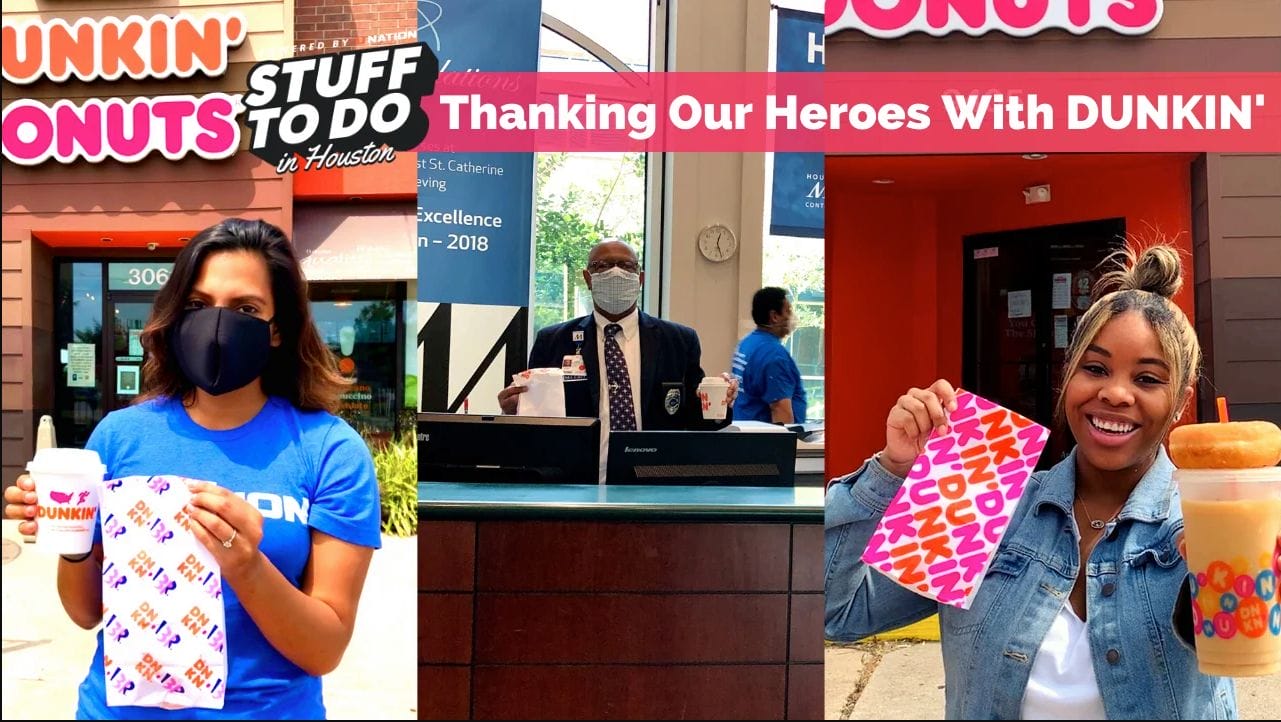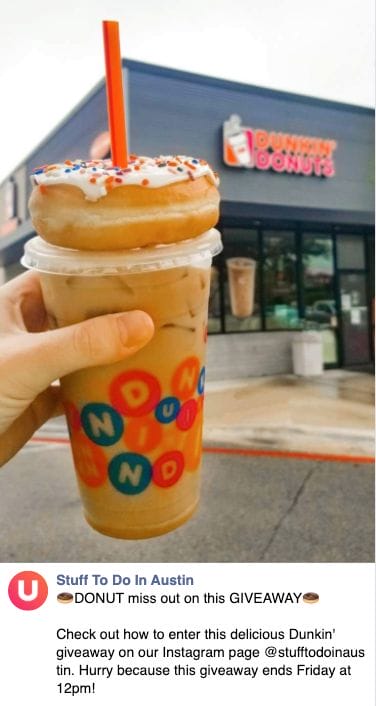 @stufftodoinAustin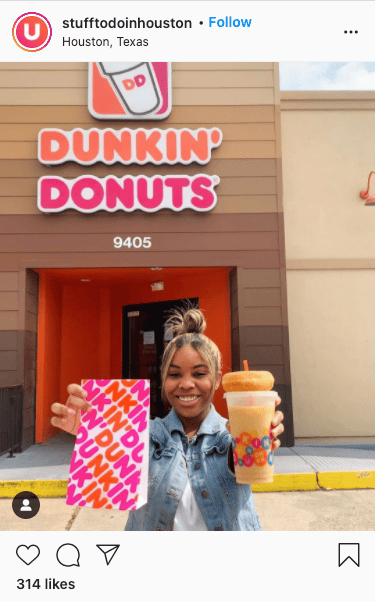 @stufftodoinHouston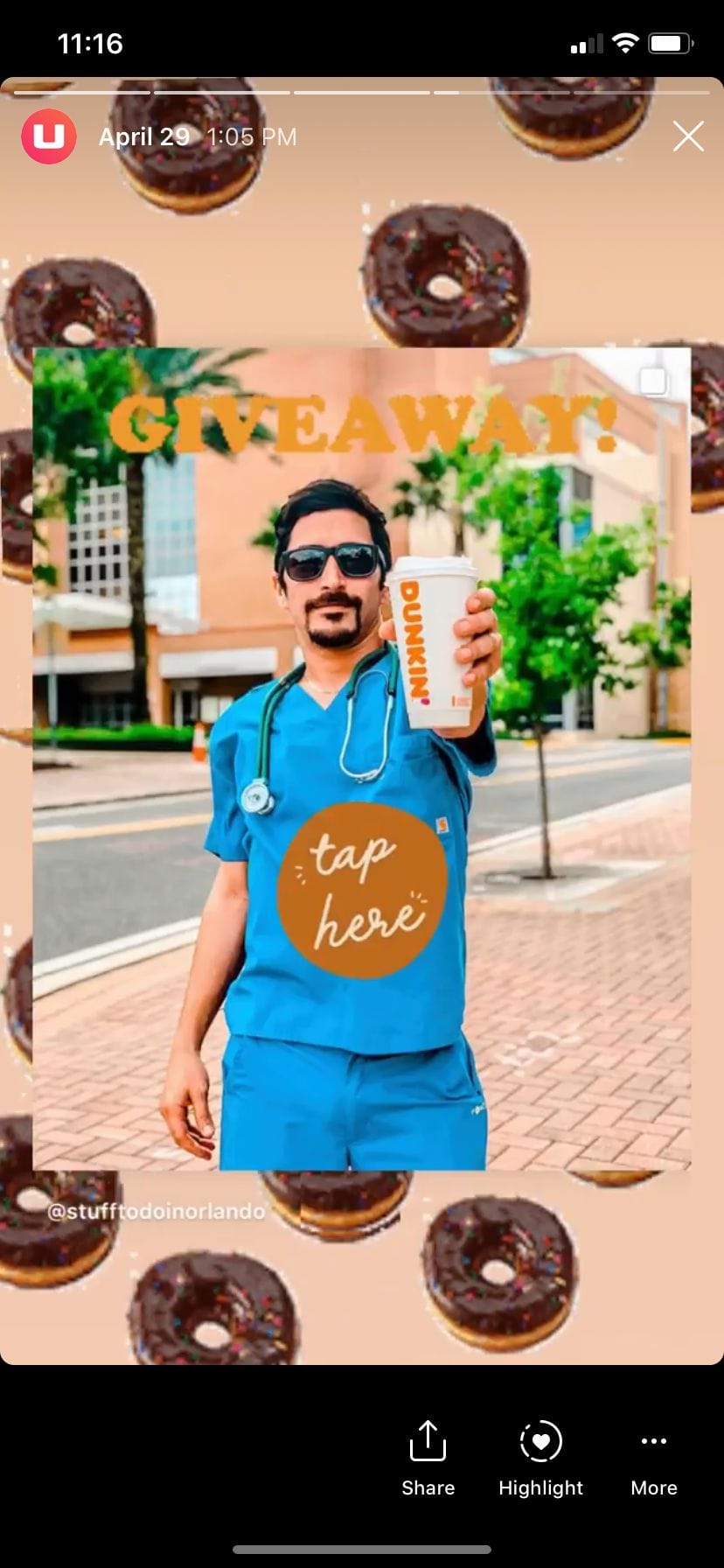 @stufftodoinOrlando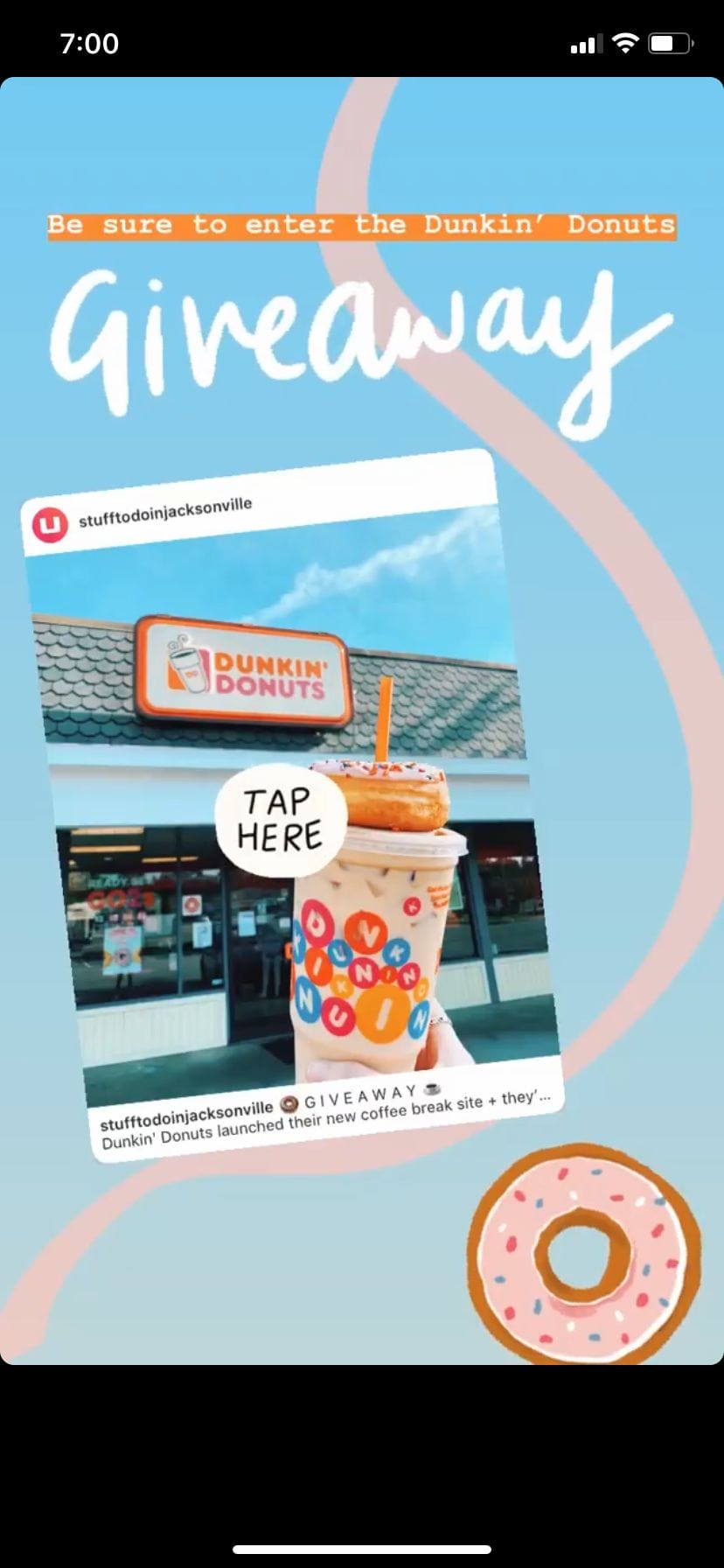 @stufftodoinjacksonville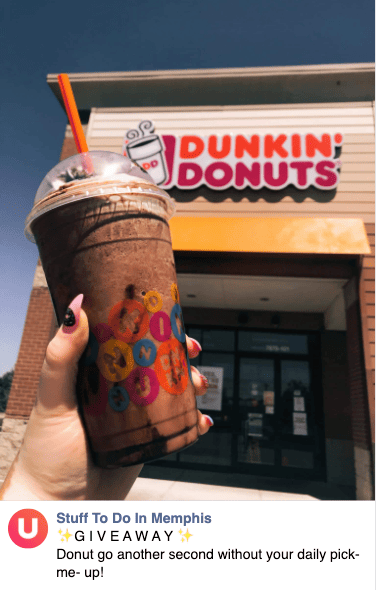 @stufftodoinMemphis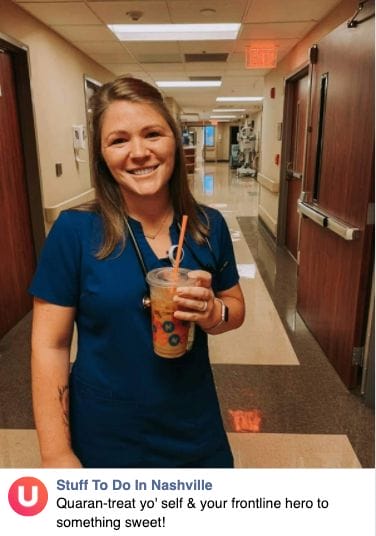 @stufftodoinNashville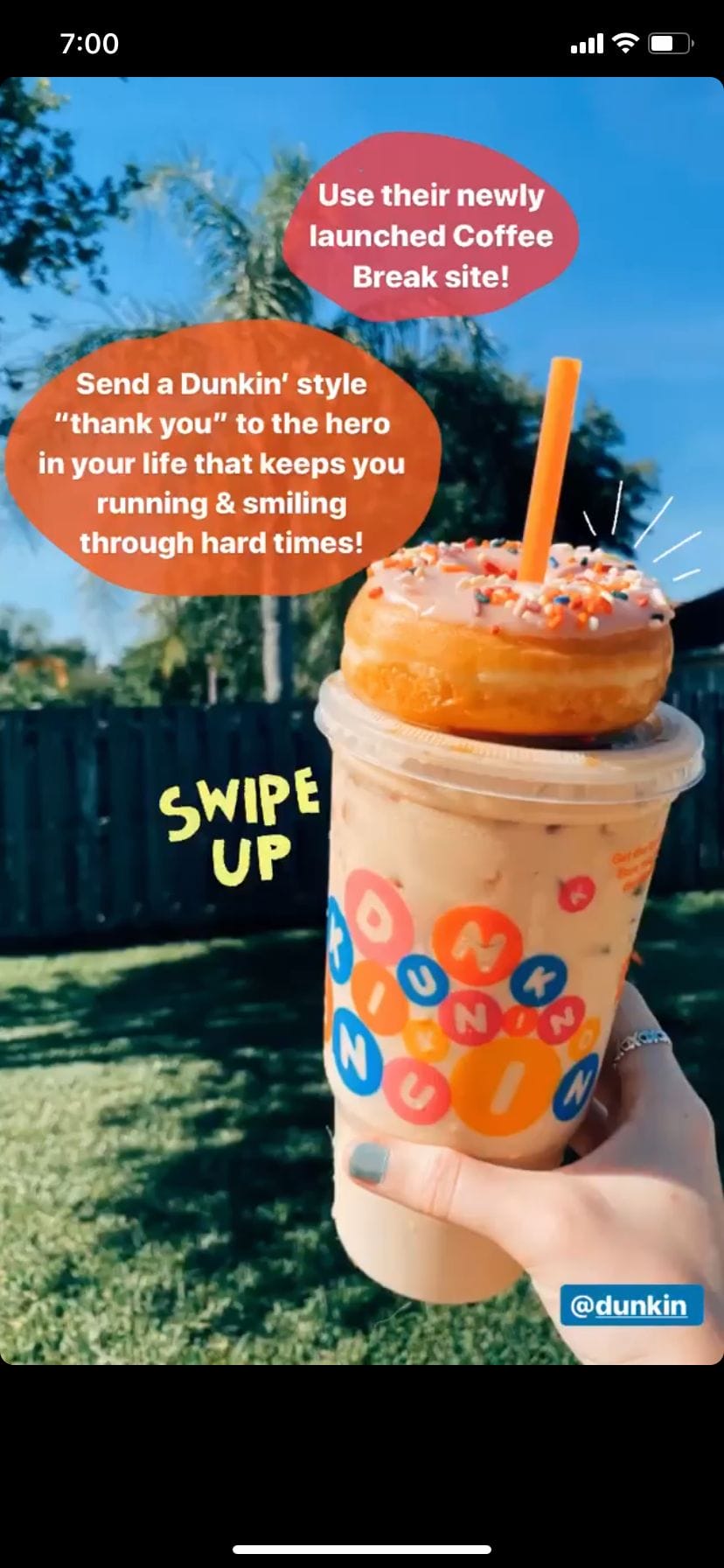 giveaway
Load More
Build your promotion package.
Choose from our most popular packages, or customize one based on your needs.
Tell me more
More Case Studies
Still have questions?
Talk with one of our promotional experts.