A small but mighty neighborhood, North Tampa is central to all the amusement, fun, and learning in Tampa. Filled with local bars, homey restaurants, and bordered by the bustle of Nebraska Ave, this is a neighborhood you're going to want to visit. 
Need some North Tampa inspiration? Check out these six restaurants to start your North Tampa adventure!
Looking for a low-key lunch or dinner? Hit up Gino's Restaurant and Bar! Gino's is super casual and feels like you've just walking into the home of your Italian best friend, plus the food is as authentic as it gets. There are so many great Italian options here, it's hard to choose just one so we suggest getting a sampler to indulge in as much pasta as possible!
Pro tip, they have a long happy hour from 11AM to 6PM all weekdays, so make sure you stop by and pair a glass of wine with all that pasta.
Monday – Saturday | 11:00am –11:00pm
Sunday | Closed
📍 10006 N. Armenia Ave., Tampa, FL 33612
If you're looking for "Floribbean" cuisine straight from Florida itself with a side of music, Skipper's Smokehouse is the place for you. Famous for their Blackened Grouper Rueben – which was even featured on Travel Channel – but their wings are a must have. Be sure to visit this North Tampa staple on a night with live music – which is most – to experience the Skipperdome in all of its glory!
Thursday – Friday | 3:00pm–12:00am
Saturday | 12:00pm–12:00am
Monday – Wednesday | Closed
📍 910 Skipper Rd., Tampa, FL 33613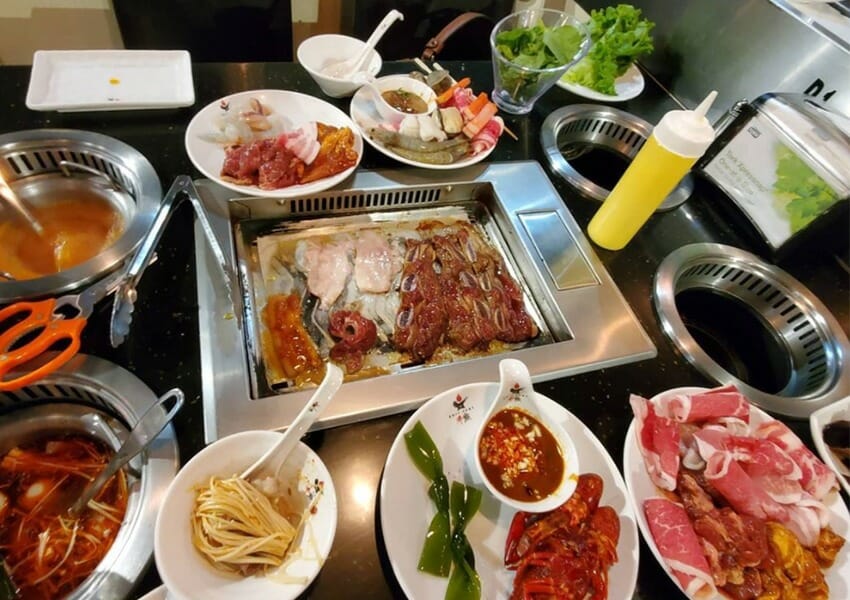 Get ready for an unforgettable and fulling experience at Boil Spot in North Tampa. This Korean BBQ joint has limitless options and an unlimited buffet! You choose the combination of vegetables and meats you want and grill it right at your table! Boil Spot is a one of a kind experience that we can't stop raving about. We suggest going between lunch and dinner when the crowd settles down so you can find all of your favorites!
Along with grill at your table stations, Boil Spot is know for their widely popular hot pots! Take multiple trips or take advantage of the unlimited buffet so you can try it all.
A Tampa Bay favorite, Mr. and Mrs. Crab have reached all corners of the bay including a location in North Tampa. Here, you know you're in for a delicious seafood treat! This casual dining experience is perfect for midweek seafood cravings and weekend feasts while watching the game.
It's hard to drive through the Tampa Bay and not crave seafood, luckily Mr. and Mrs. Crab are ready to fill you up with their massive platters.
We love building our own combo platter to get all our favorite seafoods and fixin's, just the way we like it!
Sunday – Thursday | 12:00pm–10:00pm
Friday – Saturday | 12:00pm–11:00pm
📍 1251 E. Fowler Ave. Unit D3, Tampa, FL 33612
Missing home and all of those home cooked meals that comes with it? Mamas Kitchen has you covered. The ultimate spot to spend the morning with a stack of pancakes, Mamas Kitchen will take you back weekend mornings with the family. 
This place is always a favorite in the Tampa Bay and we know why – this diner will remind you of home and treat you like family.
Be sure to visit while hungry so you can enjoy all Mamas Kitchen has to offer from their kitchen!
Monday – Saturday| 7:00am–4:00pm
Sunday | 7:00am–3:00pm
📍 9312 N Florida Avenue Tampa, FL 33612