Summertime this year is finally calling for some backyard fun with your friends! If you're considering hosting a summer soiree, we've got your back! We've created this guide to chilling in the heat for anyone looking for getting their best buds together and making the most out of the warm weather and relaxed vibes of the season.
Keep scrolling to get ideas for the ultimate backyard BBQ in Jacksonville…
Now let's get grilling...
📷 Lee's Carroll's Meat Shoppe
1. Don't let your BBQ be all sizzle and no steak
You could grab a hunk of meat from anywhere and throw it on the grill for a good time. If you're looking for a really special BBQ, however, we recommend heading to Carroll's Meat Shoppe for beautiful custom cuts of meat that are super fresh and come with her staff's personal expertise that will really get your flames going.
Take some time and browse around, keeping your options open. We recommend heading over to the ribs and picking some really choice baby backs (either pork or beef) for something you can set on the grill and forget about while you enjoy your party.
Here is our favorite recipe for fall-off-the-bone ribs.
📍 7525 N Pearl St, Jacksonville, FL 32208
📍6861 St Augustine Rd, Jacksonville, FL 32217
📍 2242 University Blvd N, Jacksonville, FL 32211
2. Charcuterie boards: Easier to make than say
Keep your sides on the center stage by getting a charcuterie with primo bread and bakery items from Jax Bread Co.! With rustic menu items like rosemary focaccia bread, Italian crusty loaf, or plum tartelettes, your guests will flock to your spread and mingle. It's a great way to elevate your party visually (without that much work!) while providing something for guests to snack on while the BBQ slow smokes.
Here is a quick guide on setting up your charcuterie.
📍  8380 Baymeadows Rd #5, Jacksonville, FL 32256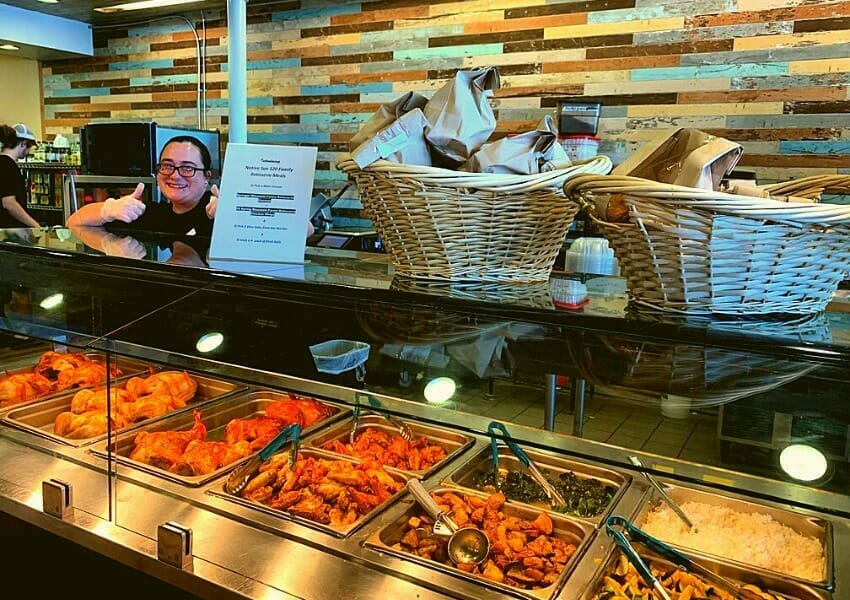 3. Let the sides take center stage
When it comes to your BBQ sides, you'll really want something to compliment your hard work (without being too much extra work!). We really recommend not overextending yourself and allowing yourself to have fun at your event without worrying too much about expectations. For this, we suggest heading to Native Sun for some of their homemade sides to go! Their kitchen always puts out fresh and local pasta salads and organic vegetables that will make your BBQ plates complete.
📍1585 3rd St N, Jacksonville Beach, FL 32250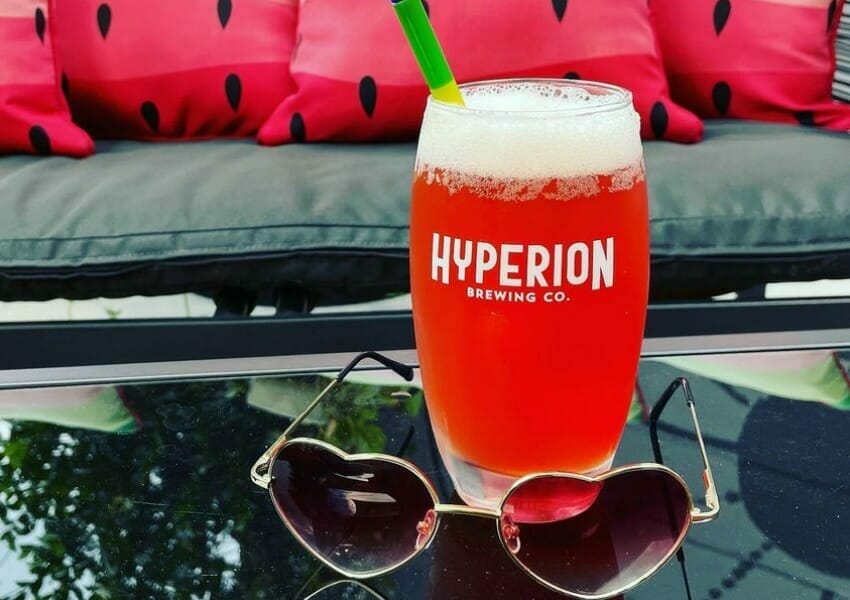 Okay, so you're good on food but your guests are going to be clambering for something else – drinks! Nothing makes a perfect backyard BBQ like some tropical drinks and beer in the sun. For this, we recommend keeping a good basic beer supply with some highlight drinks that will really impress your guest and set the mood.
Head to your local craft brewery for a growler of something light and/or fruity that will be good for a hot day. We really love Hyperion (so much we have our own Stuff to Do Brew!). Get a sample of the Citra Smash or Porchfest Gold for a good bet on an all-day drinking beer.
For those more of the liquor persuasion, you can head to Cantina Louie for a homemade jug of margarita (just pour and go!) or make something ahead of time yourself by hitting up Manifest Distillery and grabbing a bottle of Florida Citrus Vodka, made from real Palatka oranges! Throw some Fever Tree Ginger Beer and some honey together and you've got a great afternoon pick-me-up.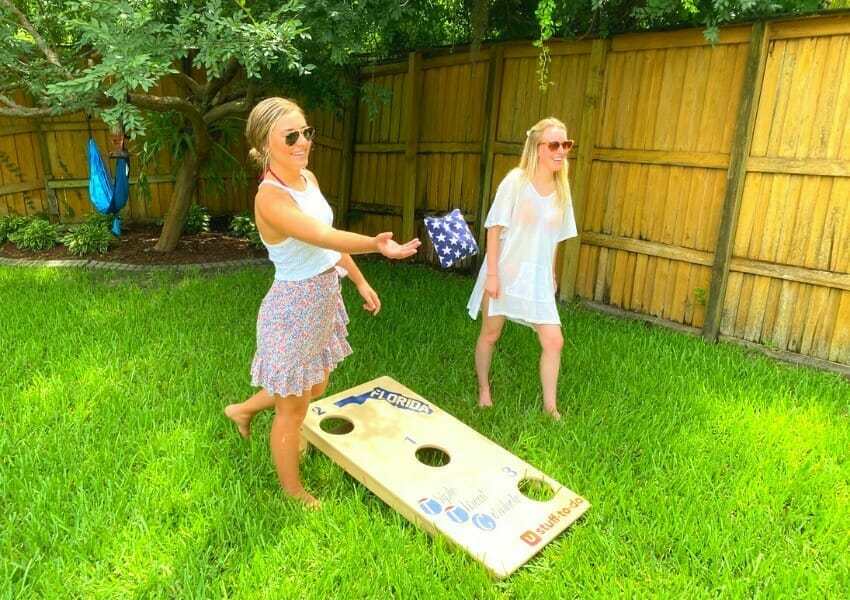 Entertainment is key for a great soiree, and nothing heats up a party like cornhole. We've collaborated with Triple Threat Cornhole to help you get your party popping! Just make sure you've not invited any hotheads because this game will bring out the competitiveness in your partygoers as it fires up!
General Explanation of the game:
Three holes make it way more competitive but also give you 3 chances to make it in! The top is 2 points, the middle is 1 point and the bottom is 3 points. You can't go over or cancel each other out like regular cornhole so this makes it more strategic with how many points you need to get. It also doesn't count if you get it on the board like regular cornhole so you have to make it in!
There are two styles to play, baseball and football style. Choose which style works for you and start tossing!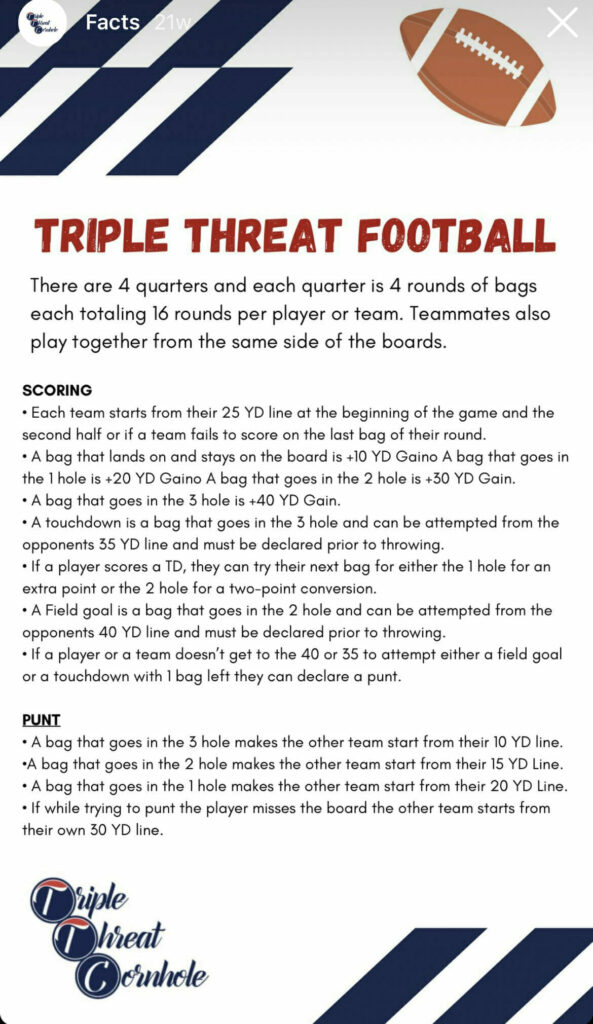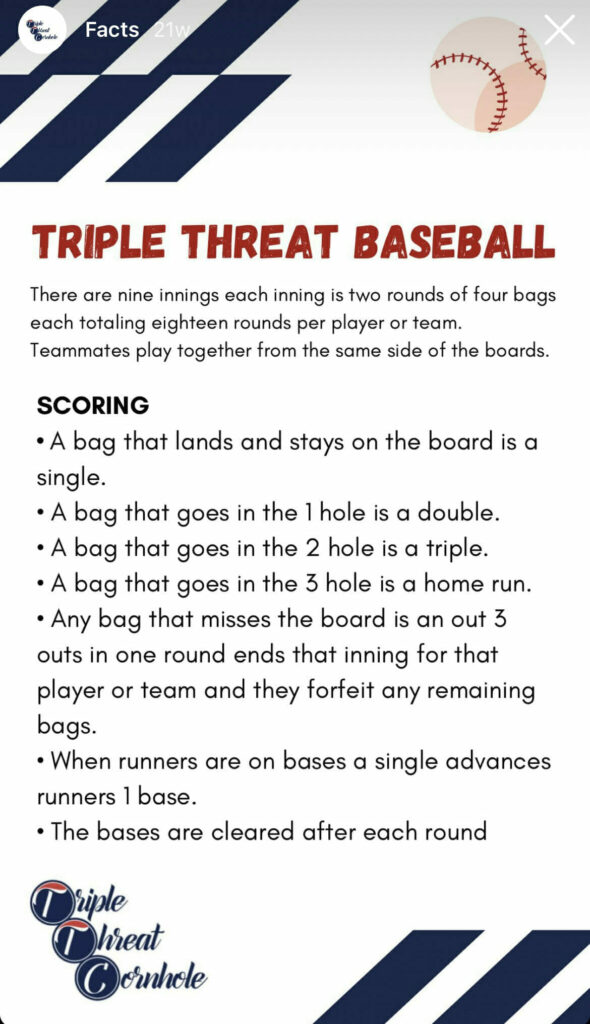 Now that you got the food, drinks, and games — it's time to start the party! Afterward, your friends may be asking YOU about how to host the best backyard BBQ in Jacksonville.