With Cinco de Mayo just a little bit away, it's time to get a fiesta game plan in order 🎉🌮 Whether you're in the mood for a low-key night of tacos and margaritas – and there are some excellent places to find them in Tampa Bay here and here – or looking to rock a sombrero down the city streets of Downtown Tampa, here are the best places to celebrate Cinco de Mayo around Tampa Bay.
Celebrate Cinco de Mayo around Tampa Bay: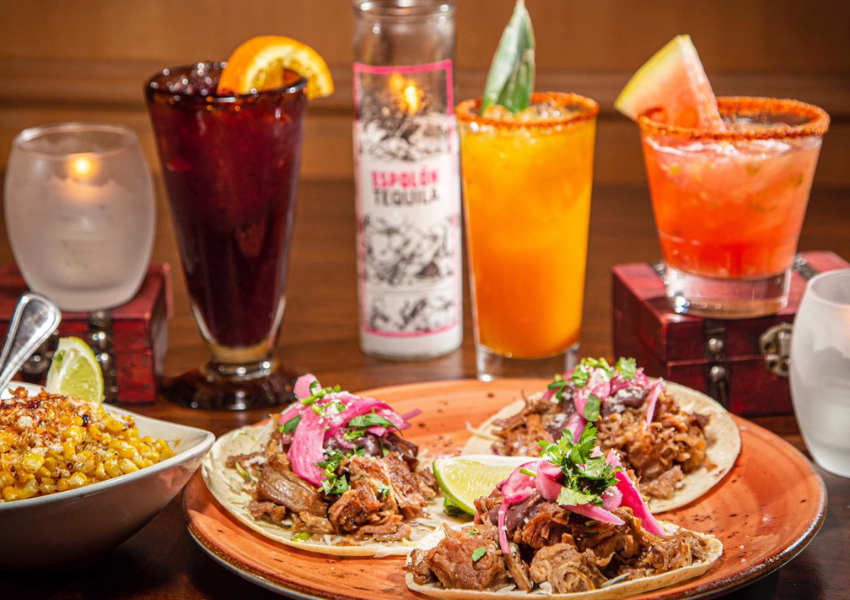 Get ready to fiesta like there's no mañana! Besito is celebrating Cinco De Mayo with all things entertainment. There will be a live mariachi band, tunes with a DJ as well as tunes with INNOVATION. Enjoy tastings, specialty cocktails, and even tequila flights. Serious party-goers should call ahead to make a reservation.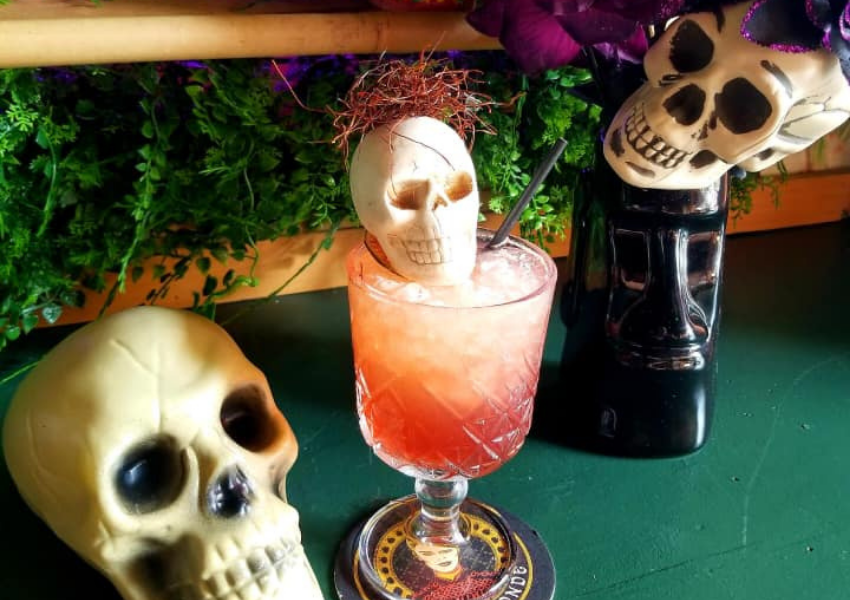 When life gives you lemons use them for tequila shots at Top Shelf Crawls in St Pete! Crawl your way through St Pete and enjoy souvenir Cinco beads, ridiculous drink specials to crawlers, food specials, and professional photographers. Since you're in the know, make sure to invite your friends in on the action, and enjoy the night away!
Get ready to party like a guac-star and eat yourself into a siesta! Cinco De Harley-Davidson brings you an evening of festivities with live music from The Wheelhouse Band, giant beer pong, piñata roulette, a hot pepper trivia challenge, pin the tail on the donkey, and giveaways worth over $500. This is a family-friendly event that is perfect for parents looking for a night out that everyone in the family will enjoy.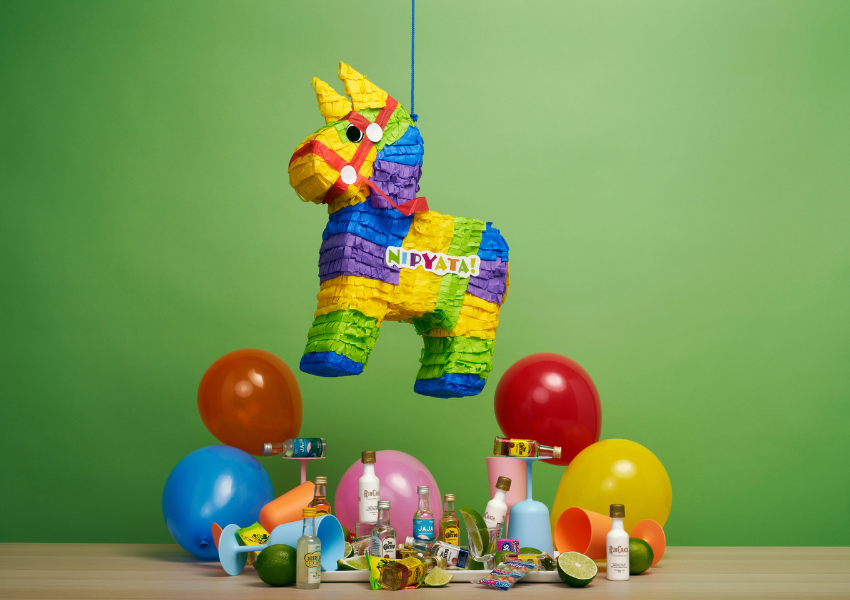 Sip. Socialize. Create! For all my ladies and gents who want to start the Cinco de Mayo party early, do we have the event for you! Enjoy a fun night of painting your own margarita glass, chips and salsa bowl, dip dish, and more. You'll get to use your creativity while enjoying chips, salsa, and margarita mix (bring your own tequila if you are over 21!).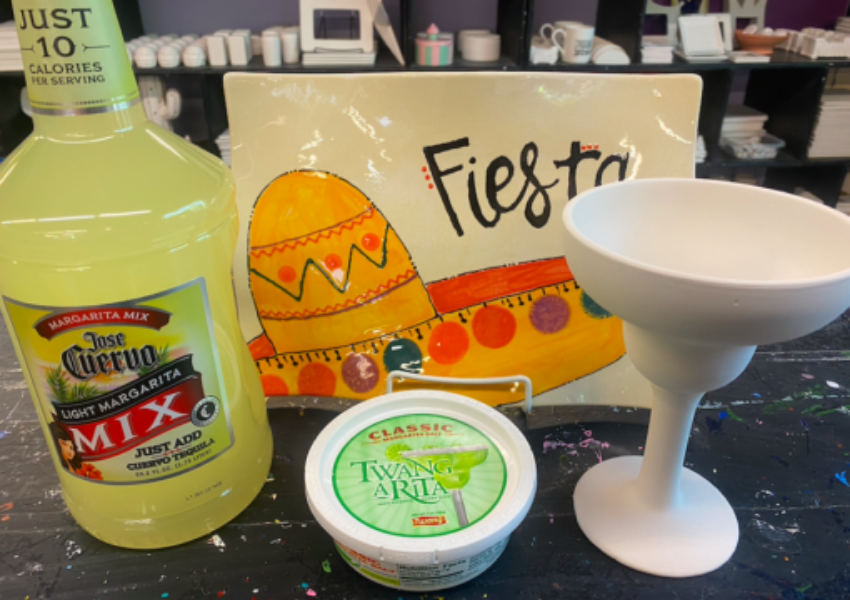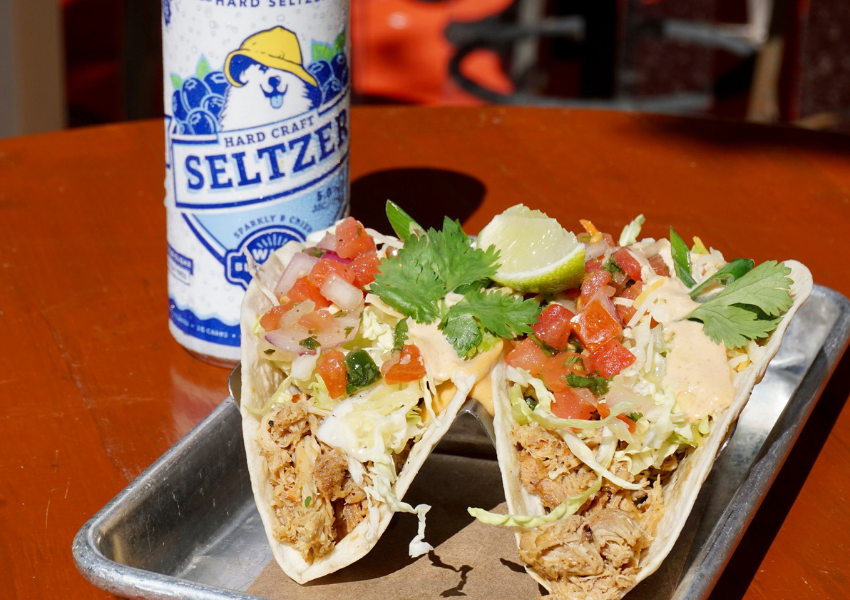 Sea Dog Cantina, a great spot to venture with co-workers if you need plans for a night out! This restaurant is including live music all day and a Spanish DJ all night. They'll also include a street tacos station and lots of drink specials including pitchers of Mexican beer for $15 as well as seasonal draft margaritas for $4! Trust our team, you won't want to miss out.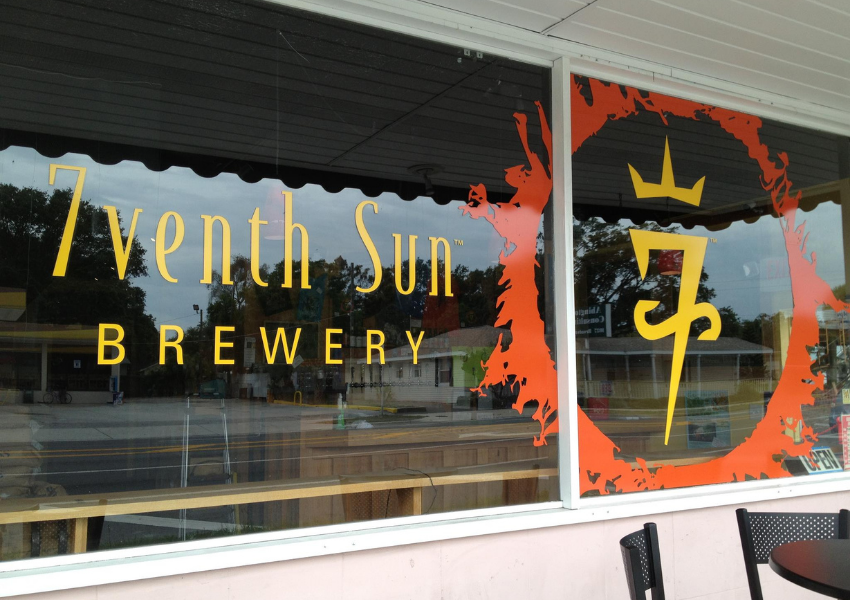 There's nothing wrong with Taco Tuesday, but there's everything right with Cinco de Mayo Hump Day dinner and can drop! Enjoy a LOKO Mexican-inspired dinner at the 7venth Sun Brewery's Tampa location only. Guests will be able to enjoy a packaged appetizer, main course, sides, dessert, and one draft beer for on-site guests or one select 16 oz. tallboy for to-go guests. 
Cinco De Mayo is a day to celebrate Mexican food, culture, and traditions. Of course, it's a great excuse to enjoy a margarita and a big plate of nachos, too. The owners over at The Acapulco Restaurant want to help your families and friends celebrate this special day with good food, face painting for kids, live music, and more! Follow this event for more details to come soon.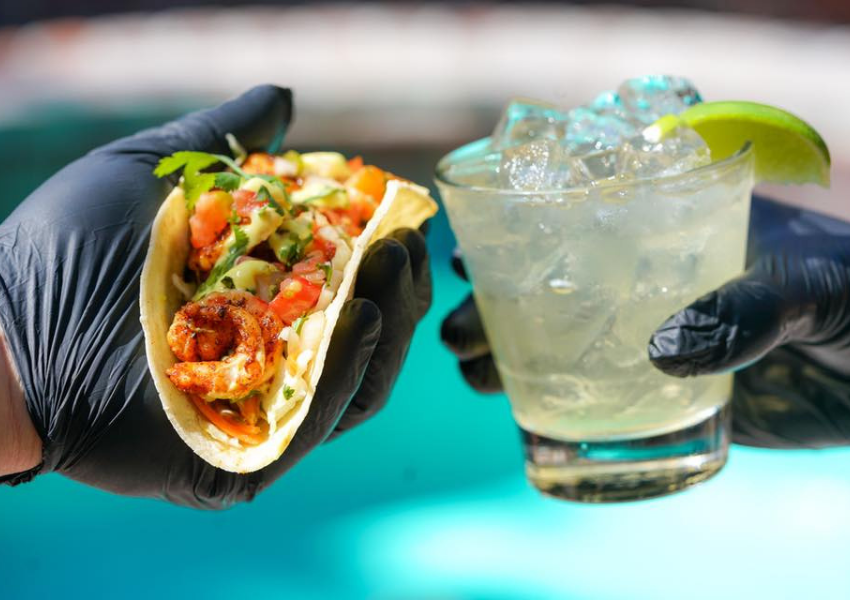 Ready to mix up some margs at home?
Celebrate Cinco de Mayo with Ghost Tequila! 🍹 Enter to win Ghost Tequila Cinco Party Pack that includes everything you need to make margaritas, including tequila, all the fixins', margarita glasses, and more! Just enter your email and name below. By entering your email, you will be subscribed to our email list. Must be 21+ to enter.
Let's Taco Bout Cinco de Mayo Restaurants


We now live in a world where every day is another national food holiday. For example, who knew there was a National Cheesecake Day? However, I think it's safe to say that Cinco de Mayo is everyone's favorite food holiday because it's when no one thinks twice about downing margaritas, chips & guac, and of course, tacos.
I am proud to say that Tampa Bay offers some of the best restaurants to celebrate Cinco De Mayo. Here are some of the top places you'll be seeing our team celebrate for a delicious and fun night out!
A Tampa staple for all things Mexican food is Green Lemon! Located on S. Howard right next to another Tampa Staple, Daily Eats, Green Lemon is a delicious choice with dips, bowls, tacos, burritos, and HUGE margaritas! Say no more right? Celebrate Cinco de Mayo at good ole' Green Lemon as they will be debuting a special menu that day, live music all night, and free Cinco De Mayo themed accessories. You certainly won't regret it.
How many times can our team write about Miguelitos? The limit does not exist. Miguelitos is a taqueria with a twist featuring tacos, tapas, burritos, tortas and bowls as well as breakfast, weekend brunch, a mini tortilla factory and cocktails and tequila on tap. Our team hears that this eatery will be serving some delicious Cinco De Mayo specialties. No need to worry about all the hassle of cooking. Invite your friends and have an all day Cinco De Mayo affair at Miguelito's.
Another great staple to add to your list of best places to celebrate Cinco de Mayo is Red Mesa Cantina! This local restaurant serves up the ultimate comfort food. From modern Mexican cuisine with an array of tequila, wine, and liquor, the Red Mesa Cantina is a great destination for drinks and deliciousness Downtown. One of our team favorites is the loco nachos which is seasoned chips loaded with queso Blanco, guacamole, jalapeño, cilantro, sour cream, pico de gallo, and black bean purée. YUM.
Casa Tina's motto is "Fresh, Healthy, Authentic Mexican". Downtown Dunedin is a hidden gem outside of the Tampa Area that knows how to serve the best Cinco de Mayo party. This restaurant is full of character as it is filled with live music, sombrero's, and classic home-style Mexican food. What's great and unique about this eatery is that all of the sauces, rice, and beans are vegetarian. There are also tons of vegan options available for people looking for a specific menu item. Casa Tina's offers extremely affordable Mexican food and my favorite drink in town: Mayan Fury with a blend of Banyan Reserve Vodka, fresh ginger, agave nectar, lime, and habanero.
Mekenita Cantina is making a statement in Tampa's Seminole Heights. Mekenita Cantina is inspired by Oaxacan traditions and fresh Pacific ingredients. Enjoy La Plancha Grilled Vegetable Tacos, Citrus Grilled Chicken Enchiladas, a classic Grance Burrito and so much more! We will update their Cinco De Mayo specials as it gets closer to the date!
Spice up your Cinco De Mayo with Ghost Tequila. The perfect balance of 100% agave azul blanco tequila and a splash of spice designed for spicy margaritas and cocktails with a kick. That's why Ghost Tequila was born; to perfect and turn an ordinary cocktail into an ultra-premium spicy cocktail for any occasion! It's that pleasing taste of sweet and savory. It's refreshing, yet with a nice bite.
In a bar, or at home, with Ghost Tequila it's simple to create a perfect spicy cocktail for Cinco. Below we've listed a few local restaurants that serve Ghost Tequila as well as a few easy cocktail recipes that anyone can make: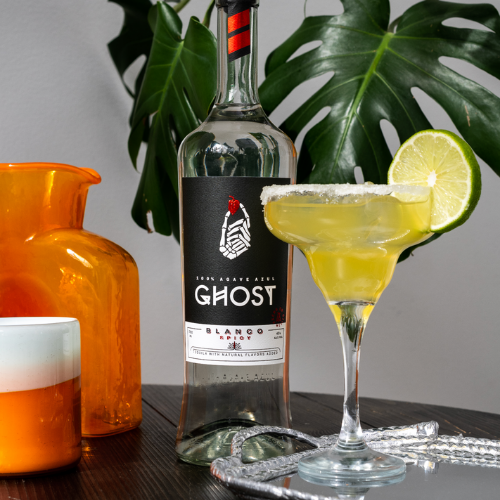 Your Favorite Go-To Classic Spicy Margarita
INGREDIENTS
1.5 oz Ghost Tequila
.5 oz Agave Nectar
.75 oz Lime Juice (to taste)
Salt Rim & Lime Garnish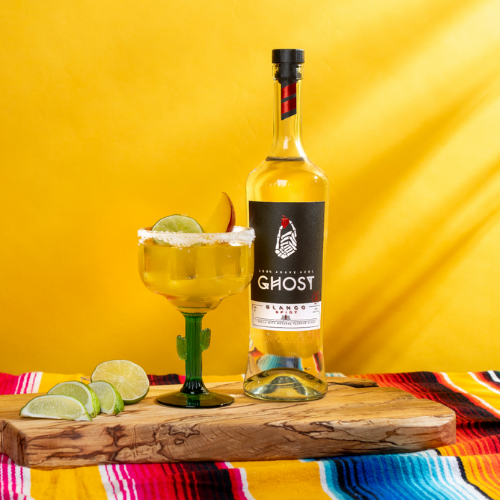 Go Loco for Mango- Mango Margarita
INGREDIENTS
2oz GHOST Tequila
1.5oz Mango Juice
.75oz Lime Juice
.50oz Agave Syrup
Mango Slice and Lime Wheel Garnish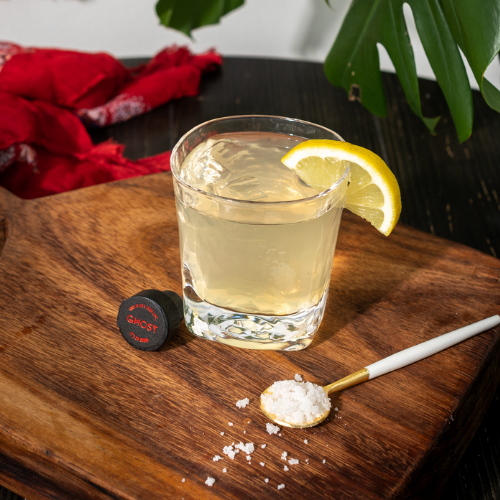 When Life Gives You Lemons- Lemonade Margarita
INGREDIENTS
1.5oz GHOST Tequila
2oz Preferred Lemonade
.75oz Lime Juice
.50oz Agave Syrup
Lemon & Salt Rim, Lemon Garnish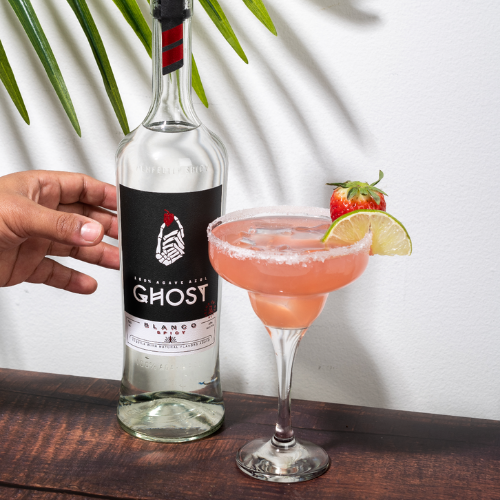 Sweet, Sweet Heat- Strawberry Margarita
INGREDIENTS
2oz GHOST Tequila
3-4oz Fresh Strawberries
.75oz Lime Juice
.50oz Agave Syrup
Blend, Salt Rim, Strawberry Garnish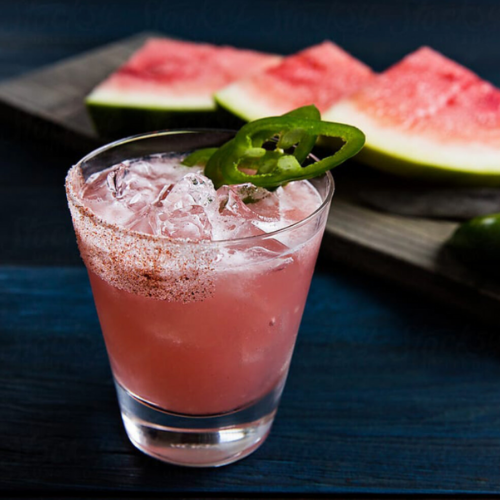 Soothe The Spice- Fire & Ice Melonrita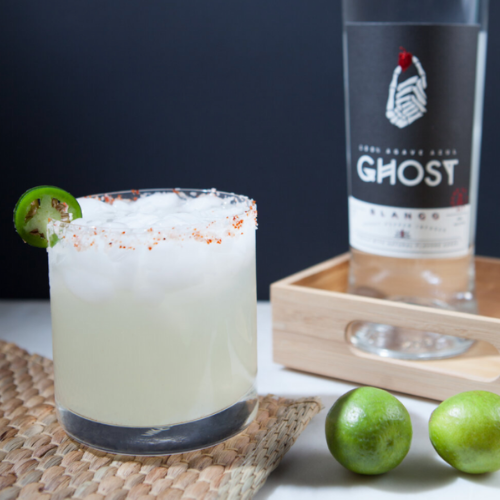 The One, The Only- Spicy Margarita
INGREDIENTS
1.5 oz Ghost Tequila
.5 oz Agave Nectar
.75 oz Lime Juice (to taste)
Salt Rim Garnish
Shake together all ingredients and serve on the rocks. Garnish with a lime wheel and salt rim.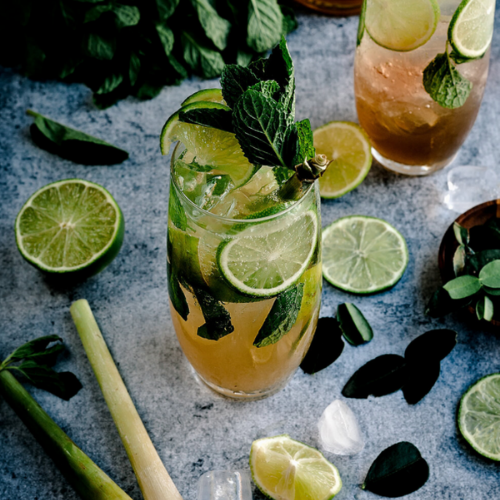 INGREDIENTS
2 oz Ghost Tequila
1 oz Jalapeno Simple Syrup
2 oz Fresh Lime Juice
Crushed Mint
Ice and Topped with Seltzer
Other places to get tacos in your neighborhood!