Whether you're looking for a beachy getaway or a fancy place to have a special dinner, restaurants in Clearwater are a great option.  The nearby beaches and lively downtown create this relaxing but active atmosphere with plenty of things to do after your meal. 
 Looking for the best restaurants in Clearwater?  Check out our master guide on the best restaurants in Clearwater and let us know what you're checking out next!
Frenchy's is one of the most famous restaurants in Clearwater.  If you have not visited Frenchy's, you need to make the trip as soon as possible!  When you think of your dream beach bar, you will definitely be picturing Frenchy's, with their open air seating, brightly colored decor, and strong daiquiris.  This beachfront restaurant has tons to offer – including their fresh seafood focused menu, daily live music, and 2 bar areas.
When at Frenchy's you have to order at least one of their signature dishes.  Check out their famously fresh Super Grouper sandwich – their most popular dish!  They also have amazing crab topped fries, which you can't find anywhere else!  Pick up some of these and their original Strawberry Daiquiris and you'll find out why this has been a Clearwater staple for years.
Also in Clearwater you can find Frenchy's Original Cafe, Frenchy's Saltwater Cafe, and Frenchy's South Beach!
Clear Sky is one of our favorite Clearwater restaurants for their amazing breakfast menu items.  If you love to dine out for breakfast, then this has to be your next spot to visit!  With their super diverse menu, everyone in your group will be ecstatic to find their perfect meal.  Additionally, you can experience their amazing breakfast dishes and not have to drive to far!  Clear Sky has their cafe on Clearwater Beach and their location on Cleveland Downtown Clearwater! They have a third location in Dunedin.
We love to try out their more creative breakfast dishes that you can only find at Clear Sky.  If you have a sweet tooth, then you need to they Hazelnut Almond French Toast – served with cinnamon butter and optional fresh berries…definitely opt-in!  
If you like a more savory breakfast, then we recommend their Nola Omelette – a New Orleans inspired dish.  This amazing omelette is packed full with blackened shrimp, andouille sausage, and cheddar jack cheese!  Finish it off with their perfectly crispy hash browns and you'll be set for a perfect – and filling – brunch!
Clear Sky on Cleveland
Monday | 8AM–9:30PM
Tuesday | 8AM–9:30PM
Wednesday | 8AM–9:30PM
Thursday | 8AM–9:30PM
Friday | 8AM–10:30PM
Saturday | 8AM–10:30PM
Sunday | 8AM–9:30PM
Clear Sky Cafe
Monday | 7AM–11PM
Tuesday | 7AM–11PM
Wednesday | 7AM–11PM
Thursday | 7AM–11PM
Friday | 7AM–12PM
Saturday | 7AM–12PM
Sunday | 7AM–11PM
Clear Sky on Cleveland
📍 418 Cleveland St, Clearwater, FL 33755
Clear Sky Cafe
📍 490 Mandalay Ave Ste 1, Clearwater, FL 33767
If you're in Clearwater and are on the hunt for a steakhouse then let us introduce you to Blinkers! They have received the "Best Steak" award for multiple years! If people in your party prefer something other than steak, no worries! Blinkers' menu is filled with delectable options from pasta to seafood. They have lobster, sandwiches, salads, and more! 
If you can't choose between land and sea, we highly recommend their entree that is literally called Land & Sea! It comes with an 8 oz. filet and scallops. Or try their "Me & Mr. Jones Special" which includes a lobster tail with a 6 oz. filet. 
Cesare's is a beautiful Clearwater restaurant serving delicious Italian food on Clearwater Beach.  We love that they serve classic style Italian food!  Not only is the food amazing, but they also have a beautiful view of the water.  The amazing service at Cesare's tops it all off, making it perfect for having dinner before a night out.  
We love their Eggplant Rollatini – stuffed eggplant with cheese and their amazingly fresh marinara sauce.  If you are more into pasta when thinking about Italian food, then we recommend the Pasta Trio.  In this dish, you get to enjoy three different types of pastas!  Their portions are also huge, so you will definitely get to take home leftovers for the next day.
Rumba's Island Bar and Grill
Rumba's Island Bar and Grill is a local favorite for getting island inspired cuisine and jerk chicken in the Clearwater area! This also a great spot to get some tropical drinks – so if you love daiquiris and Bahama Mamas – then you're going to love trying out the different drinks on their menu.
The setting at Rumba's can be described as beach formal, pretty casual but in an upgraded environment than your regular beach shack!  This is a beautiful restaurant at night, we love visiting their patio area for a date night out.
We love that Rumba's combines their fresh seafood with unique flavors.  One of their tastiest dishes is the Parmesan Crusted Hogfish.  They also have amazing sides to go along with your seafood meal like corn muffins and collard greens!  
Island Way is a local Clearwater grill that features an Asian twist on classic dishes and a sushi bar.  If you're looking for a beautiful dinner on the water with some equally as beautiful sushi, then Island way is the spot for you.  The outdoor patio is perfectly set up, with shade for warm days and space heaters for cool nights.  This is the perfect place to watch the sunset as well!  
There are so many amazing dishes at Island Way, we recommend that you visit with a group and order an assortment of items to share!  From the Blackened Scallops to Jalapeno Grouper Fritters – we love that they put their own flair on seafood instead of leaving it unseasoned.  They also offer a "Fresh Caught Fish of the Day", for which you can pick a flavorful preparation.  They offer the Island Way, an extremely yummy Thai inspired chili sauce!
Seaguini is located in Clearwater Beach at the chic and modern Opal Sands resort.  This cool Italian restaurant is perfect if you are looking for a fine dining restaurant on the water.  We love their spin on local seafood, by using Italian seasonings and hand-made pastas.  They also serve breakfast, lunch, and dinner so you can experience their amazing meals at any time of the day!  A daytime lunch at Seaguini is super luxurious as you can fully see their beautiful view of the Gulf from any seat in the house.
Not only is their food amazing, but their drinks are both creative and top quality.  We must recommend their Cucumber Cosmo – not too cucumber-y and extremely refreshing!  It goes perfectly with their rich meals like calamari and Gulf Coast Cioppino – an assortment of fresh seafood in a lightly spicy tomato broth.
Palm Pavilion is one of our favorite casual Clearwater restaurants.  This spot is literally located on the beach and is the perfect spot to view the sunset while not getting your feet sandy.  We love how laid back this restaurant is, while not skimping on the quality of their beachy eats.
Palm Pavilion is known for the "best burgers on the beach" but we love them for their fried fish dishes.  They have fried grouper cheek, fried grouper sandwiches, and fried shrimp.  There is no better snack after a day on the beach than some easy-to-pop fried seafood! 
If you are visiting for some drinks, the most popular drink here is their iced Rum Runner – the most tropical drink you're going to find near the water.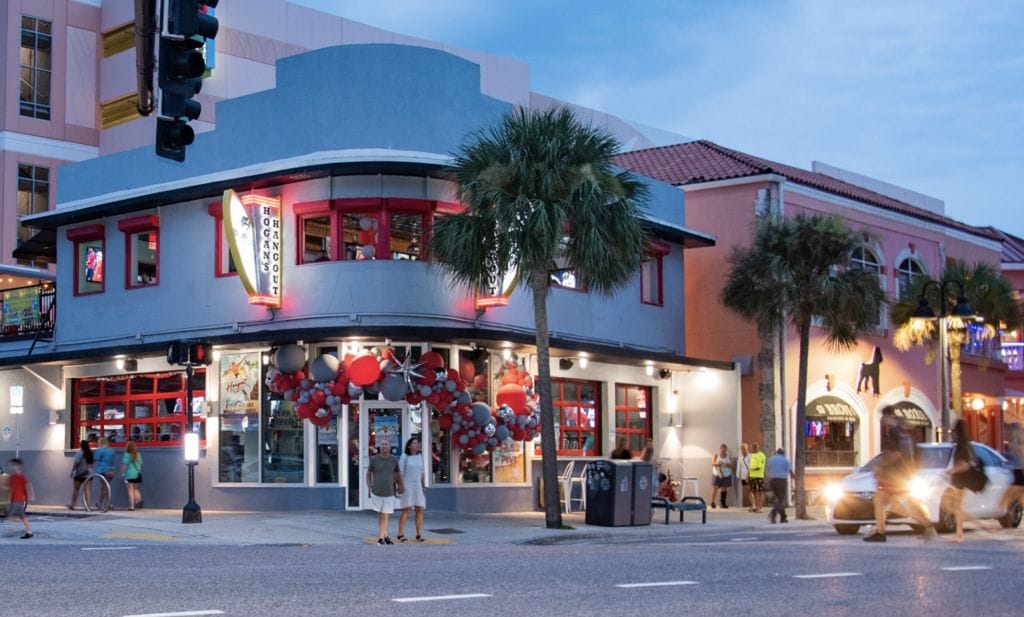 Capture some memories at The Snap House
Located directly across the street from Clearwater beach, Hogan's Hangout is the perfect place to stop by before or after a day at the beach. This restaurant has a casual atmosphere and is great for grabbing a drink, catch your teams game, and grabbing a bite.
Hogan's Hideaway truly does have something for everyone with their extensive breakfast, lunch, dinner, and drinks menu! Theres a great combination of options from classic American bar food, seafood, and even some Italian food. If you are looking for something to drink, their signature is the Hulk-Berry-Smash: a combination of mint, blackberry, and jalapeño!