Now that it's getting cold, we can't make it through the day without a hot coffee. Lucky for us, Nashville has SO many great Coffee Shops all over from downtown, out to Franklin! Whether you're looking for something sweet, or drink your coffee dark you're guaranteed to find a place you love on this list.
Keep reading to find the perfect blend!
Southerner's Coffee is a family-owned coffee shop on wheels that you absolutely need in your life! When you come, you can either walk up or go in the drive-thru. The staff is so friendly, if you go for the first time, tell them what you normally like and they'll recommend what you should get! They have locations in Franklin and Cool Springs, so if you live a little further south from Nashville, this one is perfect for you.
This isn't your average coffee shop, Anzie Blue is one of our favorite coffee shops and we have to say, their seasonal drinks never disappoint us! Located right in Hillsboro Village, Anzie Blue actually serves lunch, brunch, dinner, coffee, and cocktails, it kind of has everything anyone could need! Parking is also free in the garage below them for one hour.
Itty Bitty Donuts is a hidden gem out in Nolensville that is so worth the drive. Of course, the donuts are great and made fresh with lots of different toppings you can add on, but the coffee is great too! We like to get the Vanilla Latte when we go. If you work remotely and need a quiet place, this is a great spot in the afternoon to bring your computer and sip on coffee as you get through your day.
Barista Parlors are starting to pop up all over Nashville, so you know it's a good one! They strive to blend art and commerce and support locally sourced artisan products which we LOVE. The atmosphere of all their locations is very relaxing, making it one of our favorite coffee shops to work at. 
Looking for all the best seasonal treats? Click here to see which ones are our favorites! Did we miss one that you love? Reach out to us @StufftoDoinNashville and help us add to the list!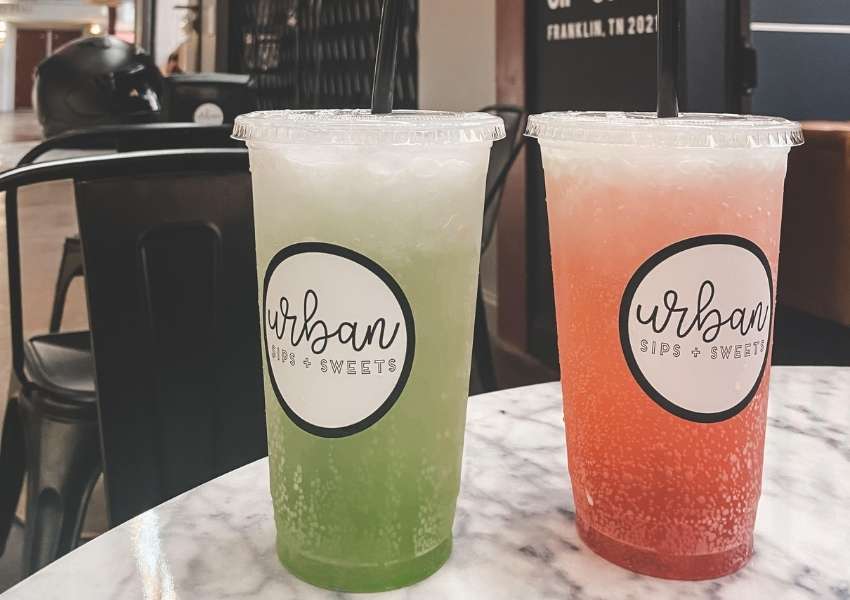 There's a reason every Frothy Monkey location is always packed. That's because it's simply the best! From locally roasted coffee right here in Nashville to a wholesale bakery, there's not much more we could ask for. This is a great spot for a cute little lunch or brunch with your friends. They have multiple locations in Nashville, and all the way out to Franklin, so we think everyone needs to try this spot!
This super trendy coffee shop, that everyone loves in Hillsboro Village allows pets on the patio! Fido is actually a great spot for breakfast, lunch, or dinner, and they have dog-themed drinks like the Milkbone, Pink Poodle, and others. P.S. spend enough time here and you just might run into Taylor Swift, she says this is her favorite place to grab a coffee and hang out.
You might know White Bison Coffee as the place inside of Twice Daily, but have you actually stopped to try it yet? If not, that you really have been missing out! This Coffeeshop keeps simple and sweet, and it sure is delicious. According to White Bison, a truly great coffee cup is hard to find, so head here and see for yourself if they really know how to do it right.
Americano Lounge seeks to keep the roots of what a barista originally was: to serve both the highest quality coffee AND cocktails which is exactly what you'll find. The Americano Lounge hopes to make you re-visit culture in the 1930s during World War 2, a time period that created a new culture of cafes, coffee, and bars. They have a regular and dessert coffee flight that's great to try when you come with friends.
More Great Coffee Shops in Nashville
Want to know where to find things to do in Nashville? Check out our website and follow us @StufftoDoinNashville, and don't forget to tag us in your pictures so we can follow your adventures!