Lucky you!  You've nailed down a date night in Downtown St. Pete.  But where are you going to go?  Don't worry we've pulled together our expert recommendations for the best spots for the perfect date night in Downtown St. Pete.
Check out our master guide for plenty of options for your date night in Downtown St. Pete, then let us know which you are going to visit first!
For the artsy person in your life or a change from your normal routine, you need to take a visit to The Dali Museum in St. Pete.   This huge museum is home to the largest collection of artwork in America created by the esteemed surrealist painter, Salvador Dali.  Located in Downtown St. Petersburg, this museum has a beautiful waterfront view with larger than life art installations and an interactive wish tree where you tie your wishes on with ribbons so they can come true – lots of fun for a date!
Getting hungry?  Make your way to Cafe Gala, their on-site cafe serving Spanish inspired small plates and refreshments.
St. Pete Museum of Fine Arts
If you love combining art and history, the Museum of Fine Arts near the St. Pete Pier definitely needs to be on your list.  This grand museum is one of the best in Tampa Bay for its huge collection of works!  Their exhibits include African art, European paintings, and gorgeous American photography – all covering over 4000 years of history!  
Check out their website for different events and visiting exhibits!  After spending your day strolling through and musing over different art pieces, you and your date can check out the MFA Cafe – a gorgeous restaurant located inside their crystal clear conservatory.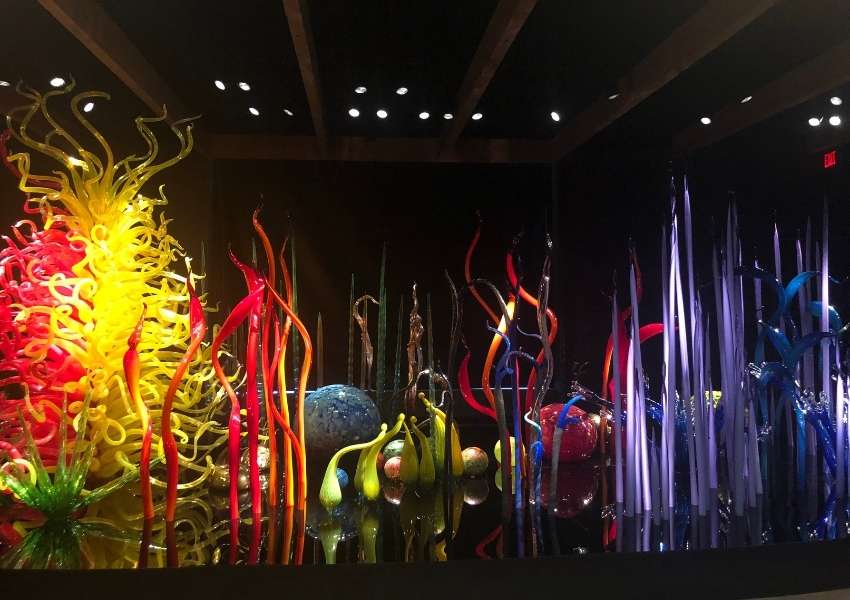 Love museums but want to see the art made in action?  Check out the Chihuly Museum!  At this museum, you and your date can watch some amazing glass-blowing demonstrations where they turn red hot glass into the complex creations of Dale Chihuly.  The work by this famous glass artist is elaborate and colorful – perfect for everyone to enjoy and observe!   After watching the show, make your way around the museum and take some pictures with their most unique sculptures.
Toast your love at a rooftop bar:
Located in one of our favorite boutique hotels in Tampa Bay, The Canopy is one of the best spots for a date!  Walking through the Birchwood, you'll be amazed by their chic and homey decor but you'll need to take the elevator for this spot! 
The Canopy is a gorgeous rooftop bar area, serving up delicious craft cocktails and small plates.  Not only are the drinks great, but so is the view!  Their rooftop overlooks the bay, making it a great spot to watch the sunset.  
For a tropical date high above the water, make plans to visit Pier Teaki!  Located on the top floor of the St. Pete Pier, this restaurant and tiki-inspired bar is the perfect place for a cute but casual date.  Get all the beach vibes without the annoying sand!  
Snack on some yummy island inspired sharables like Fish Spread, Sweet Quava Empanadas, and Fish Tacos.  They even have huge sharable signature cocktails like their Pier Teaki Rum Runner – full of fresh fruit!
Sometimes you want to have an activity instead of just dinner!  For a date full of fun, you need to visit the St. Pete Shuffle.  This spot is home to the World's Largest Shuffleboard Club, since 1924!  If that fact doesn't impress your date, we don't know what will!  We love the old school vibe of their atmosphere, combined with peacefulness of playing shuffleboard.  You can even bring your own snacks and drinks, for a DIY picnic!
If you're really looking to impress, you can meet your date's sky high expectations with a helicopter tour!  Executive Helicopter Tours offers exciting tours of the beautiful St. Pete area.  From Downtown St. Pete to John's Pass, you can get away from the stress here on the group and relax above it all.  They even offer packages for marriage proposals and wedding tours – how romantic!
Have a nightcap at our favorite spots:
There is no spot more intimate for a date than The Saint Speakeasy.  One of our favorite spots in Tampa Bay, this bar is filled with red lighting to transport you out of the city and into their own devilish-inspired space.  You can't just enter so easily though!  Every week, The Saint changes their secret password – also known as the "Sin of the Week".  Enter into their confessional, confess your sin, and the nun will let you in!  
After relaxing in a booth or chilling at the bar, you can order one of their 7 Deadly Sins specialty drinks – each with their own unique spin.   From bubbles to smoked wood, each drink is it's own experience.
Eat homemade pasta and cheese from Annata
For a classic dinner date in a modern setting, you need to visit Annata in St. Pete.   Their intimate and romantic setting is perfect for a date night or for a first date!   This spot specializes in serving up the best charcuterie and cheese in there area – with plenty of small plates to make sure your date is full.  Annata also features a beautiful waterfront view, so you can watch boats and watersports pass you by.  
For the date who loves an aesthetic spot, Intermezzo is always a solid choice.  Looking for a spot for coffee?  Visit in the daytime to chat over the best lattes!  But in the night, Intermezzo transforms into a beautiful cocktail bar with luxurious minimalist decor.  There's even an oyster bar in the back for some of our favorite appetizers!
Check out their Caffe Mezzo for the best espresso martini in the area!  
Sunken Gardens is a famous botanical gardens located in Historic Old St. Petersburg.  For the past 20 years, Sunken Gardens has been a romantic and gorgeous location creating the perfect addition to a dinner date night!  With over four acres of gardens, the you can spend house strolling through over 50,000 tropical plants and flowers.  You can even fawn over the pink flamingoes that inhabit the park.  
Want to make the night more special?  Check out their guided tours and events on their website!
Go for a bike ride along the water at Vinoy Park.
What's more romantic than a bike ride at sunset?  For a date full of fresh air and quiet, the Vinoy Park is one of our favorite parks for a date.  With so much wide open space and a waterfront view, it's the perfect setting for a bike ride!  For even more romance, plan to set up some hammocks and have a picnic at sunset.
Saturday Morning Farmers Market
Support local the next time you have to plan a date!  You and your partner will love strolling through, browsing the curated vendors at the St. Pete Saturday Morning Farmers Market.  From fresh produce, food, plants, and crafts – this spot has it all!  They even have amazing live bands to serenade your time at the market.  It's even a great repeat date, as the vendors are always rotating to bring in new shops and wares!
Horseback riding - CPonies
Bring your dreams to live with CPonies, a local Tampa Bay company that hosts horseback riding on the beach and beautiful Florida trails!   For a beach experience, join CPonies at Palma Sola Bay to watch the sunset on horseback.  You'll even be able to see manatees, stingrays, and dolphins!
Not only would you be having a fun date in Tampa but also you will get to spend time with horses that CPonies rescues from horrible conditions, rehabilitates, and maintains.  
If you haven't visited the St. Pete Pier, you need to make this your next date spot in Tampa Bay.  The pier is huge and there's so much to explore!  You definitely won't run out of things to do here – from different art installations, to local shops, water sports, food stalls, and even fishing!   We recommend checking out their website for updates on events, like outdoor concerts!  
If you and your date are the adventurous type, look no further than Island Boat Adventures!  Their charter boats take you on a fun ride to tons of activities.  Spend the day with some dolphin watching, snorkeling, and time on the gorgeous and tropical Egmont Key Island!   It's a deal too, as all your snorkeling gear is included with your tickets.  Book today and prepare for an unforgettable date on the water, Tampa style
Take the Crossbay Ferry To or From Tampa
Don't want to drive over the bridge for your next date destination?  We completely understand.  Skip the traffic and take the Crossbay Ferry to or from Tampa!  They have service times all throughout the day, whether you are planning a day or night date.  It's also super romantic to watch the horizon on the ferry, especially at sunset.  
Escape Rooms are a great way for you and your date to find out if you are compatible and can work together!  Not only is it beneficial, but it is also a lot of fun.  The escape rooms at Locked Up in John's Pass are full of unique riddles, puzzles, locks, and codes!  They even feature a secret passage that you can find, so make sure to use those 3 clues!  
This is also a great option if you're looking for a double date activity, with rooms holding up to 12 people – perfect for if your friend group is full of couples!