You can find the love Memphians have for their city through the art found literally everywhere. From the 100 Tigers Around Town prowling the city to murals filling our buildings with color and personality, Bluff City is THE place for art lovers. The city is crawling with so many different murals that it would be next to impossible to capture them all…or is it?
So, if you're an art-lover looking for some inspiration, social media-lover looking for some likes, or just in Memphis looking for stuff to do, there are enough murals to keep everyone busy.
Come back every now and then to see new murals added, as this is an ever-growing blog post.
Let's kick things off with what most locals would consider to be one of the top murals in our city: Original Love. Artist Brandon Gaia Marshall put this piece up back in 2011 and it's still a local favorite. It's almost certain that whenever you pass by, someone will be here posing, rain or shine. 
Location: This mural can be found behind Memphis Made Brewing Co. 
768 Cooper St, Memphis, TN 38104
Speaking of Memphis Made Brewing Co., they have a cool mural of their own. Once you finish up at Original Love, walk around the corner to the entrance of MMBC and you'll find this! Grab your favorite brew and enjoy some views on their spacious terrace. 
Location: Memphis Made Brewing Co. outdoor terrace.
768 Cooper St, Memphis, TN 38104
I Love Memphis Bridge Heart
Since we're already in the Midtown area, let's not forget to mention one of the newer murals on the Memphis scene. This tribute to the I Love Memphis Blog is a five-minute walk from Crosstown Concourse. This collaboration was done by Kong Wee Pang and Jay Crum. We love how the top of the heart is the Memphis Bridge. So artsy.
Location: If you head towards The Bubble Bistro, you'll run right into this mural.
419 N Watkins St, Memphis, TN 38104
Okay, this is the last Midtown mural…for now. We just couldn't pass this one up. Midtown is Memphis is definitely a nontraditional mural, but it's still fun to snap up in front of it. And, yes, those letters are made of moss. How chic. 
Location: This conventional mural can be found at CycleBar Midtown. 
588 Cooper St, Memphis, TN 38104
The artist of this color drip mural is Erin Miller Wray, who is no newbie to painting the Memphis scene. She has painted another mural that's closer to downtown, which uses similar colors and her one-of-a-kind calligraphy. 
Challenge: Go take a jumping picture and get more air time than we did. Tag us on Instagram or Facebook to get featured! 
Location: Uptown on the corner of Second and Mill Street–the colors make it hard to miss the big bright mural.
148 Mill Avenue, Memphis TN 38105
Personally, this was one of our favorites. We just love how the artist spread the mural to the sidewalk and made a color walkway to cross the alley. The only downside to this mural is how hard it is to get a good picture, especially if there is a car parked on the alley. You're gonna have to get a little crafty with those angles!
Pro Tip: Make sure you come back at night to see this mural with a little disco razzle-dazzle. 
Location: Floyd Ally mural is literally a small alley tucked on the side of Paula Raiford's Disco. Make sure you slow down your pace or you will walk/drive right past this one!
14 S 2nd St, Memphis, TN 38103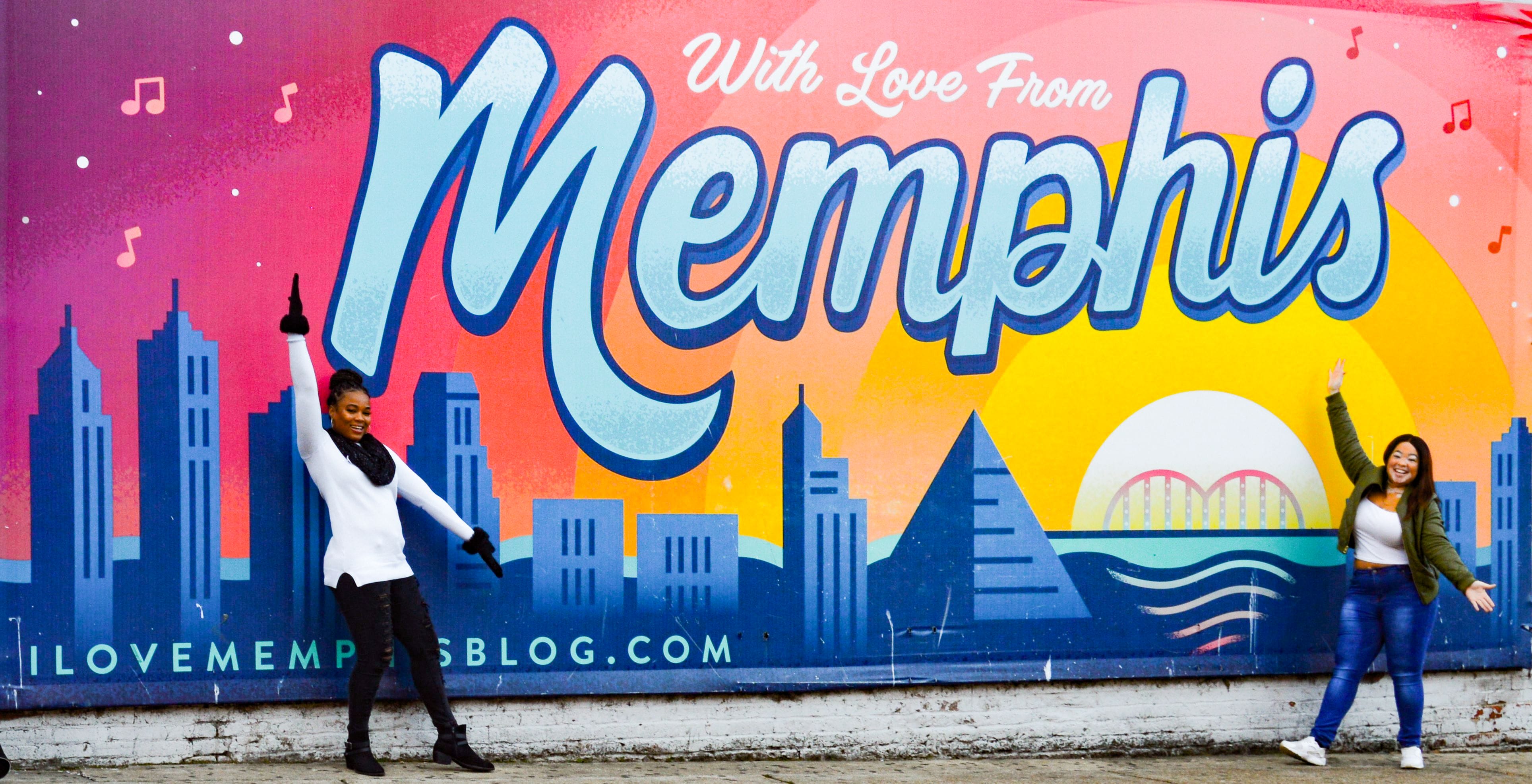 While you're waiting to get into Wet Willie's for your daiquiri, snap up with this beauty that was curated by a Memphis local. Allie Mounce graduated from the University of Memphis and her art can be found throughout the city in the forms of murals and local business logos.
Location: Generally, there is a line to get into Wet Willie's and you won't be able to get a nice picture like this. But, if you go during the day before things get busy, you can see this mural in full. 
Pro Tip: It's best if you get a shot from across the street because this one is huge.
209 Beale Street, Memphis TN 38103
This mural highlights many of the characteristics of our city. Some of the features include the Main Street trolley, a tribute to Memphis, Egypt, and a glimpse of the diversity in our city.
Location: Head towards the direction of Aldo's Pizza and the mural is en route. It's popular to enjoy some Aldo's and pose. You might want to pose first, because you'll leave the pizza shop with a food baby, for sure.
94 S Main St, Memphis, TN 38103
As you know, Memphis is BBQ Central. One of the staples in our culinary history is Corky's BBQ. If you pay the original location a visit, you'll find this gem! Big shoutout to artist Brandon Gaia Marshall for capturing the small details of the city. Looking closely, you will see a tribute to Martin Luther King Jr., Elvis Presley, and Penny Hardaway.
Pro Tip: Snap up, but be cautious! The mural is parallel to the drive-through line, so beware of cars entering. 
5259 Poplar Ave, Memphis, TN 38119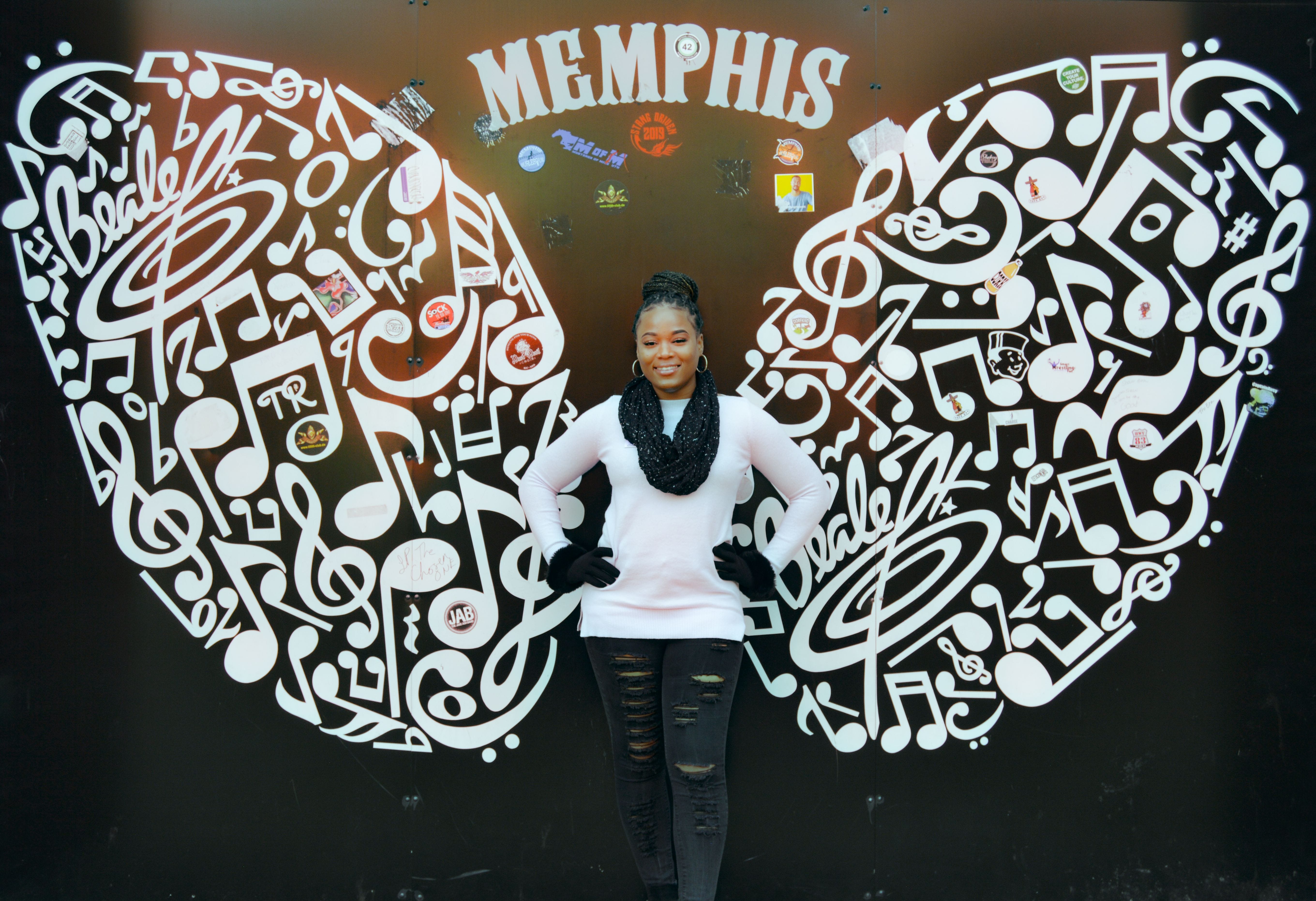 Yeah, we have a lot of butterfly murals. Add some flair to your newsfeed with wings! 
Location: Hence the name, this one is on  Beale Street. Look for Tin Roof's neon sign and you will find the mural underneath it.
315 Beale St, Memphis, TN 38103
Those are just a few for now. But there are definitely more to come. Do you have a mural recommendation?
Let us know your favorites on Instagram or Facebook. In the meantime, make sure you download the UNATION app to stay in the know on stuff to do in Memphis.
Until next time!