Cheers to the holiday season! We love this time of year at Stuff to Do in Houston because there is so much to do and see in the city. From holiday-themed bars to festive events like the Bad Santa Party and the Silent Headphone Party, we are going to show you all of the BEST things to do in Houston this weekend!
We hope everyone in H-Town has an incredible holiday full of fun, love, and great memories. We can't wait to bring you all of the best events and Stuff to Do in Houston in 2022!
To keep up with all of the best events happening in Houston, be sure to bookmark this page and check back each week for all new content!
Be sure to follow us on Instagram and Facebook to keep up with our adventures in Houston and join our Facebook Group,  we have so much fun in there! What will you get into this weekend? Tag us in your weekend fun using #stufftodoinhouston.
🗺 Traveling This Holiday? 🗺
Did you know that UNATION is also in three other Texas cities?  You can find Stuff to Do in San Antonio, Dallas, and Austin, too!
Traveling out of state? You can also find UNATION in Florida, Georgia, Tennessee, Pennsylvania, and North Carolina! 
Potterhead or not, the Potted Potter is guaranteed to give you all of the belly laughs!  Potted Potter is a Harry Potter parody show that combines all of our beloved wizarding world books into one hilarious show! Whether you love Harry Potter, or just love comedy, this show is perfect for you!
Potted Potter is a 70-minute show and sells out regularly, so be sure to purchase your tickets early! Guests 12 and older must show proof of a negative COVID test or vaccine card with proper photo identification. 
Event Details


Dec 23 | 8:00pm–10:00pm


Zilkha Hall at The Hobby Center


$128
🎅🏻 Have You Been Naughty or Nice? 🎅🏻
📸 The Bad Santa Party Host Crew
The 10th Annual Bad Santa Party is going to be Lit like a Christmas tree! End 2021 and celebrate the holidays with Chapman & Kirby, festive cocktails, and some of the best Houston DJ's spinning beats that will get your booty shakin! 
The dress code for this event is "Bad & Boujee" with a color palette of red, green, and gold. This is the perfect time to whip out your favorite party dress! If you're looking to have the ultimate VIP experience, be sure to reserve bottle service for you and the crew!
Event Details
🗓 Dec 23 | 10:00pm–2:00am
📍Chapman & Kirby
🎟 $35 for General Admission | $500 Bottle Service
Seeing all the beautiful lights and homes in River Oaks during the holiday season has been a tradition for my friends and I for years!
We always grab a hot cocoa from a local coffee shop and walk all along River Oaks Blvd. and the surrounding streets. Parking is always difficult so the earlier you get there, the better! 
❄️ Featured Blogs of the Week ❄️
Looking for some reading for your downtime? Check out some of our favorite Houston content! You'll the best places to eat, drink and play!
Ready to break out of the house and escape the Fam?  Silent Night might be the event for you! Taking place on Christmas night, Silent Night's Silent Headphone Party will have you dancing the night away with three different music options like Top 40, Dance and R&B music.
If you've never been to a Silent Disco, here's what you can expect: you and your friends will each have your own headphones with the option to connect to three different DJs. The venue itself is silent and all of the party music is coming from your personal headphones.  Then of course, you dance the night away! This is such a blast because everyone could be listening to something different, but you still get that dance club vibe! 
Event Details
🗓 Dec 25 | 10:00pm–2:00am
📍Grooves of Houston
🎟 $10
📸 Cirque du Soleil - Alegria
Love the Cirque shows but can't make it to Vegas to check them out? What if we told you, you could see a Cirque du Soleil show right here in Houston?  Cirque du Soleil – Alegria tells a story of how life goes on through tragedy and the abuse of power. 
Cirque shows creative storytelling experiences filled with acrobatics, detailed costuming, and beautiful music.  If you're a fan of Mystere, you will love Alegria as it was created during the creative process for Mystere!  
Event Details
🗓 Dec 26 | 6:00pm–10:00pm
📍Sam Houston Race Park
🎟 $77–$219 Depending on Seating Area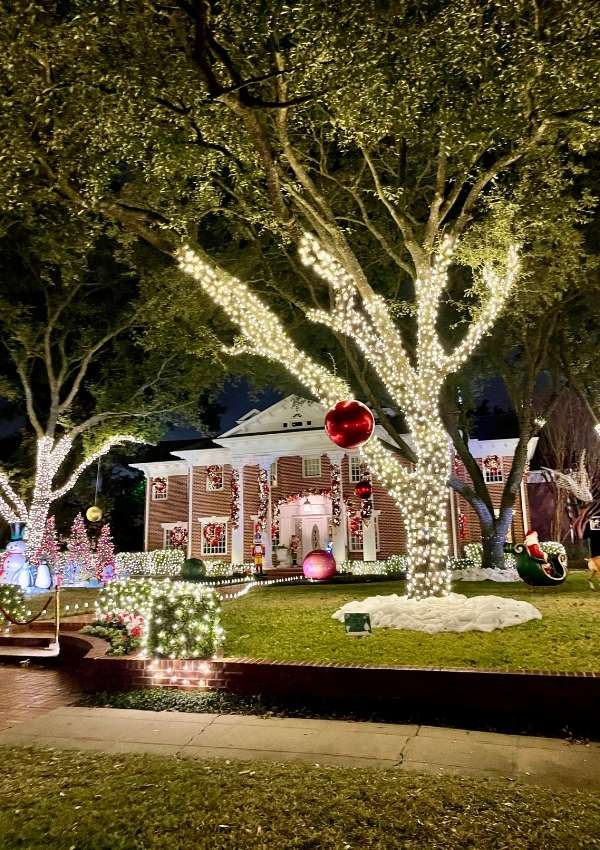 Looking for some festive fun happening this week? Check out some of our faves! 
🎄 Holiday Fun in Houston 🎄
Fight The Sunday Scaries with These Events!