Sweet Summertime is here!  It's time for fun in the pool, tan lines, family vacations, and of course backyard BBQs. That's why UNATION's Stuff to Do in Houston Team is here to help you plan the Ultimate Summer Soiree to make this summer in Houston amazing!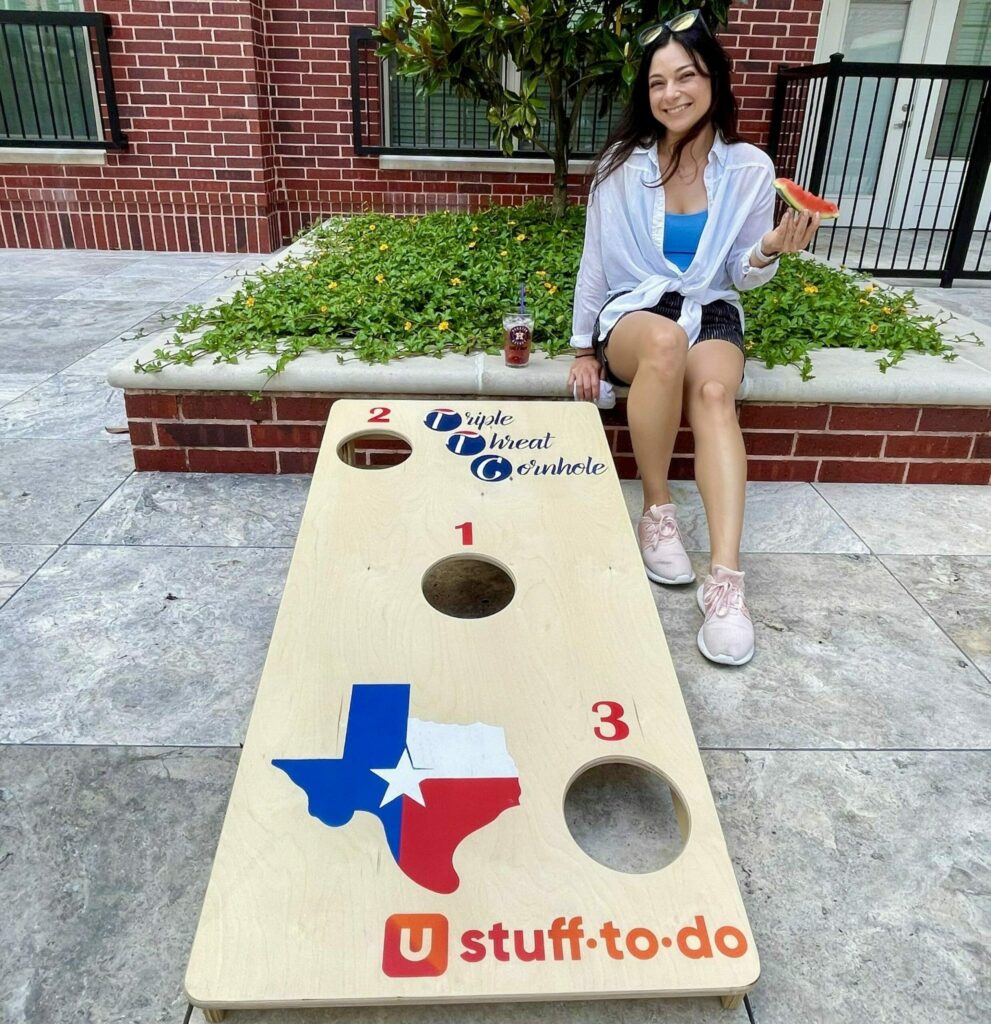 To have the Ultimate Summer Soiree you'll need a few things; food, drinks, and of course a set of TripleThreat Cornhole boards.  This combination is sure to create the perfect get-together this summer in Houston. Here are a few of our favorite spots to grab the necessities for a Summer Soiree. 
A Summer Soiree must have is meat for the grill!  B&B Butchers has all of your BBQ necessities and more.  Stop by to get some dinner (we love their steaks and seafood), and grab everything you need for the Soiree.
To make the process even easier, B&B offers grilling packages that can be ordered 24 hours in advance. This package includes everything you need to grill up a tasty BBQ feast! 
Not a meat-eater? Never fear! Hit up your favorite Farmer's Market, like the Houston Farmer's Market, and throw some veggies on the grill.  We love a grilled Portobella and Zucchini! 
Looking for an easy way to season your steak? Here's Whitney's favorite seasoning.  Rub each side of the steak with Fiesta Brands Uncle Chris's Gourmet Steak Seasoning and a few drops of Worcestershire sauce, then get to grilling!
MON–THURS | 4PM–9PM
FRI–SAT | 4PM–1-PM
SUN | 11AM–8PM
📍 1814 Washington Ave, Houston, TX 77007
Next, Head to El Bolillo for Buns & Sweet Treats
"Let Your Conchas be Your Guide" at El Bolillo!  This bakery has some seriously sweet baked goods that won't disappoint.  Grab some buns for your burgers and some dessert, too!  El Bolillo creates so many great baked goods like tres leches, pan de Muerto, Rosca de Reyes, and more. 
Want to make your burgers unique?  Try slicing a concha in half and using it as the bun for your burger! This is the perfect mix of savory and sweet.  Your taste buds will thank you!
Can'f Forget the Sides! H–E–B is the Place to Be!
In true Texan fashion, we love our H–E–B.  You can find all of your side dish needs or pick up a premade side if you prefer.  H–E–B offers all kinds of great sides that can be thrown on the grill like stuffed mushrooms, veggie kabobs, potato salad, and of course guac! 
Not only do they have great sides, but they also have great pregame and post-meal snacks like charcuterie boards, cheese balls, fruit trays, and more.
Here at Stuff to Do in Houston we love guacamole!  Here's an easy recipe to try:
Easy Guacamole 
You will need 4 Hass Avocados, a lime, a red onion, a Roma tomato, garlic powder, salt, pepper, and a jalapeno.


Halve & de-seed avocados and mash in a bowl
Dice 1/2 of the red onion and add to mashed avocado
Dice Roma tomato and add to mixture
Leave the tomato's juicy center out of the mixture

Add garlic powder, salt, pepper, and lime juice to taste
*Optional* For a little spice dice Jalapeño and add to the mixture


Serve with Tortilla Chips & enjoy!
The final step that will complete your Ultimate Summer Soiree is a Triple Threat Cornhole Tournament!  This backyard BBQ favorite is more challenging and more fun than ever before with Triple Threat!