The Tampa Bay Lightning's quest to win back-to-back Stanley Cup Championships is off to a sizzling start. Playing in front of a sold-out home crowd of 19,000 screaming fans at Amalie Arena, the Bolts dismantled the Montreal Canadiens 5-1 in game one and 3-1 in game two. Stellar offensive play, lockdown defense, and superb goaltending Andrei Vasilevskiy have been pivotal in their success.
Games three and four are set for 8PM ET in Montreal, with the Lightning returning home to Tampa Bay should the series reach a game five. Don't have tickets to the game? No need to worry. Show your fandom at one of the following watch parties, as well as our favorite places to hang out and catch the game nearby.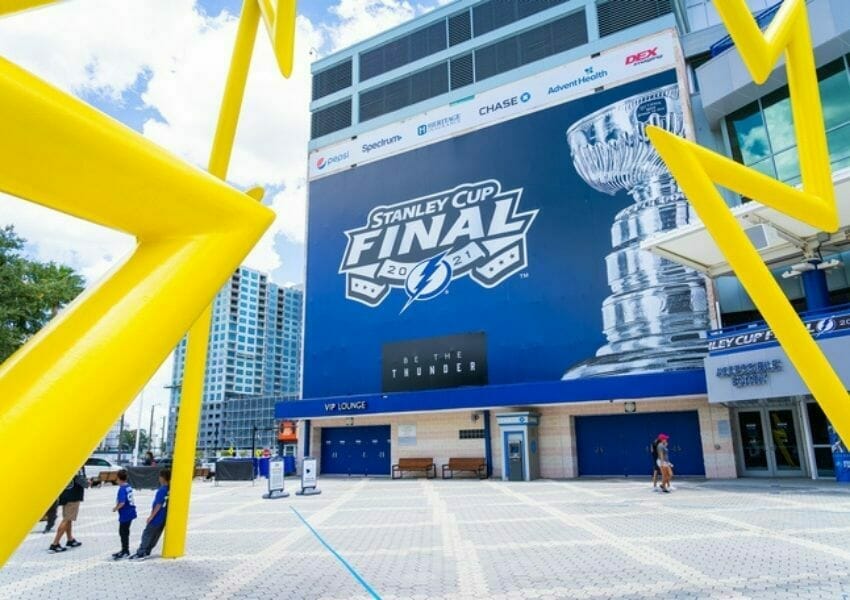 Join a thousand of your closest friends and Lightning supporters on Thunder Alley while watching the game outside of Amalie Arena. Live entertainment, giveaways, concessions, and appearances by Thunderbug. Official sponsors include Bud Light and Pepsi, with a portion of the proceeds from ticket sales benefiting the Lightning Foundation.
For those games in Montreal, fans can purchase a ticket for a viewing party inside the arena for just $10. So, strap on your Bolts gear and Be the Thunder!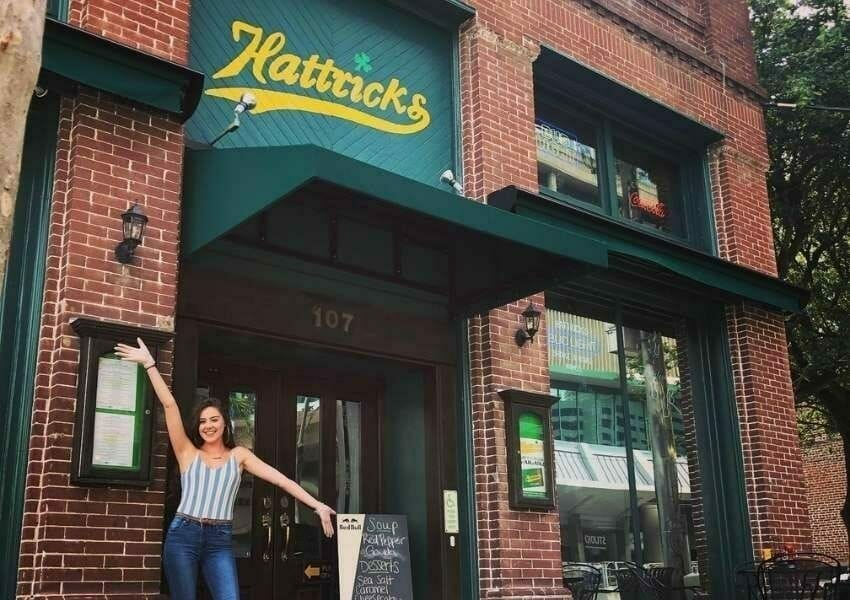 Located at 107 S. Franklin Street in Tampa, is there a better place to watch the Lightning than a place named after a three-goal phenomenon? The hockey-themed sports bar is synonymous with watching Lightning games, eating comfort food, drinking an ice-cold beer, and watching the game.
Pre-game with the Super Nachos or take a bite out of the Roasted Duck Poutine, an odd to our neighbors from the north. The menu is divided into periods instead of courses.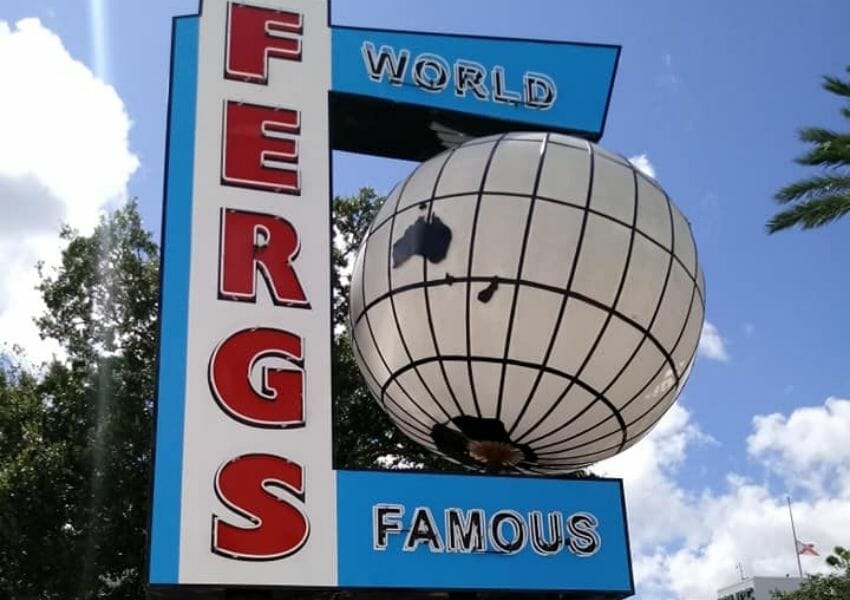 📷 Ferg's Sports Bar and Grill
If you're in the St. Pete area and can't make it across the bridge to Tampa Bay, don't worry. Ferg's Sports Bar in the heart of town at 1320 Central Ave. has been serving patrons since 1992.  What's better than you and a hundred of your fellow Lightning faithful savoring the team's success on their party deck?
Chicken wings, burgers, and fresh from the local waters, and fan-favorite grouper sandwiches, plus your favorite frozen beverages and dozens of beers on tap!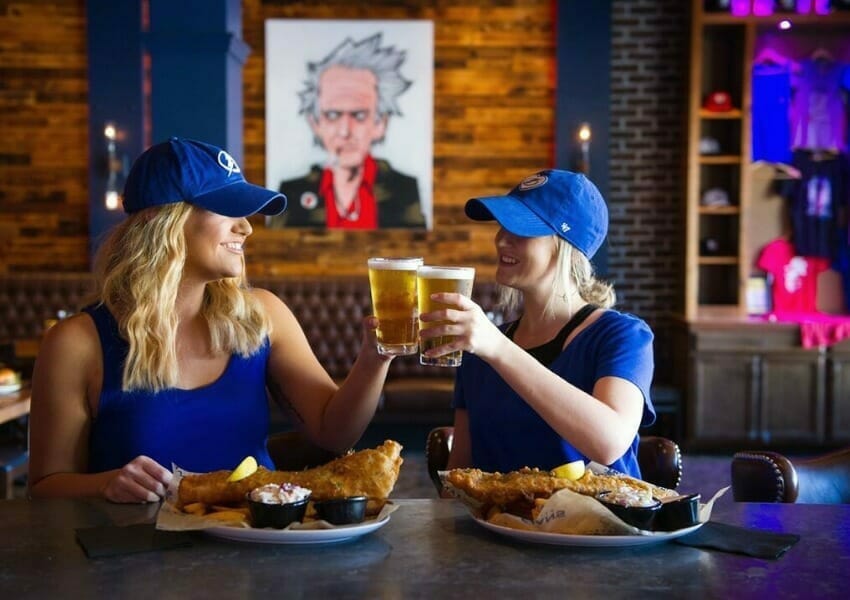 If fish and chips and a pub-style atmosphere, are more your vibe, then Yeoman's Cask and Lion on 202 N. Morgan St. is the perfect spot to cheer on the Lightning and catch all your favorite sports on a multitude of televisions.
Located just four blocks from Amalie Arena, they feature live music on Thursday and Saturday nights and are perfect for pre-game and post-game outings.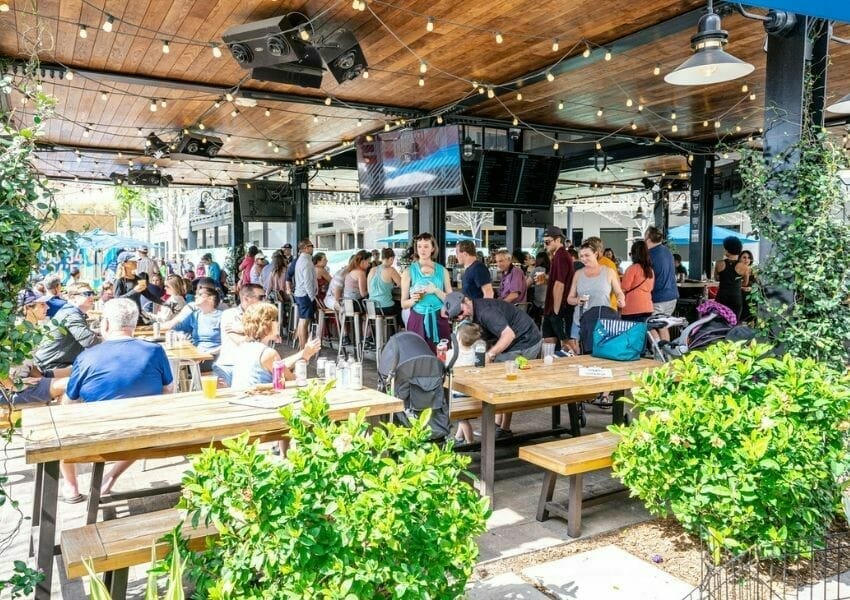 Located off of Waters Street, Sparkman Wharf is a must-do while in town. Enjoy a fat juicy burger like the Huge Heifer at Flock and Stock,  fresh oysters from the Boat Run Oyster or company, or cool off with a delicious waffle cone from Jeni's Splendid Ice Cream.
Catch the big game on a big screen from this waterfront oasis. Want added adventure? Head over to Splitsville, where you can bowl in between periods, sip craft cocktails, and whet your appetite all at the same time!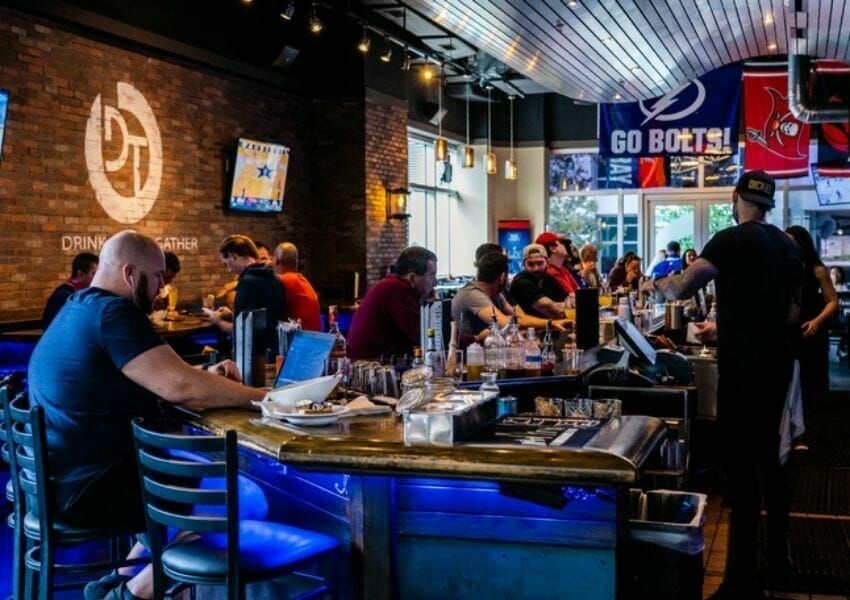 More Things to Do in Channelside
We love Channelside and have explored numerous places to eat while in that neck of the woods! Located less than a half-mile from Amalie Arena, it's a short walk either before or after the game. Take a quick selfie at the TAMPA sign and head to Parks and Rec TPA located at 290 S Meridian Ave.
We love this spot because it's open until 3AM. Celebrate the Lightning's success with a full liquor bar, huge menu, and a gauntlet of fun and games, including Pac Man, Skee Ball, corn hole, and even karaoke!
District Tavern (pictured above) is another one of our favorites. Drink, eat, gather with friends, and partake in their happy hour that goes from 3PM until 7PM. You can't go wrong with their handheld burgers and wraps or indulge with fried Oreos for dessert!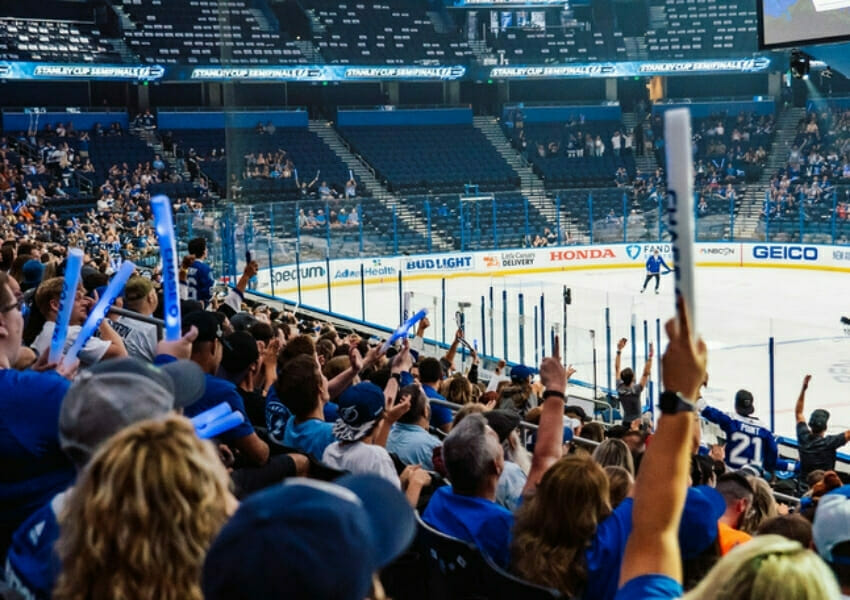 The Path To The Stanley Cup Finals 
After kicking off the playoffs with a 4-2 series win over in-state foe the Florida Panthers, the Bolts defeated the Carolina Hurricanes four games to one before taking the New York Islanders to a pivotal game seven.
Two more wins against the Canadiens and Champa Bay could soon see another boat parade!

Check out more Tampa Bay Lightning events and other sports bars around town to catch the game!