10-9-8!!!!!! With the first game of the Philadelphia 76ers season being away in NOLA, you're going to need a spot to grab your friends, put on your favorite jersey, drink some drinks, and watch the game in Philly. Here are the ultimate places to watch the Process. October 20th can't come soon enough.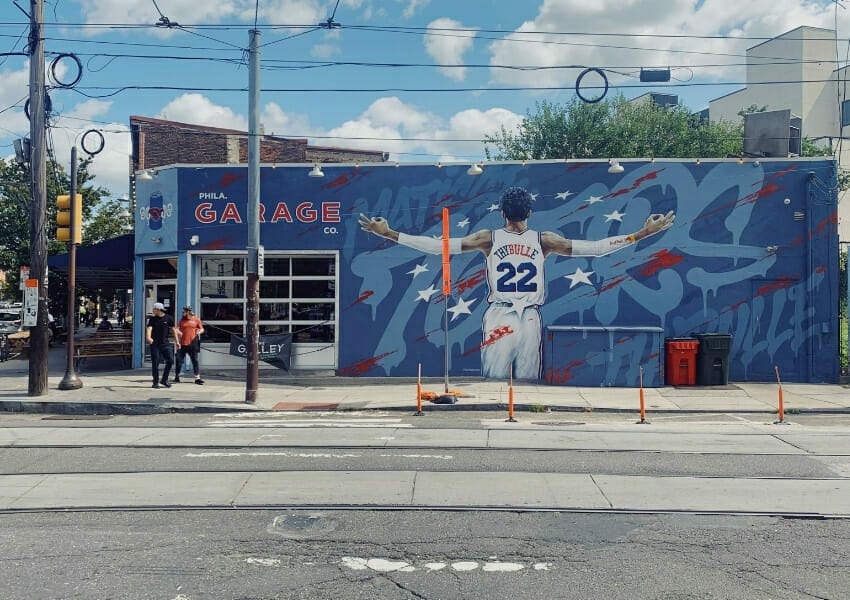 Oh don't mind the gigantic Matisse Thybulle mural on the side of the building… Garage in Fishtown is such a fun bar on a regular day, but a total fan zone on the night of a Sixers game. They offer basically every beer under the sun and awesome cocktails like Funbags, Slushies, Jell-O shots, and our favorite signature cocktail called "Tom Brady's Tears". Make sure you get there early to reserve a big table for you and your friends! After the game you can enjoy food, arcade games, and take a pic with Matisse outside.
Monday – Friday |  4:00pm–2:00am
Saturday & Sunday | 11:00am–2:00am
📍 100 E. Girard Ave. Philadelphia, PA 19125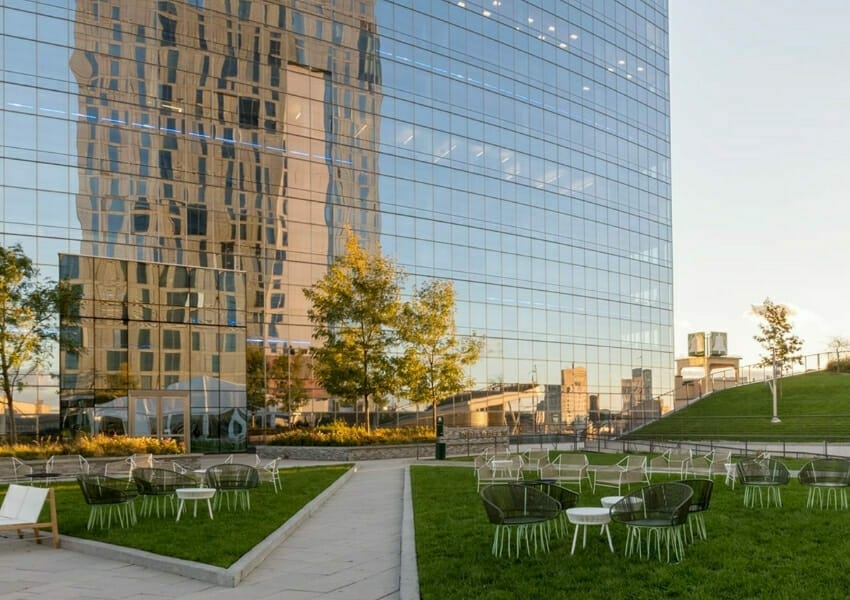 Philadelphia's "Park in the Sky" is Cira Green. Located closer to Penn and Drexel's campuses, this rooftop doubles as a park AND a bar, featuring special events, movie nights, and Sixers games on the big screen on different nights. It's a total photo-op and an outdoor experience like no other. Make sure to check out their website for all their awesome events and for their first Philadelphia 76ers screening below!
Monday – Thursday | 7:00am–10:00pm
Friday & Saturday | 7:00am–11:00pm
Sunday | 7:00am–9:00pm
📍 12 floors up at 129 S. 30th St. Philadelphia, PA 19104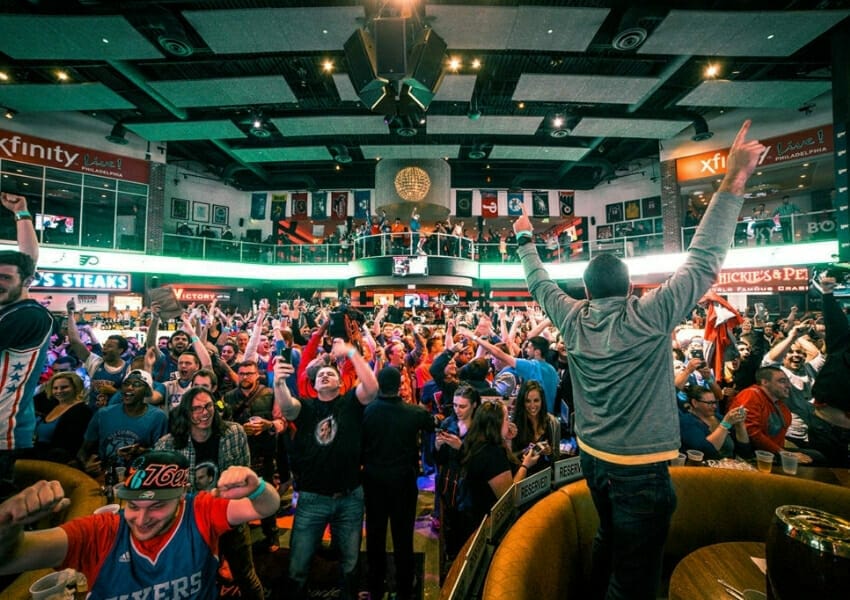 In the heart of South Philly is the HQ for Philly fans to watch the 76ers, Eagles, Flyers, and Phillies. XFINITY live! brings the most energy for watching sports. Equipped with numerous bars and restaurants within the place, there's something for everyone. It's huge. If you're going to wear your Embiid jersey anywhere, it's HERE. 
📍 1100 Pattison Ave. Philadelphia, PA 19148
XFINITY's variety of date-specific hours can be found through the link below!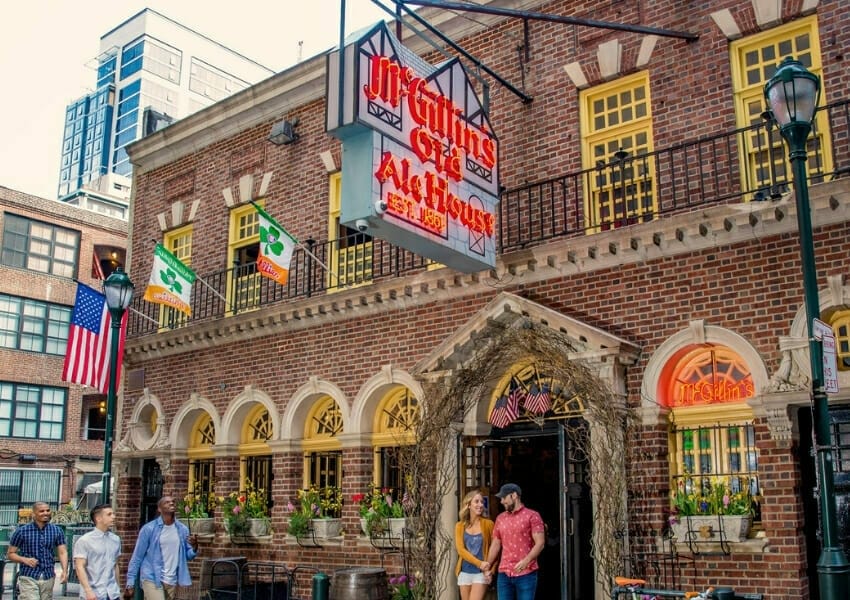 McGillin's Olde Ale House
There's a reason McGillin's has been open since 1860. Yup, you read that right. Contrary to its seemingly ancient history, McGillin's is anything but outdated and an electric place to watch the Philadelphia 76ers. The best part about the two-floor pub is after a game, you can stay there all evening! If we're not going out to watch a game there, we're definitely heading over on a Saturday night.
On game nights, McGillin's features a special called the Sixers Slam Dunk- Apple Pucker and 2 Gingers Whiskey dropped into a pint of Wyndridge Cider. Nothing gets the game going better than that. 
Monday | 4:00pm–2:00am
Tuesday – Sunday | 12:00pm–2:00am
📍 1310 Drury St. Philadelphia, PA 19107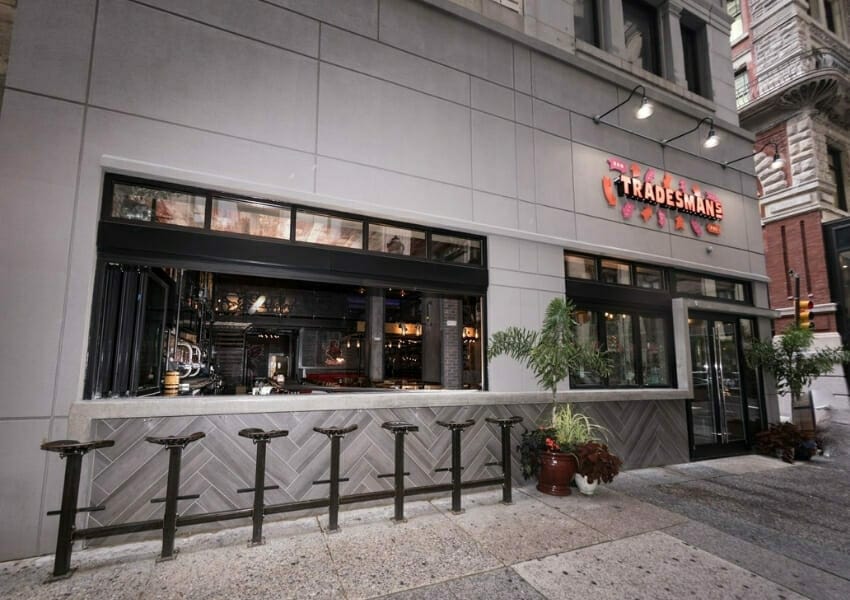 Right up the alley from McGillin's is another two-floor destination: Tradesman's! The cool thing about Tradesman's is you can watch the Sixers game from a variety of places within and outside of the bar. On game nights, their alley is filled with tables, TVs, and a huge projector screen so you can see the game from just about anywhere. Inside are huge booths for you and your friends as well as an outdoor bar which gives you a great view of the entire inside while enjoying the fresh air!
Something notable about Tradesman's is that their BBQ inspired menu is pretty exceptional and their selection of over 100 American Whiskey's and 34 American craft beers isn't too shabby either!
Monday – Thursday | 4:00pm–11:00pm
Friday |  4:00pm–2:00am
Saturday | 11:00am–2:00am
Sunday | 11:00am–11:00pm
📍 1322 Chestnut St. Philadelphia, PA 19107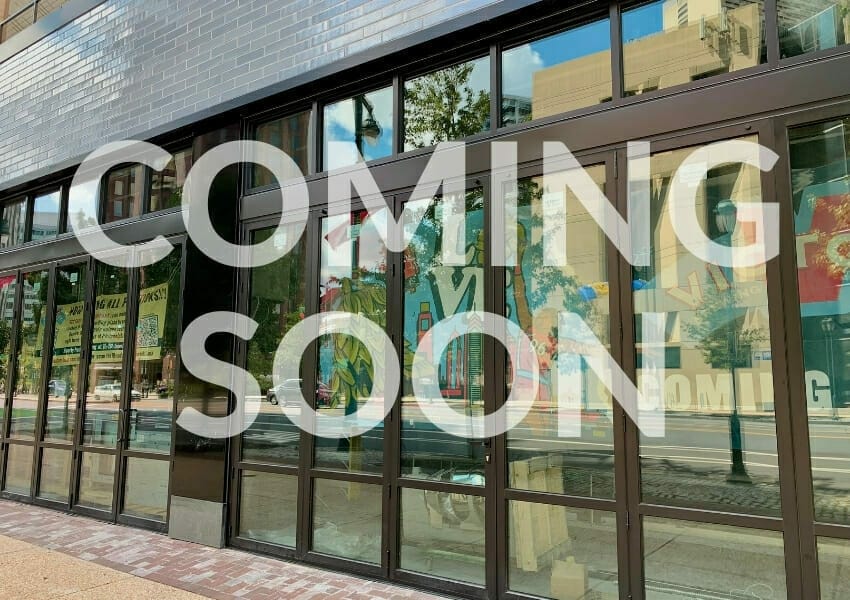 Lindsay Nathanson
Coming soon... Victory Brewing Co.
Philly's favorite beer Victory is opening a new brick and mortar on 18th and the Parkway this upcoming season! Featuring a two-tier rooftop bar and a gigantic indoor space, Victory is sure to be the hottest new bar on the block to watch the 76ers. Just judging by the outside construction, it looks very promising. Keep an eye out for upcoming announcements about Victory Brewing's grand opening!
Opening and regular hours coming soon!
📍 18th St. X Benjamin Franklin Parkway Philadelphia, PA 19103
Just because the first Philadelphia 76ers game is an away game doesn't mean you have to watch from the couch. Any of these bars- old and new- are going to give you the ultimate vibes, drinks, food, and anything else you need to comfortably watch our 76ers!
We want to see your pics from the game and from the bar! Make sure to tag us on Instagram and Facebook @stufftodoinphilly.