Notorious for not being able to make a decision at a bar or restaurant? Then this article (and these drink flights) are for you! Don't fret over what to order, try a variety of beverages and see what tickles your fancy. Take a peek at these local places where you can have a flight! Sip on some coffee, wine, beer or even throw back a few shots. The choice is yours, here's where to find awesome drink flights in Pittsburgh.
Slider Vibes has a unique flight for you to try… a shot flight! Create your own flight of three speciality shots. Choose from classics like Green Tea and Kamikaze, or take a chance on the Pickles-Burgh Back, Vanilla Ice Cream Shot, or the Big Ben Bomb. Cue LMFAO and Lil Jon… you know which song!
Sunday | 11:00am–10:00pm
Monday | 11:00am–10:00pm
Tuesday | 11:00am–10:00pm
Wednesday | 11:00am–10:00pm
Thursday | 11:00am–10:00pm
Friday | 11:00am–1:00am
Saturday | 11:00am–1:00am
If shots aren't your thing, coffee is surely something you can get behind. Cafe Conmigo has coffee flights so guests can get a feel for four different beverages. Select a cold brew flight, tea flight or a brewed coffee flight. Get your caffeine fix in a new way!
Sunday | 8:00am–5:00pm
Monday | 6:30am–5:00pm
Tuesday | 6:30am–7:00pm
Wednesday | 6:30am–7:00pm
Thursday | 6:30am–7:00pm
Friday | 6:30am–6:00pm
Saturday | 8:00am–6:00pm
Ahhh…there's nothing better than a good old fashioned flight of wine! Hit up 23rd and Vine for an amazing wine selection and a nice ambiance. Build your own flights of three half-glasses and get creative with your selections!
Sunday | Closed
Monday | Closed
Tuesday | 4:00pm–10:00pm
Wednesday | 4:00pm–10:00pm
Thursday | 4:00pm–10:00pm
Friday | 4:00pm–10:00pm
Saturday | 4:00pm–10:00pm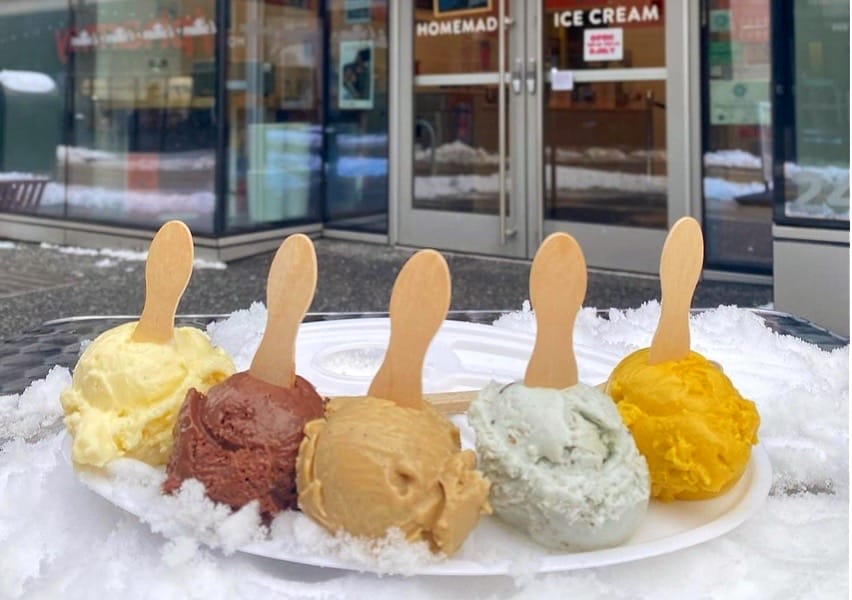 Millies Ice Cream Flight
Stop by Millies to try their new ice cream flights! The flight includes five scoops of the flavors of your choosing. Perfect for people who hate having to pick just one! Millies has a diverse menu filled with flavors for everyone, from classic cookie dough to dairy free brownie batter!
 Hours and Location:
Monday-Sunday: 12-10pm
Naming just ONE place to get a flight of beer would be unfair… there are just too many great places and breweries to sample some quality brews! Check out our full list of places to get the best flights in the 'Burgh.
Check out one or stop by them all. They're mini beers after all! 
More Things to Do in Pittsburgh
More Places to Get Drink Flights in Pittsburgh
Apericena Wine Create your own custom wine flight from their extensive wine list featuring more than 100 wines curated from countries all over the world.
The PA Market Enjoy a drink flight of your choosing and feel free to grab some delicious food from one of their 6 available vendors on site!
Cellar on Penn Located in the historic Pittsburgh Strip District, is an urban winery that provides a long list of delicious wines, hand crafted cocktails, and locally sourced beers. Make your way there to find your favorites with their drink flights!
Rubys Wine House Located in a small community just west of Pittsburgh is the perfect bar to try some drinks and catch up with friends. Pick from their long list of wines and cocktails to create your own personal flight and enjoy!