Breathe in, breathe out and get ready for the best yoga studios in Houston. Life goes by so fast and sometimes we forget to slow down to take time for ourselves. These unique and relaxing spots for yoga in Houston are the perfect place to meditate and practice some self-care.
You don't want to miss these amazing yoga experiences! Whether you choose goat yoga, aerial yoga, or hot yoga, you're sure to leave feeling great! Get ready to learn new relaxation techniques, and get fit at the same time.
Who doesn't love baby goats? They're full of silly energy and will make even the most stressed person giggle!  This new craze has finally hit Houston and we couldn't be more excited! These little guys will give you the extra umpf you need to make it through a tough yoga session. 
Goat Yoga Houston will coach you through your session while goats hop on your back and help you get an even deeper stretch! Not a fan of the typical yoga tunes? You're in luck! Goat Yoga Houston pairs their yoga sessions with your favorite Texas Country artists.
This place is great if you're looking for a new experience in your yoga practice or just need some cute baby goat cuddles.  Sessions  start at $35 or schedule a private party for the ultimate girl's (or guy's) day out!
Monday | Closed
Tuesday | 1:00pm–8:00pm
Wednesday | 1:00pm–8:00pm
Thursday | 1:00pm–8:00pm
Friday |  1:00am–8:00pm
Saturday | 8:00am–8:00pm
Sunday | 8:00am–4:00pm
📍 7730 Bailey Rd Pearland, TX 77584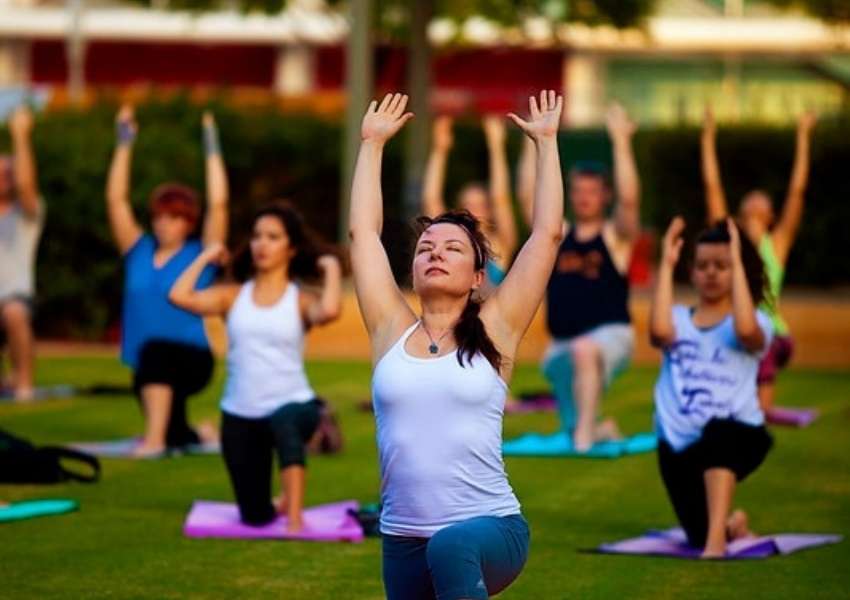 We all know and love Discovery Green, but did you know that they have Yoga too?  You'll find peace in the hustle and bustle of Downtown Houston with sessions like Core-Focused Yoga and Hatha Yoga.
Strengthen your body and relax your mind with these courses that are offered Tuesdays from March 1st until June 21st, and Saturdays from March 5th to June 25th.  If you have always wanted to connect with other yoga lovers, this will be your place!  This experience will help you grow and connect with yourself, who doesn't need more of that!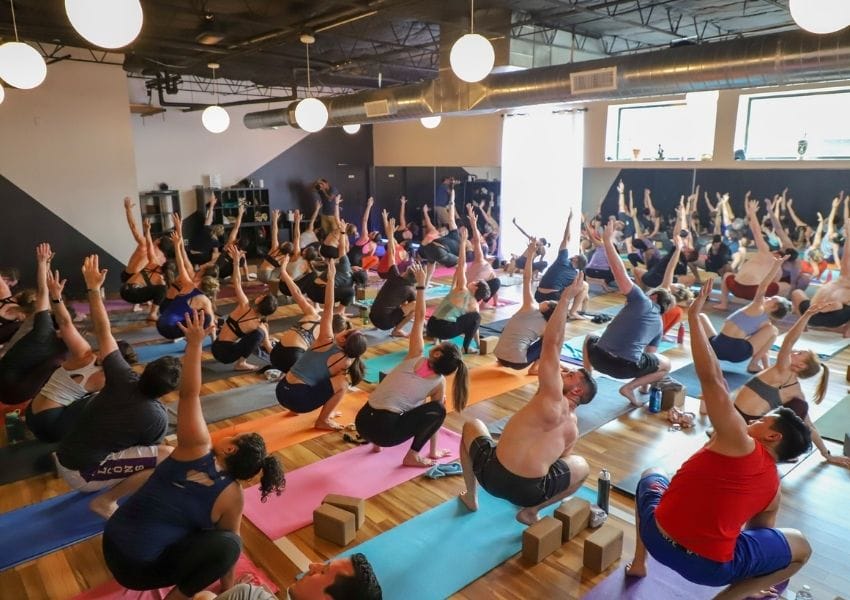 Black Swan Yoga is a unique and affordable spot to practice yoga in Houston, and we absolutely love their commitment to creating a community-driven vibe. Because of this,  Black Swan Yoga's sessions are donation-based, giving everyone a chance to experience their classes.
At Black Swan Yoga you will find classes ranging from Beginner to Power Yoga in a toasty 90-degree studio. All you'll need to bring is yourself,  your mat, a towel, and water for a great yoga experience.
Monday | 6:00am–10:00pm
Tuesday | 6:00am–10:00pm
Wednesday | 6:00am–10:00pm
Thursday | 6:00am–10:00pm
Friday |  6:00am–10:00pm
Saturday | 8:30am–2:30pm
Sunday | 8:30am–10:00pm
📍 5310 Kirby Dr, Houston, TX 77005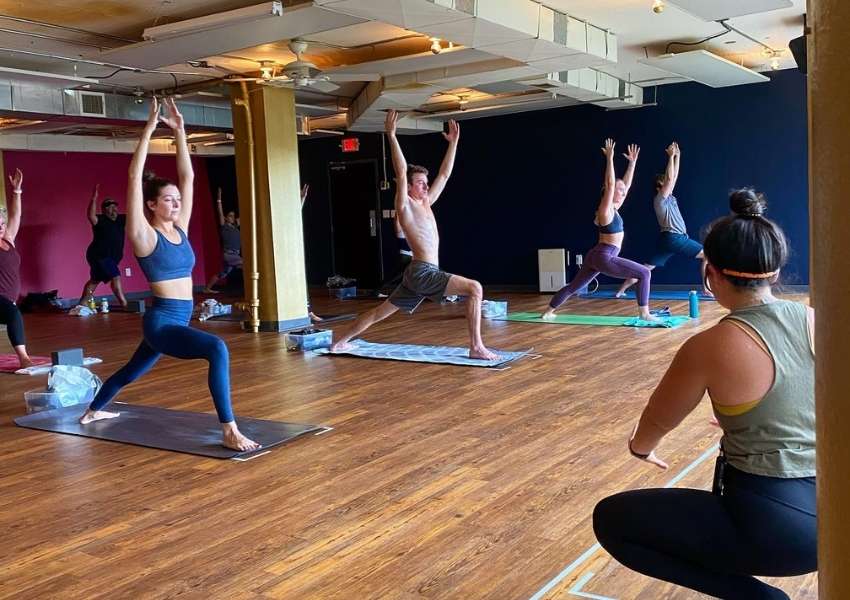 Located in Montrose, BIG Power Yoga is a great place to go, no matter your experience level. This studio is beautiful and has some great views of Buffalo Bayou, too!  You will find a community lounge to relax before your session, a kid's yoga room, and three larger studios for your yoga session.
Try classes like Outdoor Powerful Flow, BIG Yin and Rock Your Flow and end your session with a complimentary cold lavender towel! Talk about refreshing!
Monday | 5:00am–9:30pm
Tuesday | 5:00am–9:30pm
Wednesday | 5:00am–9:30pm
Thursday | 5:00am–9:30pm
Friday |  5:00am–8:00pm
Saturday | 7:30am–7:30pm
Sunday | 7:00am–9:30pm
📍 3115 Allen Pkwy Central, Houston, TX 77019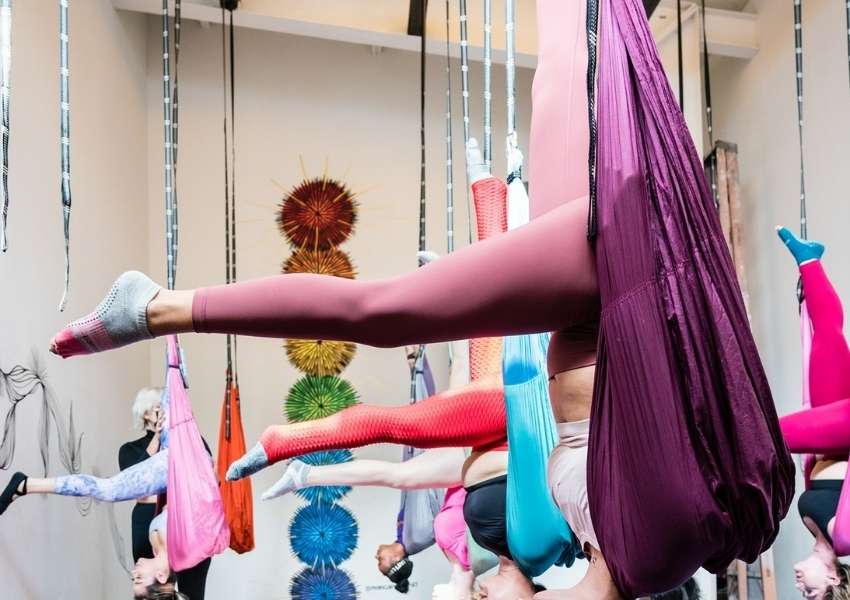 Republic Aerial Yoga is a yoga experience you soon won't forget! Take your yoga skills to a whole new level by integrating aerial silks and see an increase in your flexibility and strength.  We had such a great experience learning new poses, and seeing what our bodies were capable of.  The instructors are extremely knowledgeable and will help you properly execute the poses and to try new ones, too! 
Classes are reservation only and require both a yoga mat and socks. Aerial hammocks are available to rent for $5 or you can purchase your own if you'd like. Classes like Mixed Level Aerial and Aerial traction are available as well as Open Gym where you can practice your poses or do a self-lead routine.
Monday | 6:00am–7:30pm
Tuesday | 6:00am–7:30pm
Wednesday | 6:00am–7:30pm
Thursday | 6:00am–7:30pm
Friday |  6:00am–7:30pm
Saturday | 10:00am–2:00pm
Sunday | 9:30am–3:00pm
📍 1302 Houston Ave Suite 600, Houston, TX 77007
You have to try one or all of these classes! Your friends and you will have a blast at these places for yoga in Houston! Take a chance and experience a new form of movement for the first time! If you haven't done yoga in awhile. Or did not know where to go, stop by one of these yoga places. You will love it! Tag us in your photos and let us know which yoga place in Houston you went to!