We are so excited that Tampa Bay is hosting the Super Bowl this year! Our city has been the site for four previous Super Bowls and if the past is any indication, we'll be an amazing host city once again. Not only are we hosting the Super Bowl though, we'll also be in it! The Tampa Bay Buccaneers will face the Kansas City Chiefs right here in our home stadium!
If you're looking for things to do, we have created the perfect guide to enjoy the Super Bowl in Tampa Bay. Whether you want to host a watch party, find a hotel to stay in, check out Super Bowl-related events, or get tips for going to the game, we have it all for you. Check out our master guide for enjoying the Super Bowl in Tampa Bay!
Make sure to also follow us on Tik Tok, Instagram, Facebook, Twitter, and the UNATION app so you don't miss out on all the fun stuff happening!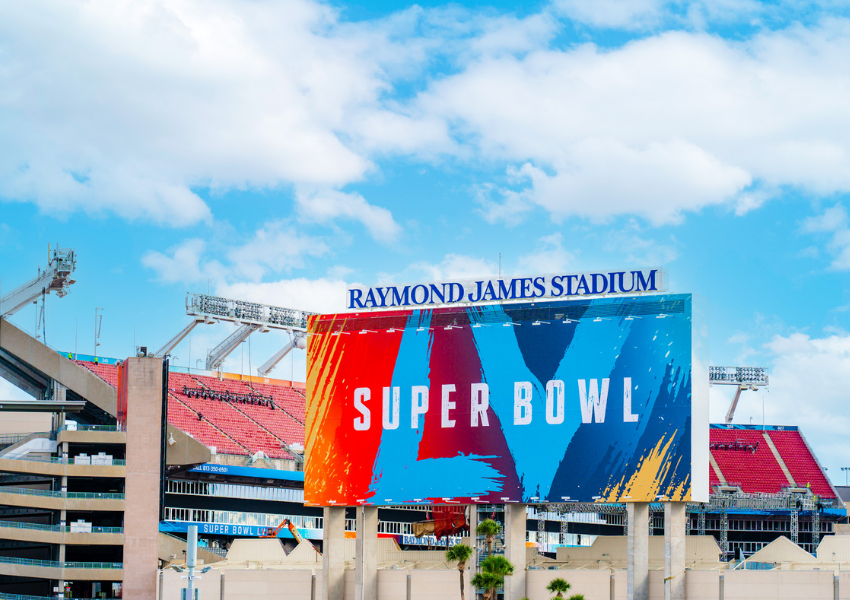 Host a Watch Party at Home
If you prefer to stay in the comfort of your own home, we have you covered. We have all of the best tips for hosting your very own watch party. Check out our list of local spots to order from, local recipes, and fun games to play! Just because you aren't going to the game doesn't mean you can't enjoy the Super Bowl in Tampa Bay.
Order Food & Drinks From Our Favorite Local Spots
Make Local Recipes Your Guests Will Love
Mel Santell's Puff Pastry Pizza Twists
1 box puff pastry, thawed
1/4 cup tomato paste + 1 tbsp water
1/4 teaspoon garlic powder
1/8 teaspoon red pepper flakes
1/4 teaspoon oregano
1/2 teaspoon salt
1 cup mozzarella, shredded
1 egg + 1 tbsp water, whisked together for egg wash
1/8 cup pecorino romano, grated finely
Fresh basil, torn for garnish
On a lightly floured surface, use a rolling pin to roll thawed puff pastry sheets until you have two 15-inch rectangles.

Brush tomato paste mixture on each sheet. Season with garlic powder, red pepper flakes, oregano and salt. Top with grated mozzarella.

Beginning on the longest end, tightly roll the pastry to form a log. Wrap the pastry logs tightly in plastic wrap. Refrigerate for 1 hour.

Preheat the oven to 350°F.

Cut the first log in half lengthwise, directly down the center. Then gently twist the two pieces to create a pizza braid. Pinch the ends together when you're finished – pretty it up, you know? Repeat with second log.

In a small bowl, whisk together the egg and water. Brush the egg wash on top of each twist. Sprinkle with pecorino cheese.

Bake on a parchment lined baking sheet for 20-25 minutes or until they're golden brown.

Let the twists cool for 5-10 minutes before serving. Slice em up to share, or eat one by yourself. I'm game either way. Serve with a side of your favorite marinara sauce.
For more check out her blog post!
Deviled Eggs from Steelbach
1 dozen eggs
2 ounces sweet pickles, chopped
1/2 ounce sweet pickle juice
1/3 ounce Dijon mustard
1 1/2 ounce mayonnaise
1/2 teaspoon rice wine vinegar
1 tablespoon chives, chopped
1 tablespoon dill, chopped
salt, to taste
mustard seeds to garnish
Begin by boiling twelve eggs. Completely submerge the eggs in boiling water for 10 minutes before removing and placing in ice water to cool. Once cooled, peel the eggs, keeping them as whole as possible. Once the eggs have been cooled and peeled, start cutting off the ends of the eggs, being sure to cut straight to form a base for the eggs to sit on. Then, cut eggs in half and remove the cooked yolk – reserving it for the next step. During this time, keep the cooked egg white in cold water.
Add the pickles, pickle juice, mustard, mayonnaise, vinegar, and herbs to the cooked yolks. Place combined ingredients into a food processor and blend until smooth. Place the mixture into a piping bag and refrigerate for at least 6 hours. Then, fill each egg white half with the egg yolk mixture using a star tip on the pipping bag to allow for a decorative touch.
Avocado Hummus from Ciccio Cali
2 quarts garbanzo beans, drained and rinsed
2 cups avocado
1 tablespoon garlic, minced
3/4 cup lime juice
1 bunch cilantro
1/2 teaspoon salt
1 tablespoon pepper
2 cups olive oil
In a food processor, combine all ingredients except avocado and oil. Blend until well incorporated. Add avocado and 1 cup of oil and blend again. Once the avocado is incorporated, slowly add the remaining oil until the desired consistency is reached.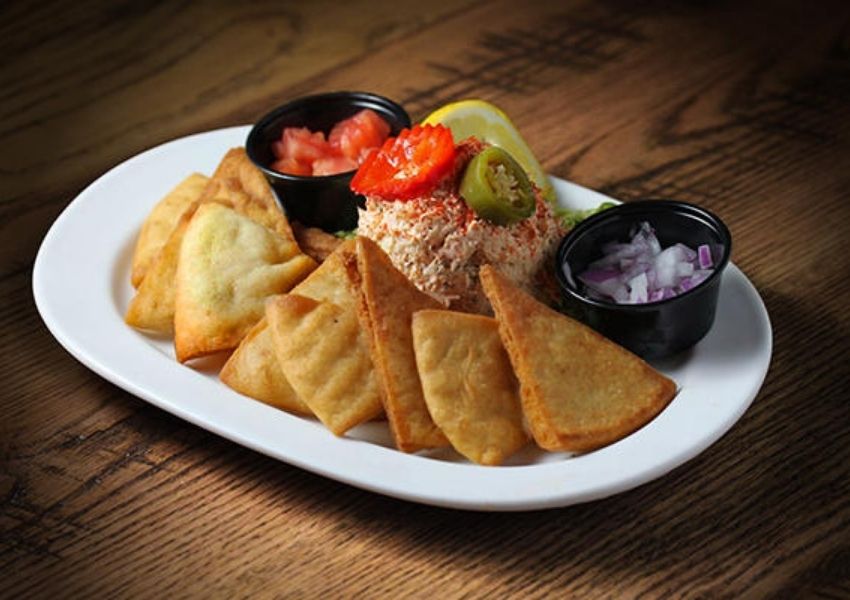 Fish Spread from Yeoman's Cask and Lion
1 1/2 pounds salmon
1 1/2 pounds cod
2 tablespoons olive oil
1 cup blackening seasoning
1 whole jalapeño, finely diced
1/4 cup red onion, diced small
1 tablespoon capers
1 1/2 mayonnaise
1 tablespoon minced garlic
1 tablespoon lemon juice
1/2 tablespoon fresh thyme
1/2 tablespoon fresh basil
1/4 tablespoon pepper
1 teaspoon pepper
1 teaspoon balsamic vinegar
Line baking sheet with foil and cover fish with oil. Place fish on foil and season both sides evenly with blackening seasoning. Place in the oven at 350 degrees for 12-14 minutes or until salmon and cod are opaque. Then place fish in the refrigerator to cool. 

While fish is cooling, finely dice jalapeño (devined and deseeded), red onion and capers. In a large bowl, mix together mayonnaise, garlic, onion, capers, jalapeño, lemon juice, thyme, basil, salt, pepper and balsamic vinegar until evenly incorporated.

Once fish is cooled, use gloved hands to pull apart the fish into flaked small pieces. Add fish to the large bowl with the other ingredients. Fold with a rubber spatula until evenly incorporated. Serve with pita bread.  
Avocado Wedges from Oxford Exchange
For the avocado wedges:
1 whole ripe avocado
3 eggs
2 tablespoons buttermilk
1/2 tablespoon hot sauce
1 cup all-purpose flour
1 cup plain panko breadcrumbs
2 cups frying oil (peanut or canola)
For the sambal cream:
1/2 cup sour cream
1-2 tablespoons of sambal or sriracha, to taste
1 tablespoon cilantro, chopped
1/2 tablespoon fresh lime juice
salt to taste
Put flour in a small bowl. Put panko breadcrumbs in a separate small bowl. In another small bowl, combine the eggs, buttermilk and hot sauce. Mix these ingredients together with a whisk to make the egg wash.

Cut the avocado in half and remove the pit. Cut each half into three wedges lengthwise. Scoop avocado wedges away from the skin with a spoon and place in the flour. Dredge the wedges in the flour, then shake off any extra flour. Place wedges covered in flour into the egg wash and gently toss. Take wedges out of egg wash, place in panko breadcrumb bowl and coat the wedges well.

Place breaded avocado wedges on a plate, cover in plastic wrap and place in the freezer until completely frozen (about 45 minutes). While the wedges are freeing, combine all of the ingredients for the Sambal cream in a small bowl and mix.

Once avocado wedges are frozen, heat frying  oil in a pot until the temperature reaches 350 degrees. Place the frozen avocado wedges gently in the heated oil, and fry until golden brown. Remove from the oil with a slotted spoon. Serve immediately after frying to ensure the panko crust is crunchy.
General Tso Chicken Wings from the Eatery at Brew Bus Brewing
1/4 cup sugar
1 1/4 cup water
3 ounces rice wine vinegar
3 tablespoons sesame oil
1 tablespoon sambal chili garlic sauce
1 tablespoon smoked paprika
4 cloves garlic, minced
8 dried arbol chilis 
1 tablespoon corn starch
3 ounces soy sauce
6 eggs
3 cups all-purpose flour
1 pound chicken wings
1/2 cup ground ginger
1 tablespoon cayenne pepper
1 tablespoon black pepper
2 tablespoon salt
green onions, sliced
toasted sesame seeds
For the General Tso sauce:
Dissolve 1/4 cup sugar and 1/4 cup hot water in a large heavy bottom sauce pot. Whisk until sugar is dissolved. Bring sugar water to a boil and cook until all the water has evaporated and you are left with an amber-colored caramel.

In a separate bowl, mix together rice wine vinegar, sesame oil, sambal chili garlic sauce, smoked paprika, minced garlic, minced ginger and arbol chilis cut into 1/4 inch pieces and deseeded. When you are happy with the caramel consistency of the sugar mixture, whisk the above ingredients into the sugar. This will boil and give off a lot of steam. Whisk until all sugar is dissolved and mixture has no clumps. Bring mixture back to a boil. Mix corn starch and 1/4 cup of water together to make a slurry. Add slurry into the boiling mixture. Add sou sauce at the very end and cook 1-2 additional minutes. Let cause cool to room temperature.

For the chicken wings:
Whisk eggs and 3/4 cup water to make an egg wash. Soak chicken wings in the egg wash. While your chicken wing are soaking, mix together flour, ground ginger, cayenne pepper, black pepper and salt. Remove chicken wings from egg wash and coat each wing generously with flour mixture. In 350-degree oil (any common cooking oil except olive oil), fry the chicken wings 8-10 minutes until golden brown. Once chicken wings are cooked to an internal temperature of 165-degrees, toss the chicken wings in the General Tso sauce. 

To plate:
Garnish wings with freshly sliced green onions and toasted sesame seeds.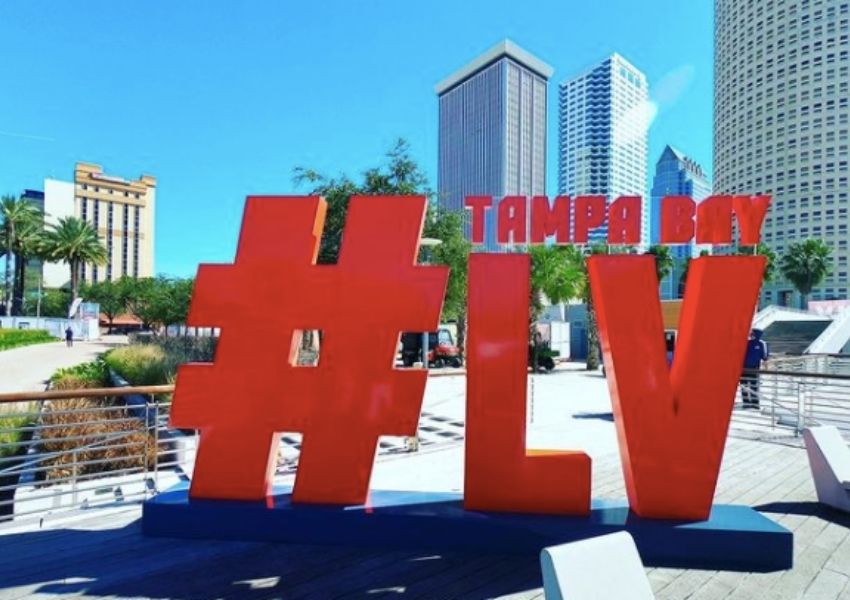 We've partnered with Identity Tampa Bay to give away a VIP gift bag! All you have to do is go to their Instagram post that looks like the picture above to enter. This giveaway ends at 12PM on Feb. 5, so make sure to enter now for a chance to win!
Where to Get Super Bowl Merch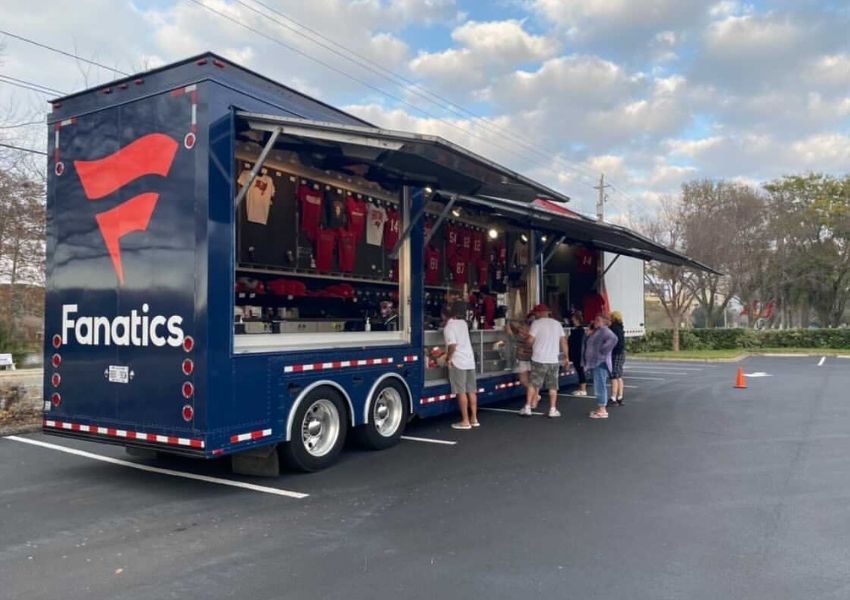 📍Tampa Bay Bucs Practice Facility parking lot
🗓 Every day | 9AM-6PM