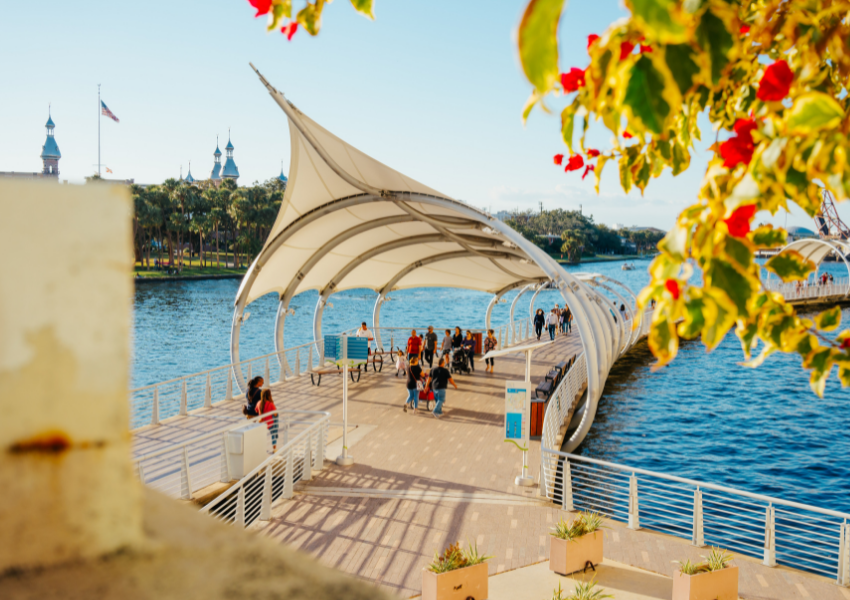 The Tampa Riverwalk is a popular attraction here in the Tampa Bay. With gorgeous views in the daytime and colorful LED lighting at night, this is a beautiful spot for working out or for a romantic stroll.
Want to check out some of the best things to do along the Tampa Riverwalk or restaurants  to escape the heat or grab a drink? Keep scrolling for a list of the best spots to visit and things to do along the Tampa Riverwalk in downtown Tampa!
Sparkman Wharf is an all-outdoor food hall, located in Channelside, along the Tampa Riverwalk. Featuring a huge beer garden and many different food venues, Sparkman Wharf is the perfect spot to hang out with friends and one of the best things to do along the Tampa Riverwalk. Don't forget to snap a photo by the Tampa sign!
For a complete list of places to visit at Sparkman Wharf, check out 10+ Best Things to Do at Sparkman Wharf.
Curtis Hixon Waterfront Park is an 8-acre park in the heart of downtown Tampa.  In the daytime, you can stop by from your Tampa Riverwalk stroll for some yoga in the park or for a nightly lights show.
There are also a couple interactive fountains and misting stations for you to cool off in.  Check out UNATION for different events like Gasparilla Music Festival and Winter Village!
Straz Performing Arts Center
Located on the Tampa Riverwalk, the Straz Performing Arts Center is the place in downtown Tampa to see a musical or play. If you don't have tickets, feel free to take a stroll through and grab a coffee at the Straz Coffee shop – serving Buddy Brew Coffee!
Head to UNATION to see upcoming shows and grab your tickets before they sell out!
Armature Works is a food hall, located along the Tampa Riverwalk. Their outdoor seating connects directly to the Riverwalk, with lawn chairs overlooking the river. There are also some big picnic tables perfect for groups of friends!
On the lawn, there are a couple bar stations and popsicle carts where you can cool off from the Florida sun. Armature Works is definitely one fo the top things to do along the Tampa Riverwalk! 
To see a complete list of restaurants at Armature Works, visit 15+ Restaurants at Armature Works You Have to Try.
The Columbia Cafe, a branch of the oldest restaurant in Florida, is located along the Tampa Riverwalk at Tampa History Museum. The beautiful patio is reminiscent of Cuban decor, mixed with a modern Florida aesthetic. The large patio is perfect to grab lunch or dinner before going on a walk with friends. 
The iconic 1905 Salad and Cuban Sandwich are a must-order!
Pro-tip: enjoy live music from Al "Coffee" McDaniel on Fridays and Saturdays from 6PM-9PM!
Ulele is a popular restaurant, located near Tampa Riverwalk and Armature Works. This spot is inspired by Native Floridian flavors and ingredients. Their menu is full of amazing options – we recommend the Corn Beer Muffins and Native Chili as an appetizer, which has alligator, wild boar, venison, and duck!
Reservations are encouraged and be sure to ask to sit outside, if the weather is nice, or if you prefer to sit inside, ask to sit on the second floor.
Tampa Bay History Center is a great place to visit and escape the heat while on the Tampa Riverwalk.  With interesting permanent galleries and changing exhibits, there is always something new to explore!  If you haven't been on a history tour, we recommend visiting the museum – even if you are a long time Tampa resident. The Tampa Bay History Center is one of the must do things to do along the Tampa Riverwalk.
Along the Tampa Riverwalk and a next door neighbor to Armature Works is the delicious Stones Throw.  This outdoor patio area has both open-air and covered seating, perfect for watching the sunset or winding down for the weekend.  Stones Throw has a delicious seafood and the yummiest cocktails. 
Pro tip: visit on a Tuesday for all day Taco Tuesday specials, including $5 tap cocktails and $3 tacos.
What better way to see and enjoy the city sights of  downtown Tampa than by water? The Tampa Riverwalk is home to the Pirate Water Taxi, the Lost Pearl, and Yacht Starship and more! This wide variety of boating options truly has something for everyone from family-friendly to date night to water activities! 
Visit UNATION for the Best Things to Do in Downtown Tampa: Water Edition!
One of Tampa's beloved museums, the Tampa Museum of Art, is located next to Curtis Hixon Waterfront Park right off of the Tampa Riverwalk. For over 100 years, this museum has been collecting and preserving iconic works of art. The museum hosts rotating exhibits too, so there's always something new to see.
Pro tip: if you're a college student, bring your student ID for free admission! Not a student? Visit on a Thursday between 4PM-8PM for Art on the House and enjoy pay-as-you-will admission.