Transport back in time and witness the past that lingers the streets of St. Augustine!
We've got a list of 5 historic tours in St. Augustine that will enhance your knowledge and create memorable moments for your own life-history!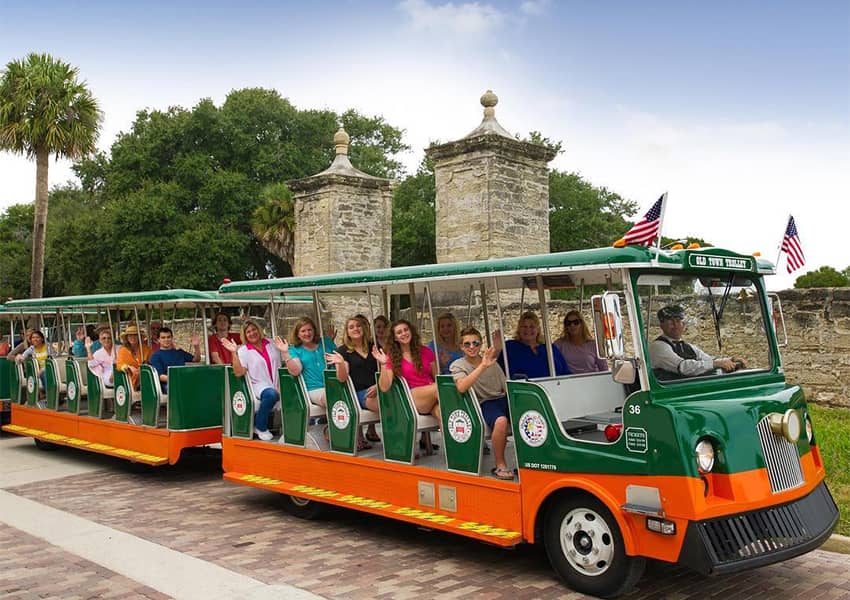 Drive down the streets of St. Augustine trolley-style! The St. Augustine Hop-On-Hop-Off Trolley Tour gives you the chance to explore various historical locations at your own pace.
You can hop-off and hop-on anytime you please at one of their 22 stops around town. Their knowledgeable tour guides provide real-time and live tours–no pre-recordings!  
On top of being a convenient means of transport, the St. Augustine Hop-On-Hop-Off Trolley Tour also offers discounts for various attractions! They even offer free admission to the St. Augustine History Museum.
Some of their stops include historical attractions like the Old Jail, City Gates, Colonial Quarter, Plaza de la Constitución, and numerous museums in the area.
Sunday–Saturday |9AM–4:30PM 
*Tours depart continuously every 15 minutes 
167 San Marco Ave, St. Augustine, FL 32084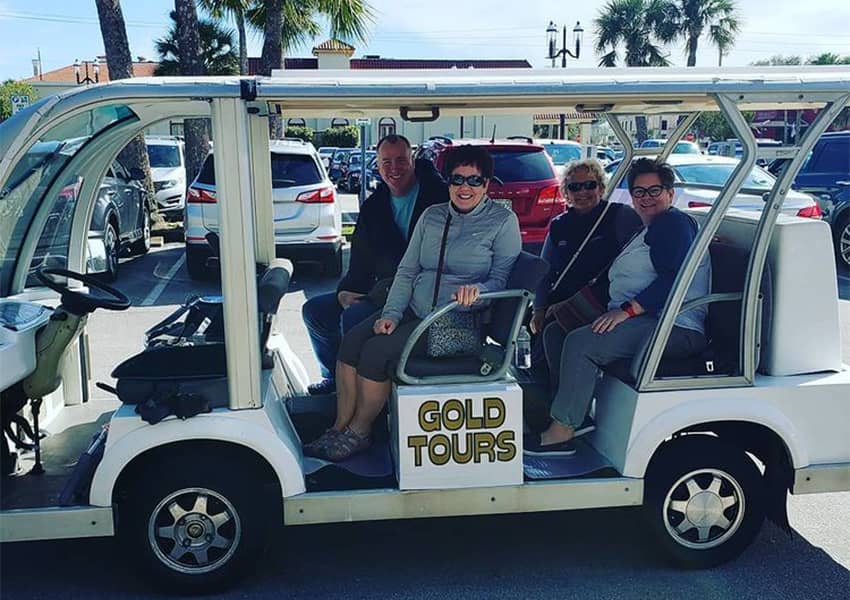 For a more personal and private tour around St. Augustine, book a tour with St. Augustine Gold Tours! They provide private guided electric cart tours of St. Augustine.
Feel the refreshing breeze of passing fresh air as you witness and get close to some of St. Augustine's most historic attractions.
The tour guides hold an abundance of knowledge of the town's architecture, history, and archeological facts.
They are 20+ year locals who carry a passion for their home and the history that encompasses it!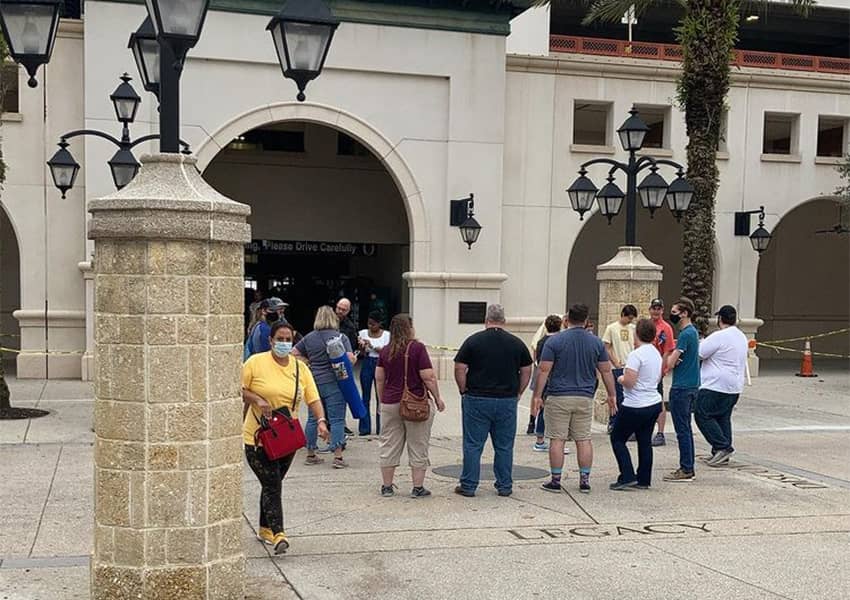 Step into St. Augustine's past by taking a 90 minute guided "Conquistador of St. Augustine" walking tour! Traverse through St. Augustine and discover tales filled with pirates, battles, hardship, and life during 1565-1888.
Learn the stories of the natives that met the Spanish Conquistadors and famous figures that once walked the same soil you pass over.
This walking history tour passes and includes stops at the Castillo de San Marcos National Monument, Huguenot Cemetery, Bridge of Lions, St. George Street, Flagler College/former Hotel Ponce De Leon, and the Lightner Museum.
Strap on your comfiest walking shoes and take a stroll through history!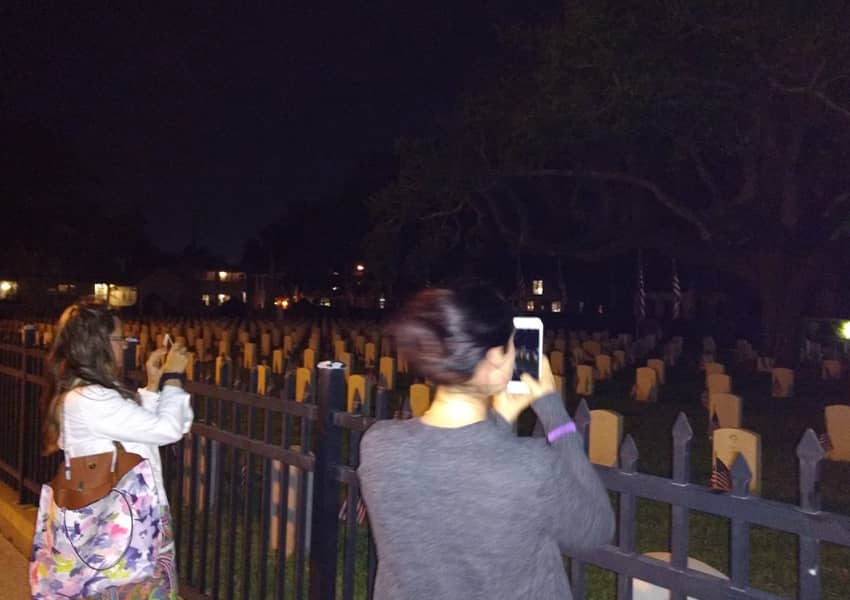 Walk alongside the ghosts of St. Augustine's past and uncover the stories of the dead! The Haunting Hour Supernatural Walking Tour illuminates St. Augustine's ghost stories. Hear about real-life and personal ghost encounters while walking around the city.
Encounter the tales of war heroes, legacy stories, and the many battles that took place in St. Augustine.
If you love or know someone who loves the supernatural world, join these passionate tour guides and unearth the other side!
The tour guides have historical, metaphysical, and mystical knowledge of all things supernatural in St. Augustine.
Sunday–Thursday |8AM–9PM 
Friday–Saturday | 8AM–10PM 
117 Avenida Menendez, St. Augustine, FL 32084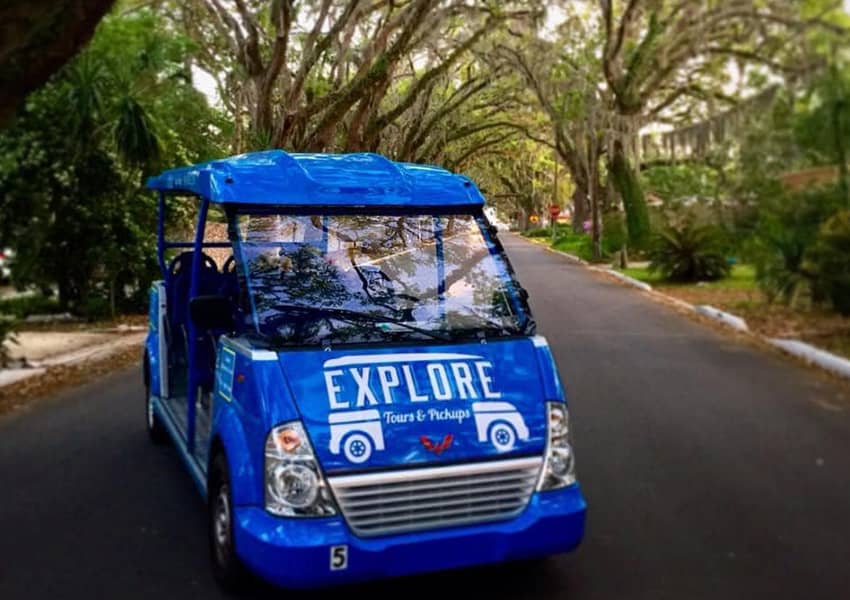 Adventure through history with an electric car by touring with Explore Tours & Pickups! Their historical guided tour travels throughout St. Augustine and stops at various historical monuments.
Some of their stops include the Mission Nombre de Dios, Castillo de San Marco, and the Saint Frances Barracks, among many more.
These guided tours educate you about cultural events that pivoted history and made St. Augustine a historically rich town. They host both private and public tours. Plus, they are pet-friendly!   
Historic Tours in
St. Augustine

& More!
Explore St. Augustine by discovering the history that it holds. From walking tours to trolley rides, these 5 historic tours in St. Augustine offer a variety of ways to learn about the past! Not only do they share their knowledge of history, but they also provide a fun time for everyone to enjoy.
For more adventures and attractions to explore in St. Augustine, make sure to follow us on Instagram and Facebook!