For amazing Gulf seafood dishes, you need to visit the best seafood restaurants in St. Pete Beach.  With so many choices, there is something for every occasion.  If you're looking for something fancy or the best deal on some fried Gulf fresh shrimp, there are seafood restaurants in St. Pete Beach for you!  
Check out our master guide on the best seafood restaurants in St. Pete Beach below and let us know what your favorite spot is!
Snapper's Sea Grill is a well known fine dining grill in the St. Pete Beach area.  Their intimate setting makes this spot one of the best places for a date in the city.  Their indoor and outdoor seating is decorated to create the perfect romantic mood.  Their swanky vibe is a great way to highlight the way they dress up their fresh Gulf seafood.  From the plating to the rich flavors, Snapper's Sea Grill chefs have great attention to detail.  
We love the dishes at Snapper's Sea Grill because they always have such a luxurious flair.  Every meal will feel like it is for a special occasion!   Try their C
rab Stuffed Portobello Mushrooms or the Stuffed Grouper – filled with shrimp and scallops and topped with a champagne cream sauce.   They also have a full gluten free menu if you are looking to please guests with specific dietary restrictions!
Shells Seafood is a signature Florida seafood chain that everyone should visit – whether you're an aspiring local or a tourist looking for a Floridian meal.  An unassuming shack from the outside, Shells packs in the best Gulf seafood dishes with the friendliest service in the area.  Did we mention their affordable prices too?  With great deals and top quality seafood, Shells has been keeping locals and snowbirds coming back for over 28 years.  
We love their simple seafood dishes, which really allow the local catch to shine.  We recommend that you order their Peel-N-Eat Shrimp, covered in a savory cajun seasoning.  They also have an amazing selection of oysters!  Just a drop of lemon juice and they're perfectly tasty on their own.  
Rick's Reef is a laid back, homestyle St. Pete Beach restaurant, serving American diner inspired seafood dishes.  A beachy must visit, Rick's Reef is the perfect juxtaposition of a fresh beach atmosphere and rich and hearty dishes.  We love that their food is not only fried to perfection, but varies from your usual fried seafood menu.  Check out their Buffalo Shrimp or their sweet and salty fried corn!  
We recommend joining Rick's for a late brunch after visiting St. Pete Beach for the sunrise.  They have the best cocktail deals in the city!  Check out their $2 Bloody Marys, complete with a loaded fix-ins bar.  They are also very well known for their Mimosas, which definitely have more champagne than orange juice – as they should be served!
RunFish Grill is a fantastical fine dining seafood restaurant featuring a 33,500 gallon aquarium decorating their main dining room – creating a lightly dimmed ambiance.  With the aquarium, two bars, and live entertainment each night, this is the perfect place for a date night outing or for an entertaining night with the family!   
RumFish is definitely a spot that you want to make a reservation for, so that you can prevent a long wait.  Patrons from all over the Tampa Bay area flock to RumFish to celebrate special occasions!  But if you do end up waiting you can even get some shopping done, with a Guy Harvey store located at the front of the restaurant – or have some drinks at the beach bar next door.  
We recommend their thick cut Lemon Pappadelle pasta, served with seasoned shrimp and scallops!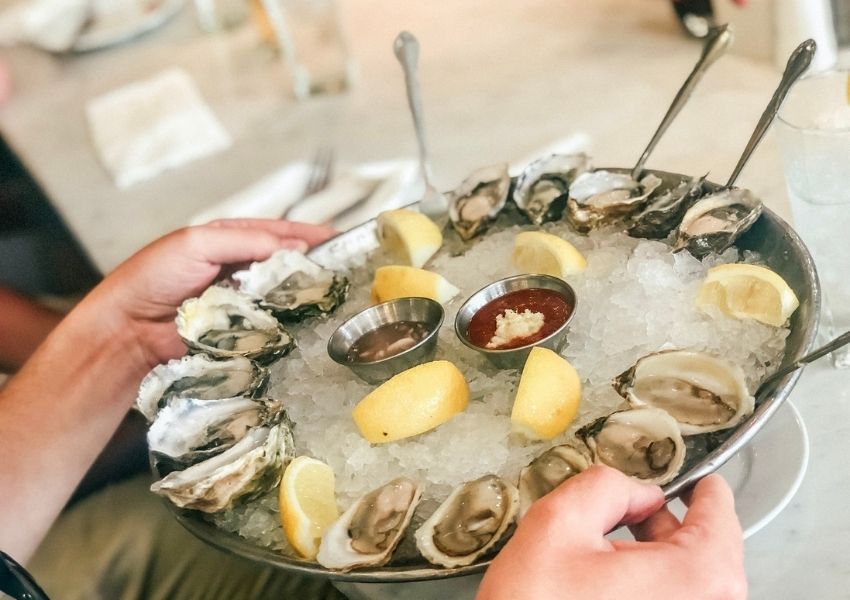 If you are an oyster fanatic or looking to give them a try, then PJ's Oyster Bar is the spot for you.  We love PJ's for their amazing deals.  At around $1 per oyster, you really get a lot of bang for your buck!  If you are not into oysters, don't worry.  There are plenty of items for those in your group who are averse to oysters.  From Southern style hush puppies to buttered lobster tail to fried gator bites, there is something for everyone!
Take advantage of their outdoor seating to relax with the perfect breeze by the beach!  With their laid back setting and no stress prices, PJ's Oyster Bar might just be more relaxing than St. Pete Beach!
Oyster Shucker Craft & Draft
Oyster Shucker Craft & Draft is a neighborhood diner, St. Pete Beach style.  With a beautiful wooden patio, twinkly lights, and fresh seafood – this is the perfect place to take the family.  We love that there is something for everyone on the menu.  Not only will the whole family be happy, but also your wallet!  You need to visit for their drink specials and food happy hour.  You also can't miss their $1 oyster special!   We recommend the amazingly cheesy Crab and Artichoke Dip, nothing frozen here! 
Located at the Tradewinds resort is Gulfside Grill, a tropical inspired American eatery.  We love the setting of Gulfside Grill – located at the pool of their oceanfront hotel.  Join them at sunset for the chance to see dolphins!  
Our favorite dish at the Gulfside Grill is their Crab Cake Sandwich, served with their sweet and savory sweet potato fries.  Enjoy your meal and tropical drinks while catching a Lightning game!  This is the perfect spot to catch Lightning away games because of how busy it gets!  It creates the perfect community vibe to cheer on the Lightning.  
Shrimpy's Blues Bistro is one of the trendy seafood restaurants in St. Pete Beach.  This Cajun and Creole inspired restaurant comes complete with indoor and outdoor seating, and two full bars!  Their outdoor patio seating is the perfect spot to do some dolphin spotting or sunset watching!  Check out their live music calendar for details on their shows!  
We love their Creole twist on local seafood, dedicated to serving the freshest seafood from the Gulf – never from a fish farm.  Serving breakfast, lunch, and dinner – you'll need to do multiple visits to try all that they have to offer.  We love their Shrimp Po Boys – served with a house made remoulade sauce and the most amazing hush puppies.  Don't miss out on their $4 wells, all day happy hour as well!