https://www.youtube.com/watch?v=nB2tph_9rn4&t=18s
If you're a local or you're visiting Atlanta, Atlantic Station is one of the best places to explore. There's shopping, restaurants, coffee, activities, and more! You will not be bored trying to find something to do and the options are seemingly endless when you're looking for something to eat or drink.
You might have been to Atlantic Station a few times, or you have never gone at all but we are sure to show you something that you haven't seen or done before. Follow along as we show you what it was like for us as we explored Atlantic Station.
About Atlantic Station
Atlantic Station is a retail and residential area located in the west part of Atlanta, close to the Westside Provisions District. There is so much to do in this little area, not to mention all of the events that this area hosts every month! There really is something for everyone. There is also a couple museums in the area, making the art scene more prevalent than most places.
Known for a wide array of retail options, food establishments, and activities, Atlantic Station is an area that most Atlanta residents visit when they want a change of scenery that isn't too far from the city. The location of Atlantic Station is ideal – away from the hustle and bustle of downtown while still close enough that you can hop on Marta or drive 10 minutes from midtown.
There is so much that this little area offers, and we want to show you some of the highlights. Keep reading to find out what our day around Atlantic Station looks like.
Coffee
If you are a coffee lover you are going to love the Land of a Thousand Hills located right in Atlantic Station. Grab your favorite coffee drink or tea and get working with a great drink in your hand. There is seating outside to enjoy the view of Atlantic Station as well as seating inside for those days that the weather isn't your friend. We tried the chai latte as well as the regular latte and both were delicious. There are other locations around Atlanta as it's an Atlanta chain. 
Atlantic Station is more limited on their coffee selection, however there is also a Starbucks in the area as well as a Bilt Coffee in one of the office spaces. You are also not far from midtown, where there is coffee galore!
Food
When you are feeling starved, head out to Salata to grab a salad with the best of the best ingredients and at a quick pace. You can completely customize your salad to your taste! You simply choose you base (lettuce) and then choose toppings, meats, dressings, and more to make your salad everything you could ever want.  This is another Atlanta chain that has locations all over. 
If you're looking for something special to the area, The Pig and The Pearl and Chick-a-Biddy are both yummy and special to Atlantic Station  The Pig and The Pearl is a sit down restaurant with more high end options, while Chick-a-Biddy is a quick serve restaurant for more casual dining selections.
There are so many other food options as well, including Gyu-kaku Japanese BBQ Dining, NaanStop, Paris Bistro, and more. You will not be disappointed with the food scene! To see all dining options, click here.
Shopping
If there's one thing that Atlantic Station is known for, it's the shopping! There are stores all over. Some of the stores include Old Navy, Loft, Athleta, H&M, Forever 21, Gap, Francesca's, and more. The shopping experience is similar to an outdoor mall.
You will most likely find at least one of your favorite stores here. The only problem you might run into is your shopping budget, although there are many affordable stores that you can find yourself in as well. Whether you are able to afford more of the high end, luxury products or you are trying to save a few dollars but still have a little fun shopping, Atlantic Station is for you! Check out the full list of stores here.
Activities
Now for one of the most interesting parts of Atlantic Station: Bodies…the Exhibition. This exhibition has over 200+ REAL bodies on showcase to help educate people on the human body. This is one of the more popular attractions at Atlantic Station and although it is a temporary exhibit, there is not an official ending date. 

GET TICKETS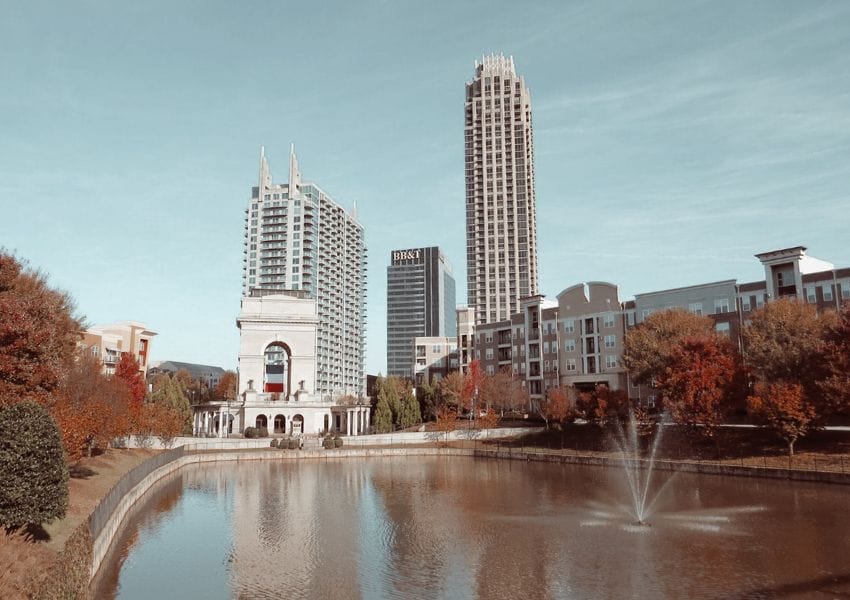 📷 Millennium Gate Museum
A great museum in the area if you're anxious to learn a little about Georgia's history, as well as relish in the unique historical collections, is the Millennium Gate Museum at Foundry Park. The exhibitions on display right now include Georgia History and the Bodmer-Hanna Gallery, where the Hanna Papyrus can be viewed. Some of the past exhibitions include the "Illustrious Governor Gwinnett" as well as "The Games: Ancient Olympia to Atlanta to Rio". 
Observe the many ancient artifacts and documents from a wide array of time periods and enjoy the view of Foundry Park from the Millennium Gate Museum, located right outside the main shopping area of Atlantic Station.
Other Entertainment


If learning about human anatomy or the history of the state is not your thing, you can catch a movie at the Regal Movie Theater located within Atlantic Station! And coming soon is a bowling alley called Bowlero.
Events
If you don't find yourself at Atlantic Station to shop around or eat some great food, you might find yourself here for one of the many events that the area hosts. This includes the Winter Beer Festival, the Atlanta Brunch Festival, Harvest at the Station, Light the Station, and more! Most events are now being hosted in the parking lot, right next to the main area in Atlantic Station, pictured above.
Looking for other spots and events around Atlanta?
Don't forget to check out the UNATION app and search "Atlantic Station" to see what events are coming up. And if you're looking to explore another area after hitting up Atlantic Station, you should check out our blog post on the Best Things to do in Buckhead.
Don't have the UNATION app? Click here to download it to your mobile device so you can find the best things to do in Atlanta with ease.