The beautiful thing about Florida is that the weather is perfect *almost* all year round – perfect for dinner with a view! Rooftops and outdoor patios are key to a true DUVAL dining experience. Outdoor activities are highly encouraged to help with social distancing. Now more than ever, we can enjoy outdoor dining in Jacksonville (and support local while doing so). Plus, when the weather doesn't want to cooperate, many restaurants have plans in place to ensure that outdoor seating remains cozy and fun!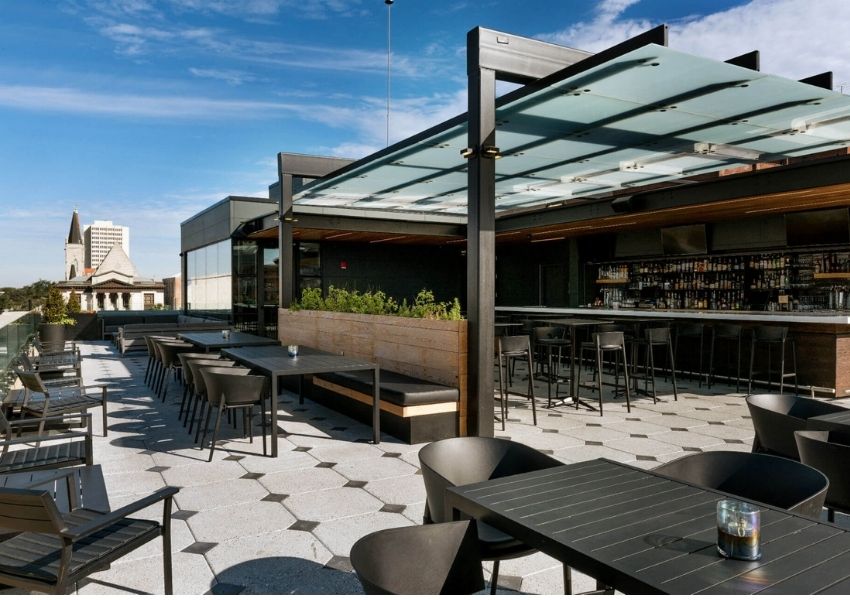 Ideally fixated across from the John T. Alsop Bridge, Cowford Chophouse welcomes guests to dine on their rooftop patio! Located on the top of a building that dates back to 1902, many of its historic details have been "restored to their original glory." With a hand-selected menu that pairs  beautifully with your favorite glass of wine or cocktail, Cowford Chophouse is perfect for your next date night or brunch with the pals!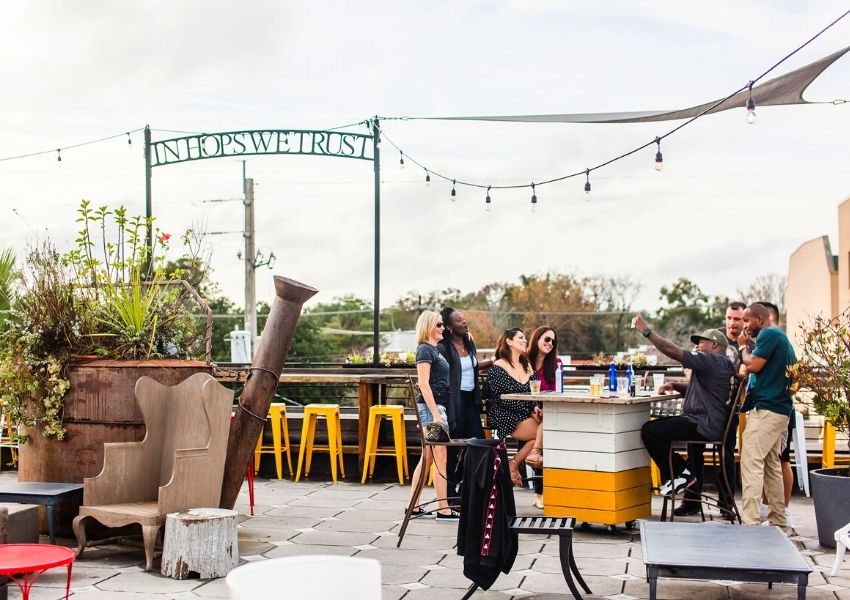 How cool is this rooftop hangout? Hoptinger in 5 Points is the place to be for outdoor dining in Jacksonville! This modern bier garden features over 60 different craft beers on tap, as well as, a complimentary liqueur bar.  Their menu includes traditional Bavarian-inspired staples, each with a unique Hoptinger twist. Our go-to order is the Hoptinger Burger paired with the Orange Jalapeño cocktail and a beer (or two)! 
1ST FLOOR HOURS
⏰ MON-FRI | 11AM-2AM
⏰ SAT-SUN | 10AM (For brunch)
2ND FLOOR HOUSE
⏰ 6PM-2AM
THE GARTEN ROOFTOP HOURS
⏰ MON-THURS | 4PM-12AM
⏰ FRI | 4PM-2AM
⏰ SAT-SUN | 11AM-2AM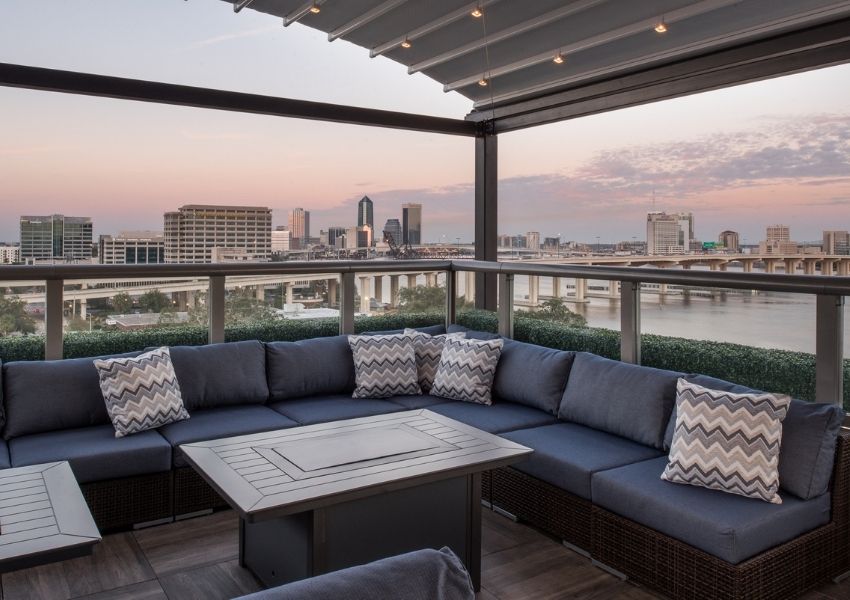 The skyline makes for a picturesque background at River & Post. With an impeccable menu and impressive cocktail menu, the accommodations are unlike any other! We suggest trying the Summit – mixed with vodka, elderflower, blueberry syrup, lemon & soda with blueberry meyer lemon shrub. Yes, a drink paying homage to the blueberry – very uncommon but very good! With a rooftop and an additional patio, River & Post is a great place for outdoor dining in Jacksonville.  
Pro tip: try the crab cakes, you won't regret it. 
Restaurant
⏰ MON | 4PM-10PM
⏰ TUES | 11AM-10PM 
Rooftop Lounge
⏰ SUN | 11AM-10PM
⏰ MON | 4PM-10PM
⏰ TUES-THURS | 4PM-12AM
⏰ FRI | 4PM-2AM
⏰ SAT | 11AM-2AM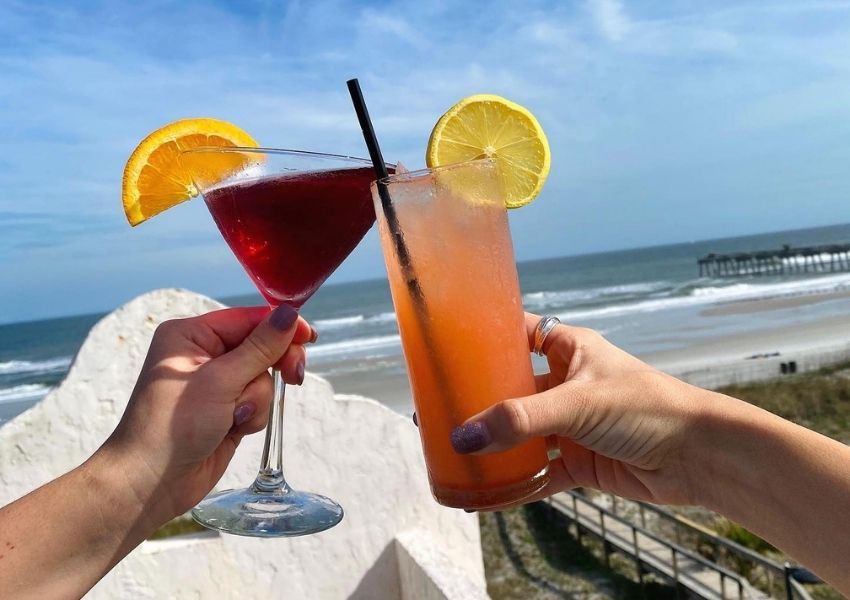 Casa Marina Hotel and Restaurant is a beloved staple in Jax Beach. With the Atlantic Ocean as a backdrop, their rooftop bar is an oasis for lunch or dinner! To add to the elegance, Casa Marina's menu pays homage to the charm Casa Marina offers its guests. Each item is delicately crafted in a sophisticated manner, adding to your overall dining experience. Whether it's mimosas with the gals or a date night, Casa Marina one of the best places for outdoor dining in Jacksonville. 
Hey, turn date night into date weekend and grab a hotel room while you're there. They also have a rooftop lounge and offer brunch…plus, well…the beach!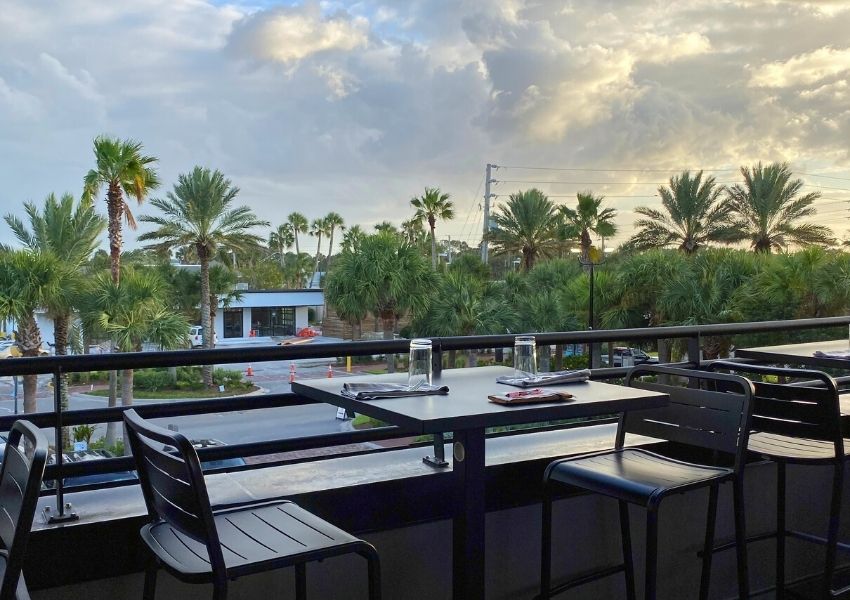 Coop 303: serving up tasty treats with a side of ocean breeze! Dine "al fresco" on any of their three outdoor dining areas. Their rooftop lounge and 2 stunning patios are all beautifully decorated with contemporary concept in mind and perfectly-placed greenery. With a wide variety of menu options and a fully stocked bar, Coop 303 has options for even the pickiest of eaters. Oh and btw, dogs are allowed on their downstairs patio! An outdoor dining experience in Jacksonville with your best furry friend? How 'pawesome'!
⏰ SUN-THURS | 11AM-10PM
⏰ FRI-SAT | 11AM-11PM
More Rooftop Restaurants in Jacksonville
Outdoor Dining in Jacksonville
Located off the San Sabastian River, the St. Augustine Fish House and Oyster Company has great seafood and views! In addition to some of the most stunning sunsets to enjoy shellfish by, the St. Augustine Fish House & Oyster Company also features live music and friendly service. 
We recommend getting a low country boil, some gator tail or a whole lobster tail for a fresh seafood meal that hits the spot during a perfect low-key date night on the water. 
Palm Valley Outdoors has that laid-back waterfront restaurant feel that speaks to the heart of Florida. Great seafood, great music, great drinks, and a low-key atmosphere suits this gem, where you watch the Intracoastal roll by and maybe catching sight of a dolphin or two.
Kayaks and canoes are available to rent so that you can explore the hidden islands and coasts along the Intracoastal. You can also rent water equipment or get bait here and launch right by the restaurant. Once you work up an appetite, grab a fried seafood platter and some gator tail for a reminder you live where everyone else vacations.
Not only does Dockside have spectacularly fresh seafood, their outdoor dining area is one the of best views in Jacksonville Beach! 
You can watch the boats pass under the bridge and enjoy all the sights and sounds of the intracoastal, including the salty air and the occasional dolphin pack. Nothing makes seafood taste better than eating it near the water. We recommend trying their whole fried snapper with a little tarter and lemon juice for the perfect outdoor dining experience.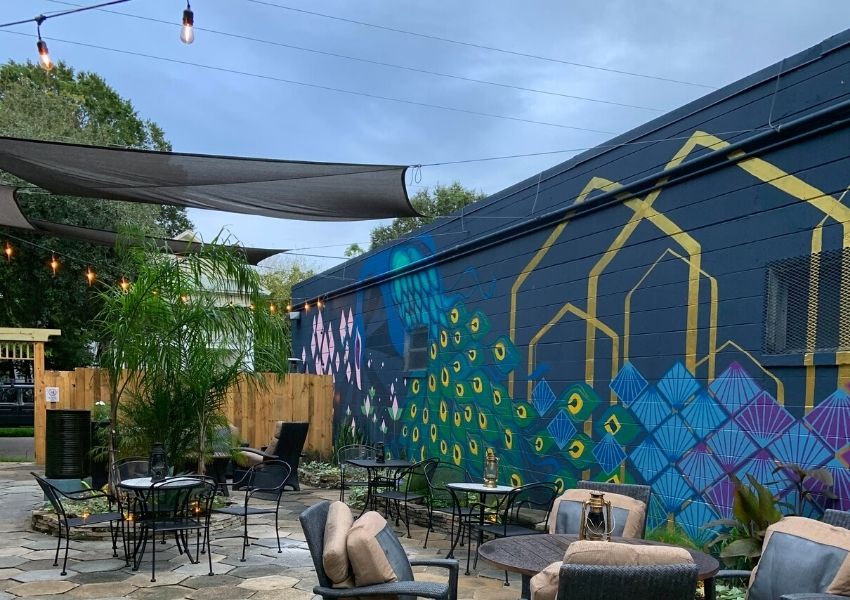 Welcome to The District! New to Historic Springfield this wine bar and lounge is brand new and you HAVE to go check it out. We adore the outside patio, which is going to be great for the cooler fall weather and a really nice date night spot. It's cozy, inviting and we recommend their charcuterie board, as well as, any of the local beer options. Did we mention every Sunday they have HAPPY HOUR all day?!
⏰ SUN | 11AM-10PM
⏰ MON-THURS | 3PM-10PM
⏰ FRI | 3PM-1AM
⏰ SAT | 11AM-1AM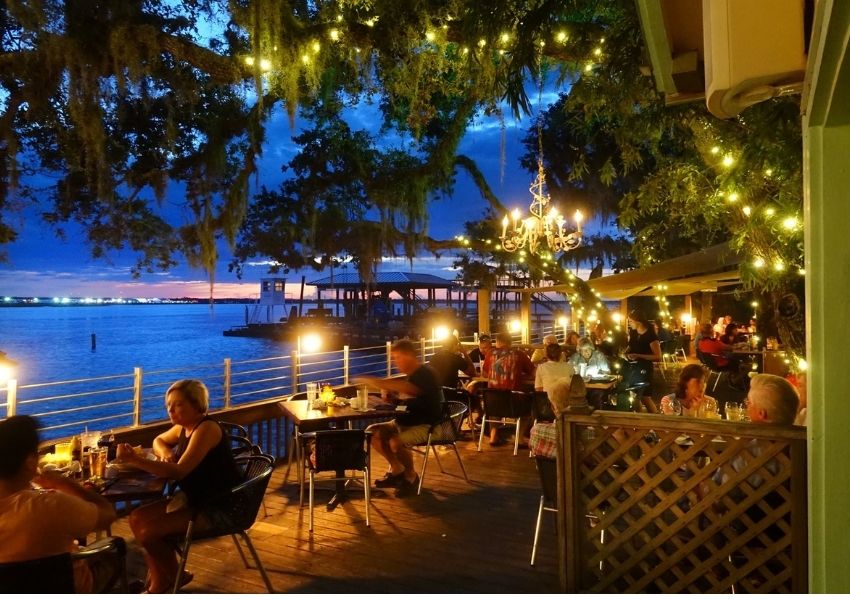 Cap's on the Water puts the comfort in outdoor dining in Jacksonville! Guests may select from a waterfront patio or  a gorgeous pavilion, each with views that will make the your night out on the town worth while. Plus, each outdoor space includes heaters to ensure comfort all year round. Cap's on the Water features not one, not two but THREE bars that serve award-winning wines, cocktails and local craft beers and seafood menu that is to die for! 
⏰ MON-FRI | 4PM-9PM
⏰ SAT-SUN | 11:30AM-CLOSE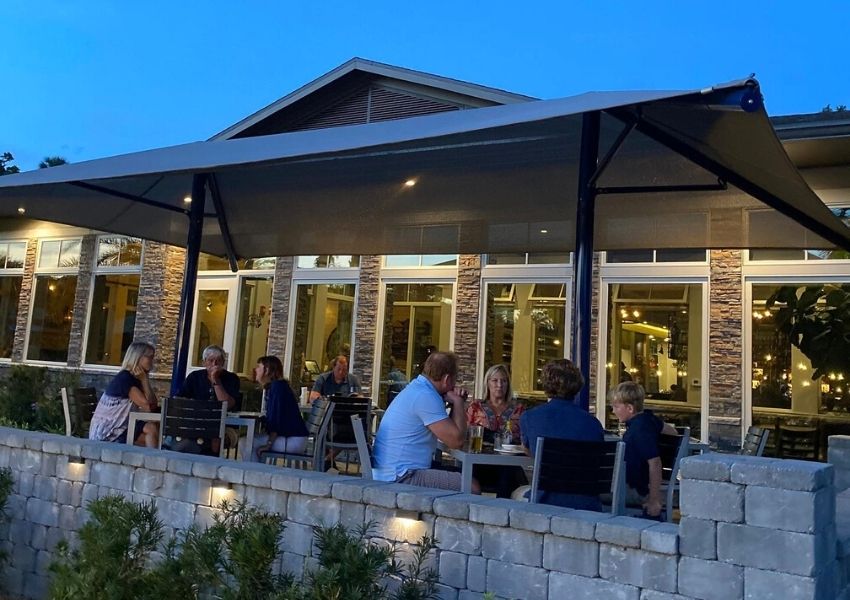 BBQ with a view! Overlooking the Intracoastal Waterway, Valley Smoke offers classic slow-smoked barbecue, seafood, chicken and more. Each dish is prepared using their custom wood-fire grill using high quality, fresh ingredients. You can't go wrong with what you order from Valley Smoke but we suggest the Carolina Style Pulled Pork with mac n cheese and brisket baked beans on the side! Their outdoor patio is quaint and cozy, making for a fun night with your loved one(s)!
⏰ TUES-SUN | 11AM-4PM (for lunch)
⏰ MON-SUN | 4PM-10PM (for dinner) 
⏰ SUN-SAT | 11AM-3PM (for brunch)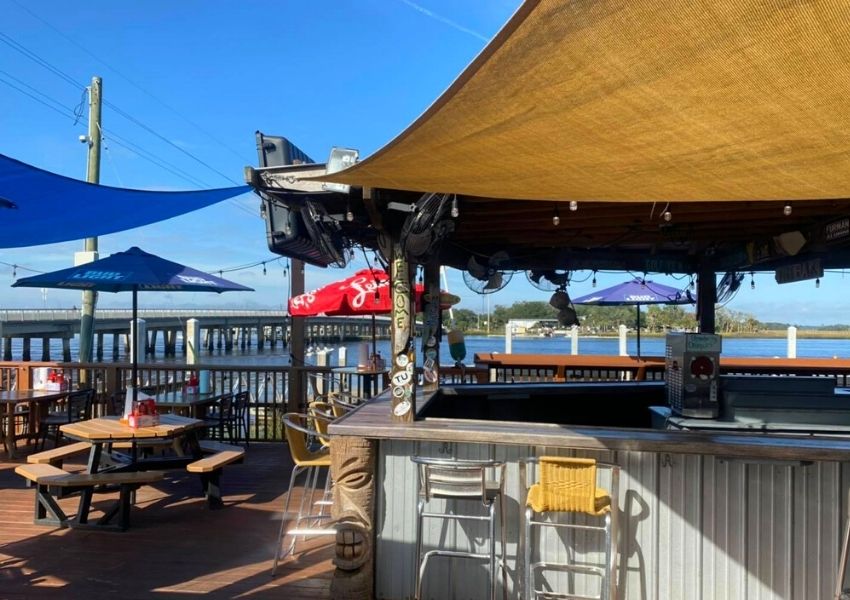 Just when you thought fresh, local seafood couldn't get any better…how about enjoying it while oceanfront? A beloved community staple since 1950, Palms Fish Camp serves some of the highest quality seafood in JAX. Their menu changes with the seasons to ensure that guests are offered the freshest food. No matter when you go, their menu will always feature a wide variety of options – some may say the "largest seafood selection in the world!"
⏰ MON-THURS | 11AM-9PM
⏰ FRI | 11AM-10PM
⏰ SAT | 7AM-10PM
⏰ SUN | 7AM-9PM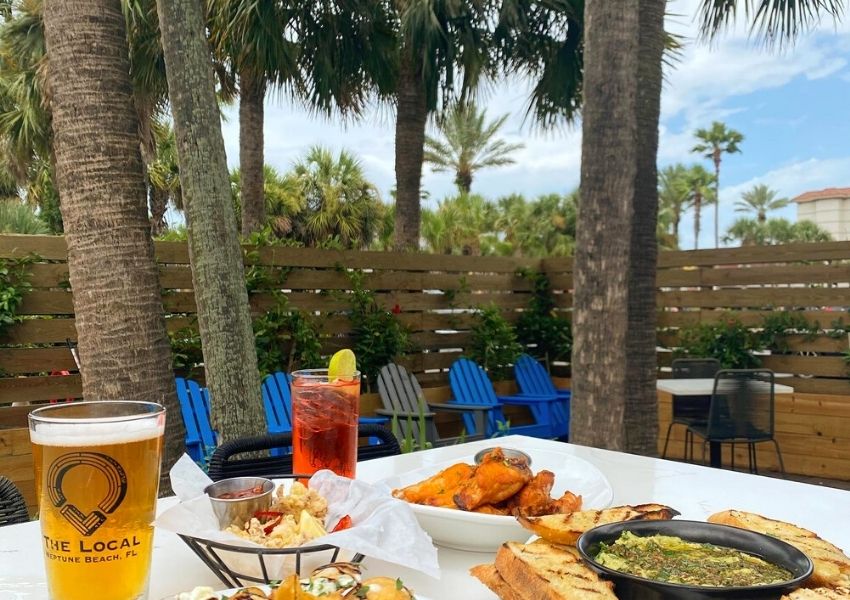 The hype surrounding The Local is real and it doesn't disappoint. This is now THE spot in the neighborhood to grab awesome, healthy food. The Local puts a unique spin on classic dishes, each recipe meticulously crafted before sharing with guests. This is different a chill environment where everyone that walks through the door is consider a friend. Stop by The Local, grab a beer and enjoy one of our fav outdoor dining experiences in Jacksonville. 
⏰ MON-FRI | 11AM-CLOSE
⏰ SAT-SUN | 9AM-CLOSE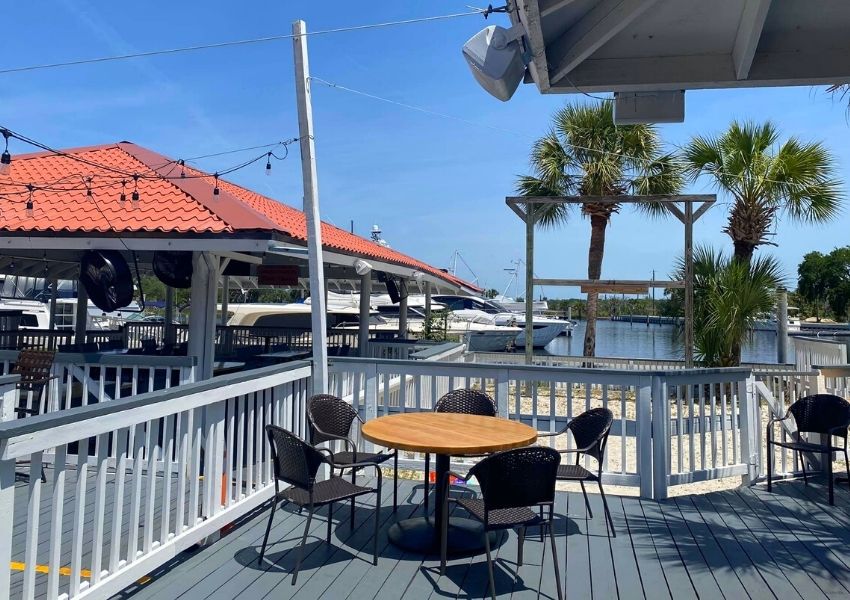 If you're interested in a more laid-back style experience, head over to Mavi Waterfront Bar and Grill. These guys are all about their waterfront location, inviting guests to park their boat on their dock and grab dinner! With drink specials almost everyday and a fab lineup of live music, Mavi Waterfront Bar and Grill is a great family-friendly hangout. Pro tip: Try the Spicy Burger, made with a cajun seasoned beef patty, pepper jack cheese, special sauce, onion straws and a jalapeño…YUM! 
⏰ SUN-THURS | 11AM-10PM
⏰ FRI-SAT | 11AM-11PM
More Outdoor Dining in Jacksonville
We want to follow your outdoor dining experiences in Jacksonville! Tag us in your photos on Facebook, Instagram and Twitter. Plus, download our app for the latest and best happenings in DUVAL country.