The word "BBQ" is about as heavy as a slab of raw meat and fully loaded as a baked potato. Vastly different interpretations of the meaning occur from all over the world, then again between city limits, and again from backyard to backyard. When it comes to one's personal interpretation – the word can often be not open to debate, slathered in secret recipes and passed down from generation to generation.
And here in the south – we don't like to mince our words.
Our loyalty lies with good BBQ and some of the best BBQ in Jacksonville tells stories about the city and its people.
From grill to grill – we keep our BBQ close to the flames of our heart.
"Barbeque may not be the road to world peace, but it's a start." -Anthony Bourdain.
*in no particular order
The Absolute Best BBQ in Jacksonville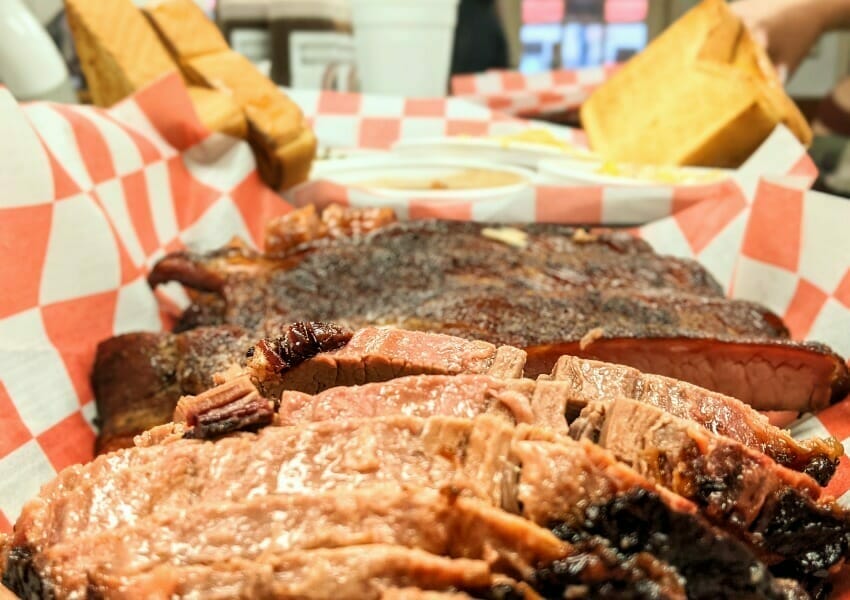 Woodpeckers is a classic Southern American Barbeque joint, with a generous and shady backyard, popping to-go window and homey/casual interior. It's a place you can walk into a "pop a squat" at their bar and get a gallon of sweet tea in a large Styrofoam cup from a waitress juggling eight tasks in-between cheeky banter with regulars.  
As par for the course on slow smoking your menu – Woodpeckers' serves until the meat's gone. They also specialize in datil pepper here, so expect to find datil version of all your BBQ classics, including datil mac & cheese, datil green beans, datil cornbread, and my favorite – datil smoked sausages.
Located off the beaten path in St. John's County, this BBQ joint definitely feels like a neighborhood secret spot. Not a single person that has been to Woodpecker's that I spoke to could downplay their praise of this little gem, however. For those seeking some Floridian old world BBQ – Woodpeckers is your fountain of youth.
📍 4930 FL-16A, St. Augustine, FL 32092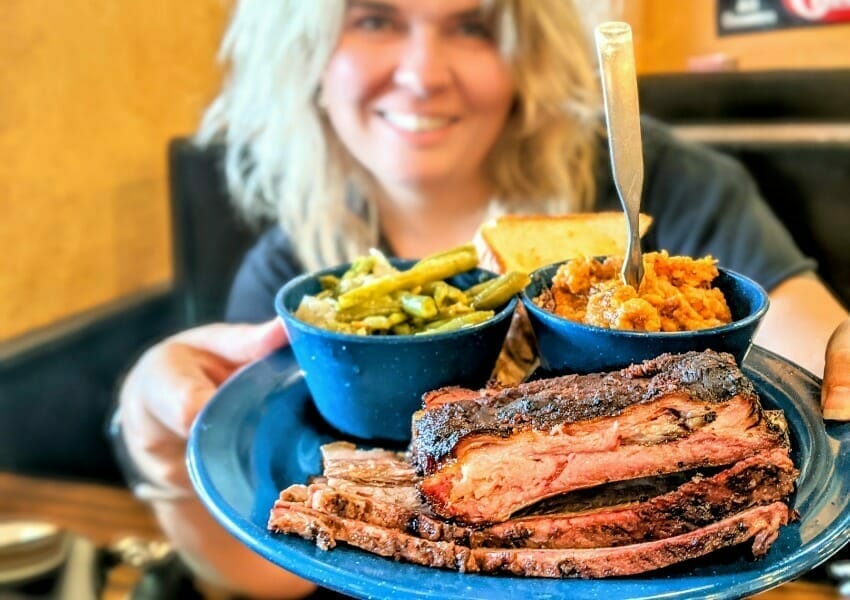 Started in 2003 on University Blvd, Mojo Bar-B-Que has a combination of Jacksonville's favorite things – blues music, whiskey and BBQ meats. With a fantastic serving of both – you can't go wrong at any of their now seven locations – with the furthest being in Gainesville and Ocala Florida.
With delicious St. Louis spareribs, brisket, sides and starters – Mojo Bar-B-Que is an easy decision when collaborating on a good spot for some grub. Additionally, MOJO's unique blues-inspired décor ranging from Howlin' Wolf portraits to retro Jacksonville Blues Fest posters, it's also a pretty cool place to be.
📍 1500 Beach Blvd, Jacksonville Beach, FL 32250
📍 1607 University Blvd. Jacksonville, FL 32217
📍 1810 Town Center Blvd. Fleming Island, FL 32003
📍3572 St Johns Ave. Jacksonville, FL 32205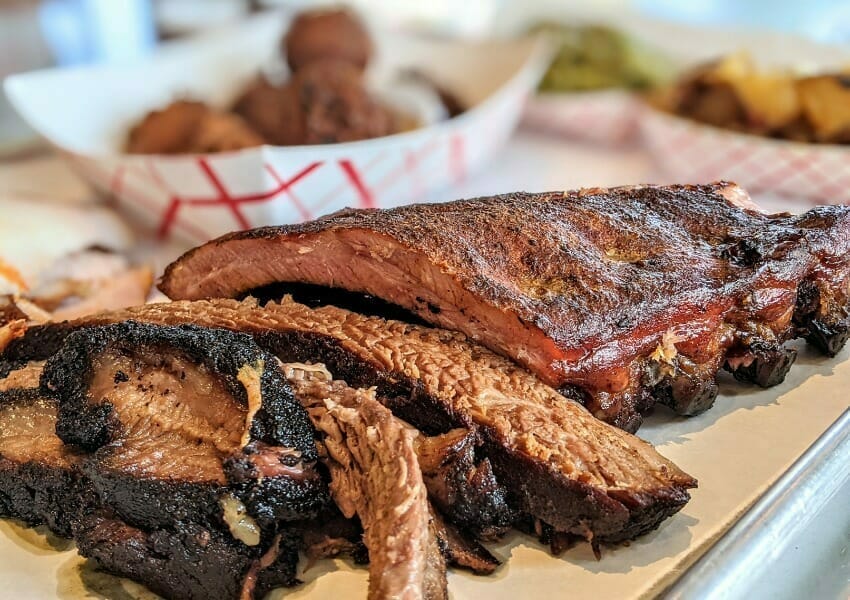 A new addition to Jacksonville, Sugarfire Smokehouse specializes in baby back ribs, smoked brisket and pulled pork with inventive sides like pork belly hush puppies, smoked fried artichokes and milkshakes.
A combination of creative and traditional, Sugarfire's quick counter-service and sauce varieties makes it a fun restaurant to pop in for quick meal with enough selection to keep you interested.
📍 12959 Atlantic Blvd, Jacksonville, FL 32225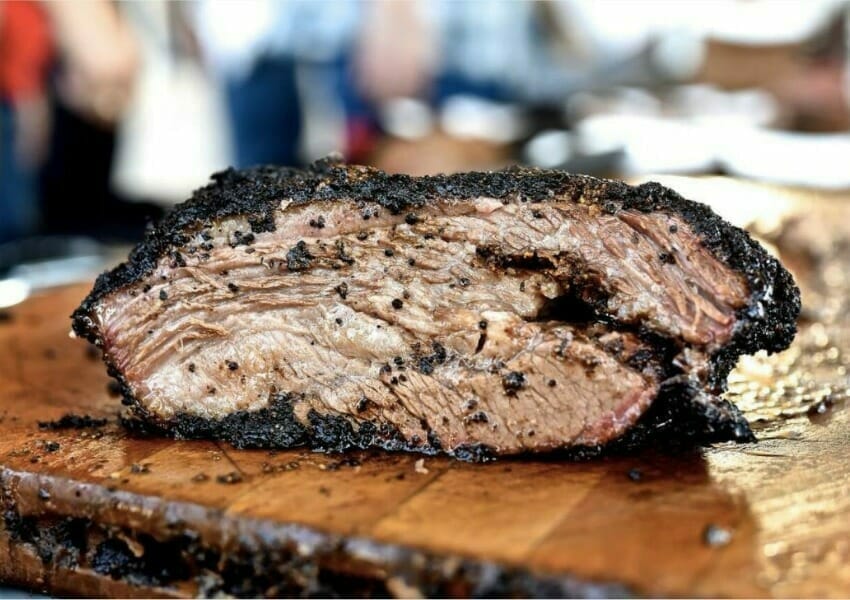 📷 Monroe's BBQ - Facebook
4. Monroe's Smokehouse and Bar-B-Que
Monroe's Smokehouse has a long history with Jacksonville and the Monroe's are proud of their BBQ lineage. With two locations in Southside and Westside (and a catering food truck), this traditional-inspired smokehouse has some of the best sauces and southern home-style sides in the area.
Featuring fried okra, collard greens, corn nuggets, fried pickles, black eyed peas and potato salad – Monroe's channels the traditional southern backyard BBQ, without any of the contemporary fluff. If you're looking for somewhere authentic that serves up slow smoked BBQ – look no further than those little red plastic baskets at Monroe's Smokehouse restaurant.
📍 10771 Beach Blvd, Jacksonville, FL 32246
📍 4838 Hwy Ave, Jacksonville, FL 32254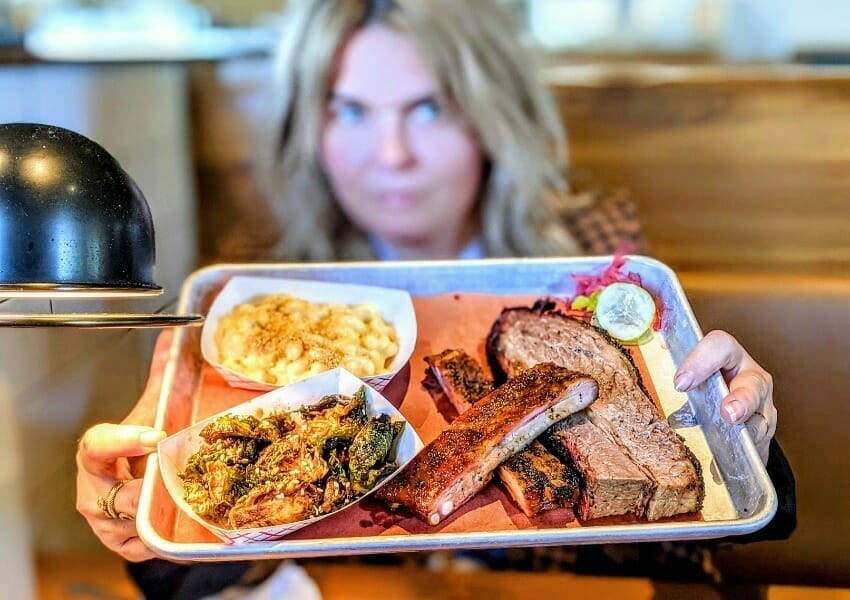 A Texas-style smokehouse, ABBQ takes their meat very seriously. With prime brisket, duroc pork, turkey, duroc pork ribs and home-made sausage, this BBQ joint sells by the pound in their brightly lit restaurant in Atlantic Beach. 
ABBQ doesn't hold back on the meat and tangy, Texas-style options. Try their homemade pork rinds, deviled eggs, frito pie or loaded baked potato for a starter. Go traditional BBQ with their "Texas Trinity" of a half-pound of brisket, pork spareribs, sausage, cowboy baked beans and coleslaw or get down on their "THE 1513" sandwich, consisting of sliced brisket, pulled pork, sausage, coleslaw, pickles and BBQ sauce. It's a motherload of a BBQ sandwich and will satisfy even the most carnivorous of hungers.
True to the backyard BBQ feel, ABBQ also has a large outdoor space where patrons can relax, play cornhole or let their kids run around. Like a family gathering that never stops gathering – this neighborhood haunt is a local favorite.
📍 461 Atlantic Blvd, Atlantic Beach, FL 32233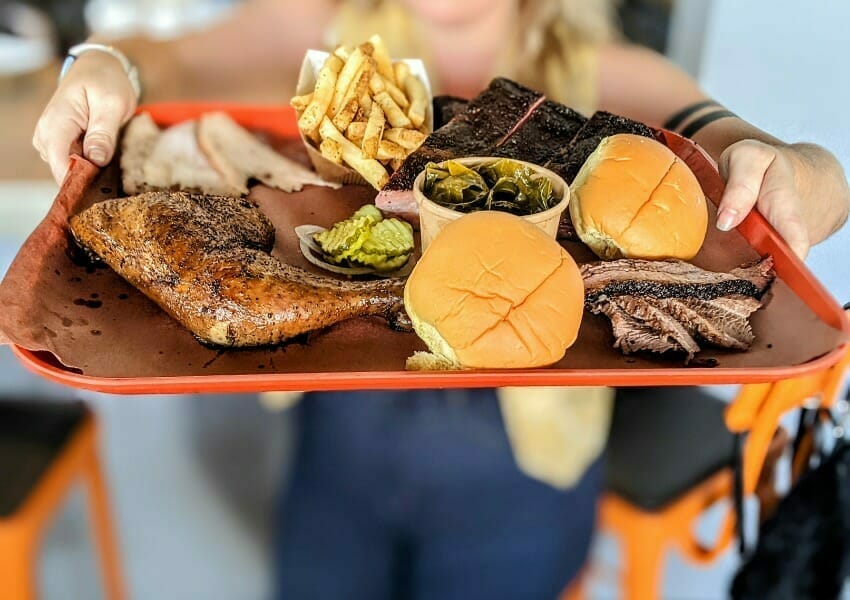 Since its opening in the San Marco area ten years ago, The Bearded Pig has quickly become a Jacksonville institution. A mix of Southern-style backyard smoking and fun, family beer garden – the Bearded Pig is busy on a Saturday night.
With many delicious starters, it's hard to choose. Between the jalapeno poppers and bearded poutine, tough choices are abound. A personal favorite is the burnt ends –but watch out! These little rib meat delights have limited availability and will sell out!
Smoked meat traditionalists will opt for the platters, often selecting the ribs and brisket for a Pitmaster's choice. A personal favorite side is their collard greens, which taste fresh and never overcooked.
Both the San Marco and Jacksonville Beach locations are fun hangout spots, as well. With plenty off local craft beer selection and a specious outdoor area, it feels like a summer BBQ all year long.
📍 1700 3rd St S, Jacksonville Beach, FL 32250
📍 1808 Kings Ave, Jacksonville, FL 32207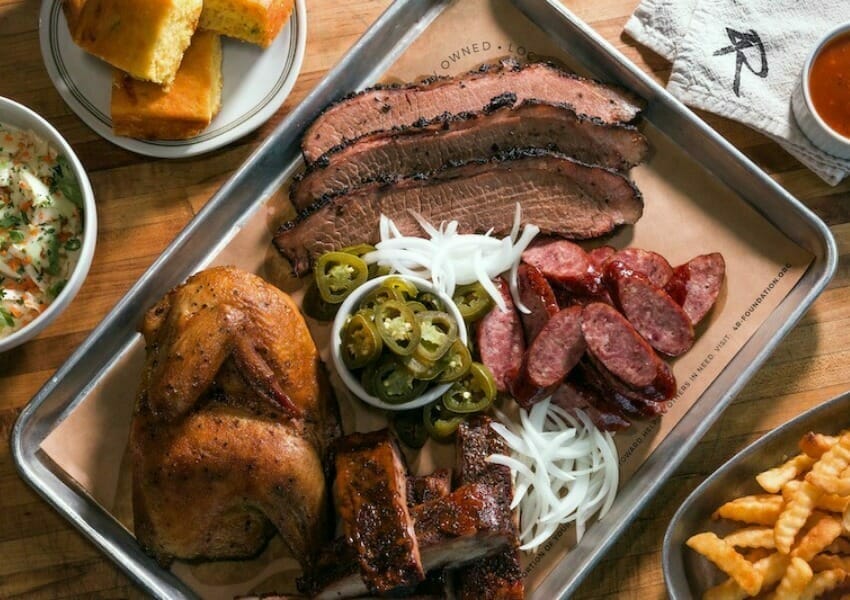 There couldn't be a better origin story for BBQ than 4 Rivers Smokehouse. Humble beginnings from a man's undeniable obsession with brisket in Winter, Florida led to a good cause when a fellow church member needed help raising funds for child cancer treatment. One BBQ fundraiser event later, the "Barbecue Ministry" was formed, because there was a calling for smoked meats and many in need.
4 Rivers was established not long after. The meat here still tastes of one's love for thy neighbor, that's a fact.  
Decedent cuts coupled with fresh bakery items proved to be a winning combination as the Jacksonville location is 4 River's fifth location. Here, the brisket is still the star of the show, glistening and dry rubbed to perfection. 30-day wet-aged and smoked for 18 hours before cut to order is the key, which unlocks man's primal understanding of excellence in meat. Amen.
📍 9220 Baymeadows Rd, Jacksonville, FL 32256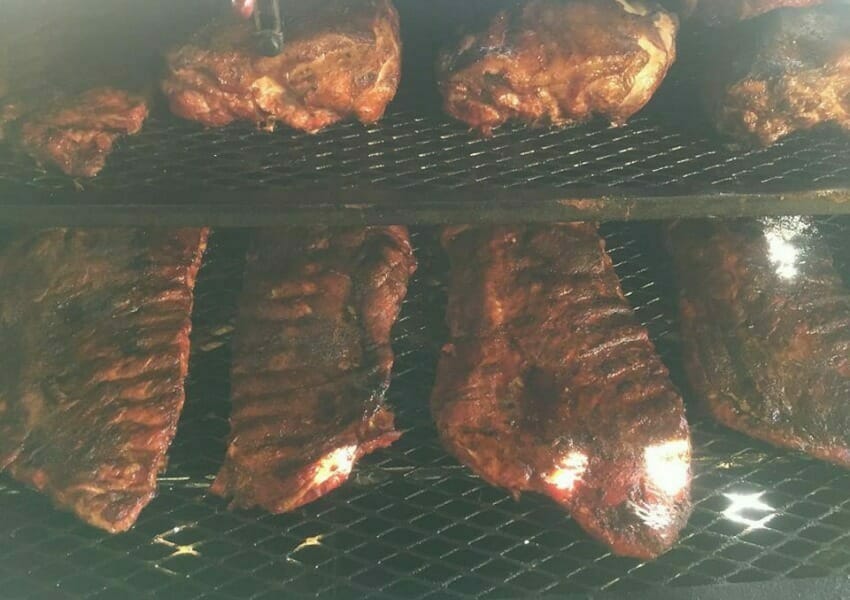 📷 Fred Cotton's - Facebook
8. Fred Cotton's Landmark BBQ
Slow smoked and slathered in sauce over black jack oak – Fred Cotton's sweet meats come served with all for favorite classic southern sides on a red checked tablecloth because it just tastes better that way.
Served up in a small space with waitress bobbing and weaving around tables, this little BBQ joint has the recipe of old Southern charm with the real focus on the meats.
Fred Cotton's BBQ has been a Jacksonville staple since the 60s, although changing ownership during that time. Many of the customers have been eating Fred's original recipe BBQ since they were children – which is the biggest vote of confidence a restaurant could have.
Try the pulled pork or ribs for an authentic taste of Jacksonville's slow smoked history.
📍 1417 N Main St, Jacksonville, FL 32206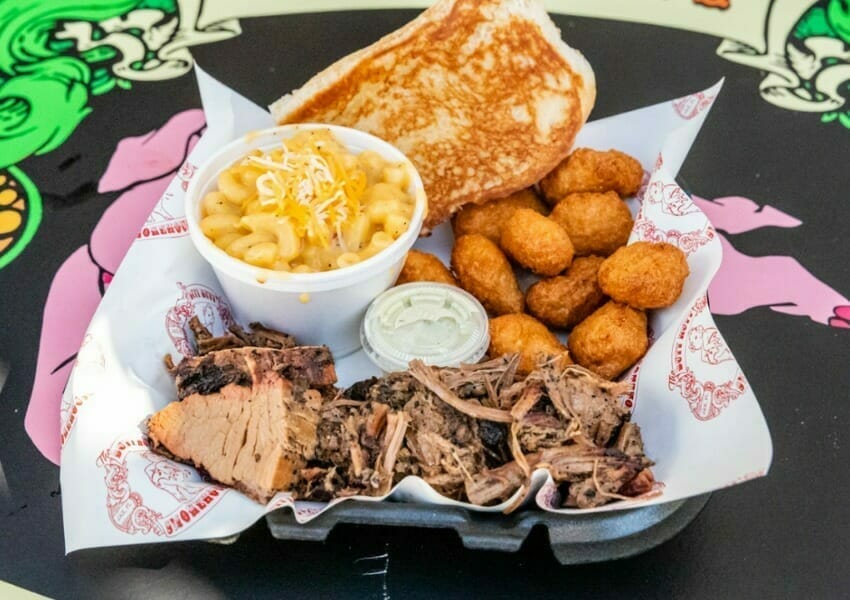 Butt Hutt has received its fair share of accolades, from winning spots on best BBQ around town to a feature on the Food Channel – all well deserved.
This little food truck discovered you can get slow smoked on the go and has since taken off.  Described as "Florida style BBQ," Butt Hutt's non-traditional take on sides and slow roasted perfection speaks to the creative passion of their project. Try their Florida Fries, which are smothered in cheese, sautéed peppers and onion, garlic aioli and your choice of meat for a heavenly taste of the Sunshine State and a delicious twist on classic sides.
When meating, opt for their beef brisket, which is sugar rubbed and slow smoked for 12+ hours on pecan wood. While the sides at Butt Hutt have creative liberty, this brisket speaks to hundreds of hours of precise calculations to achieve a consistent, absolutely fine-tune flavor of mouth-watering transcendence.
I suggest following Butt Hutt on Facebook or Instagram for updates on locations. Their website also is regularly up to date. If you happen to drive by and see a yellow food truck with a suggestive pig on it – pull over it's pulled pork perfection.
📍 See Website for Locations
Still hungry after the best BBQ in Jacksonville? Try a bite of our ultimate guide to food in Jax...