The Champa Bay momentum didn't seize after the Lightning's recent boat parade. On the other side of the bridge, the Tampa Bay Rays are looking for their first World Series in franchise history after falling short to the Dodger's in six games last season.
As the second half of the season unwinds, the red hot Rays are in a two-team battle at the top of the AL East standings with the Boston Red Sox, and you can never count out the 27x World Series Champion New York Yankees, and dangerous Toronto Blue Jays.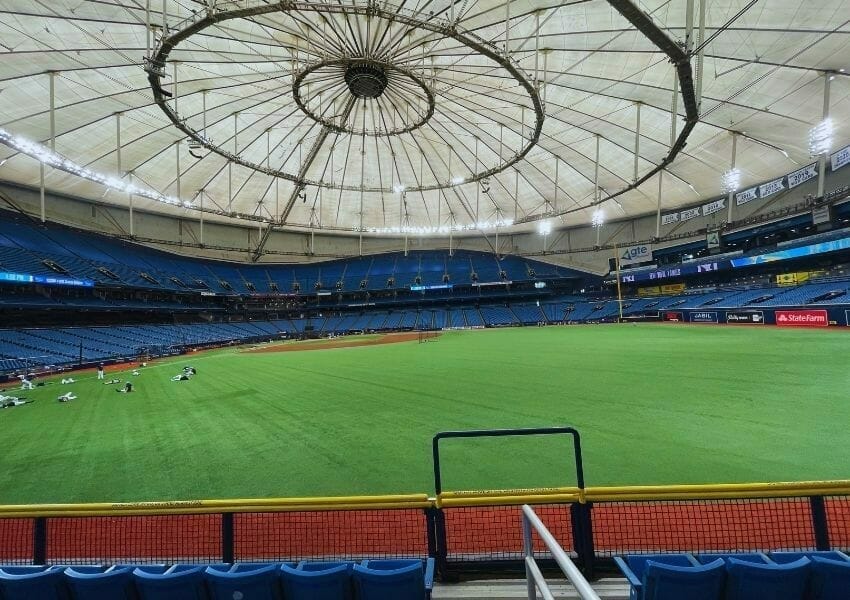 If you've never been to a game at Tropicana Field, you're in luck. Opened in 1990, it's the only domed ballpark with a non-retractable roof in all of Major League Baseball. That means in the dog days of summer, and amid the Florida afternoon thunderstorms, you'll stay both cool and dry.
Here's how to make the most of a Tampa Rays game at Tropicana Field.
Upcoming Schedule & Games To Watch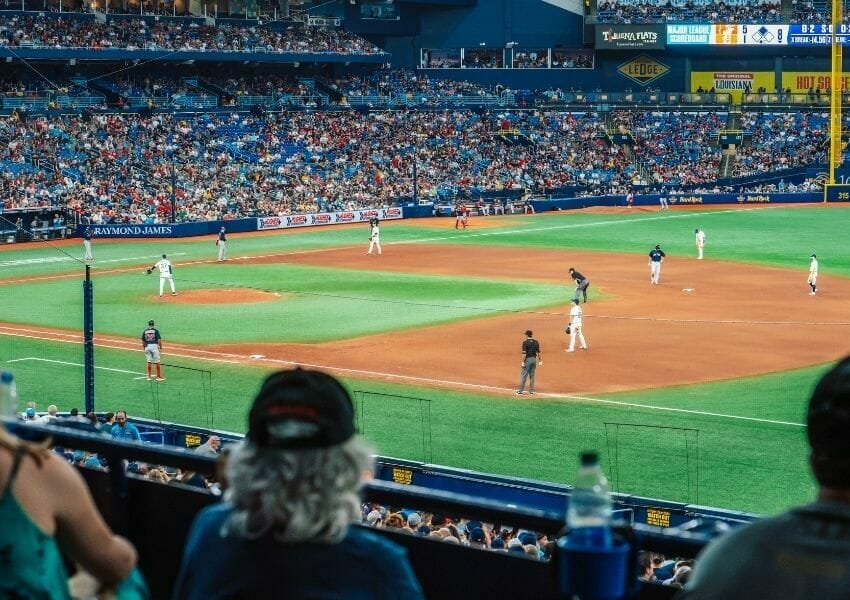 The AL Central-leading Chicago White Sox come to town August 21- August 23 before Tampa Bay closes out the month AL East foe Boston.
If you're looking to catch a game at Tropicana Field, September features FIFTEEN home games, including contests against the Toronto Blue Jays and our neighbors from the south, the Miami Marlins. The Tigers, Blue Jays, and Marlins series will consist of ten games in eleven days!
A visit to the Bronx to face the Yankees at the beginning of October will conclude the regular season for the Rays.
Things to Do at Tropicana Field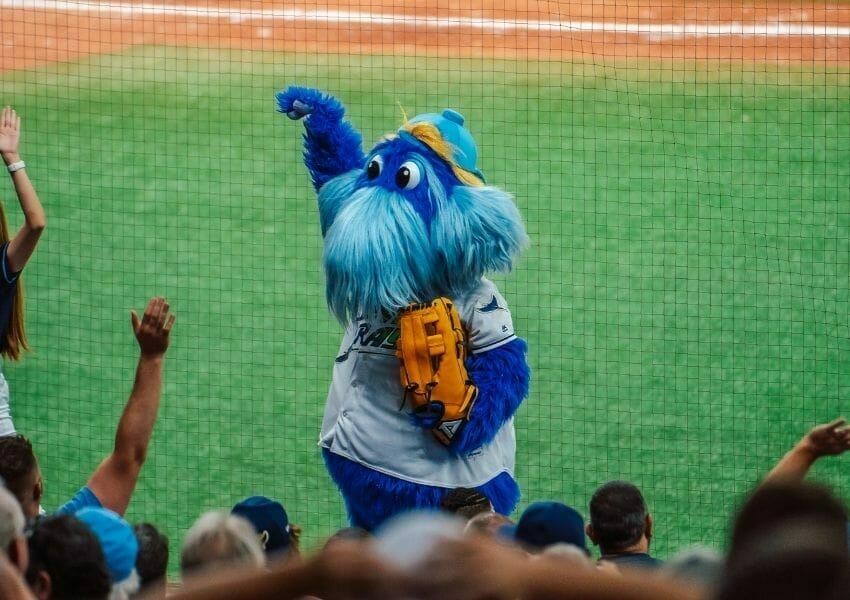 1. Meet The Mascot Raymond
Gates open 90 minutes before game time, giving you the perfect opportunity to explore and get situated just in time for the National Anthem and First Pitch. On the east side of the stadium, you can often find Raymond, the team's loveable mascot in the rotunda before the start of the game dancing, high fiving fans, and of course, posing for pictures.
If you were wondering what exactly is the big blue mascot, he's a previously undiscovered species of sea dog called "Canus Manta Whatthefluffalus."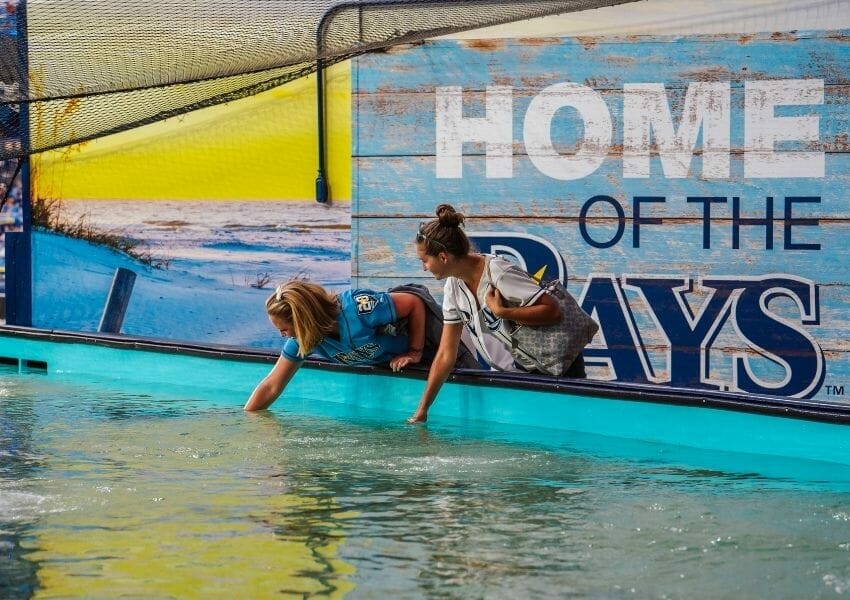 2. Visit The Rays Touch Tank
Great news for fans! The Rays Touch Experience is back open. After you visit with Raymond, head up the nearby escalator to the 10,000 gallons, 35 square foot tank. Nearly two dozen cownose stingrays call the tank home, which overlooks the right-centerfield area of Tropicana Field.
Guests of all ages can get to feel these amazing marine animals. In the offseason, the rays return to the Manatee Viewing Center in Apollo Beach, which is run by the Florida Aquarium.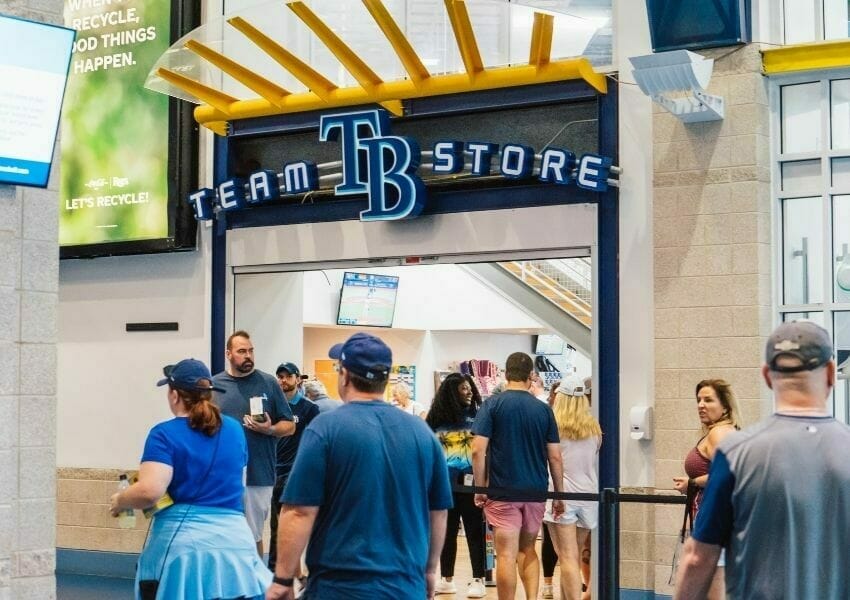 Head to the Ted Williams Museum and Hitters Hall of Fame (temporarily closed) located next to the Rays Team Store and across from the Touch Tank. Inside, you will see memorabilia from Williams himself and Yankee greats Joe DiMaggio, Mickey Mantle. and Roger Maris. See photos and jerseys of Hall of Famers as well as some of the most important moments in Tampa Bay Rays history.
Speaking of Rays history, peer into right-field to find three seats that don't look like the rest. That's right, the yellow chair commemorates the first home run in franchise history by Wade Boggs in 1998. Later, Boggs joined the prestigious 3,000 hit club with a home run in that same right field area. The momentous occasion is also marked with a yellow seat.
The third and final historical marker is a white seat down the right-field foul line, the magical spot where Dan Johnson's pinch-hit home run landed. The hit tied game 162 in the 9th inning back in 2011, with Evan Longoria's walk-off home run sending the Rays to the postseason.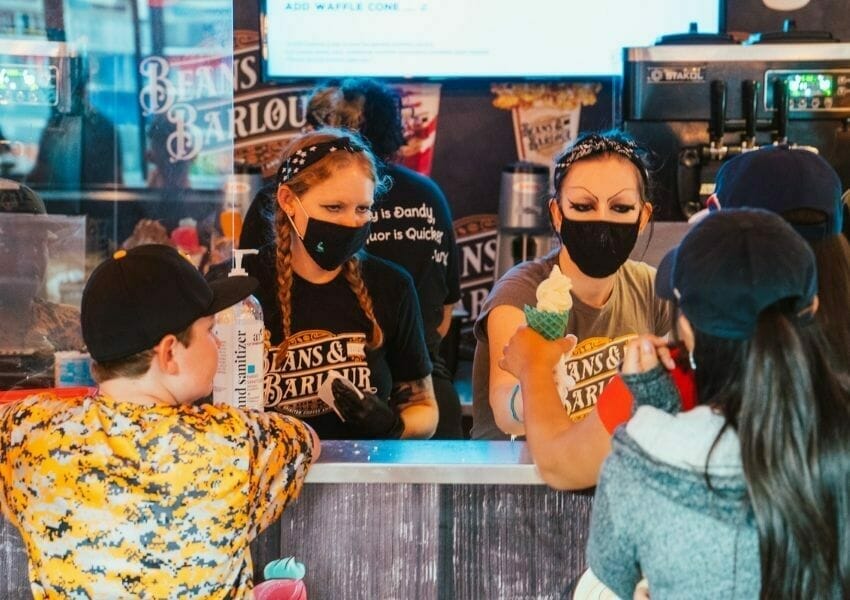 "Buy me some peanuts and Cracker Jacks. I don't care if I ever go back, for its root, root, root for the home team…" While those two items are ballpark staples along with an ice-cold beverage, the food offerings at games have definitely expanded over the years. Try a Tampa Bay staple, the Cuban Sandwich, hang out at The Porch and sample all the amazing food like the short rib grilled cheese. Visit the Bay area hotspot, Beans & Barlour, with its centerfield location, and treat yourself to a delectable milkshake and dessert!
Looking for additional fun in between innings? Ballpark & Rec's motto is, "Youth has no age." The grown-up playground features arcade games, cornhole, giant beer pong, and a menu that features appetizers, tacos, burgers, and other handheld favorites.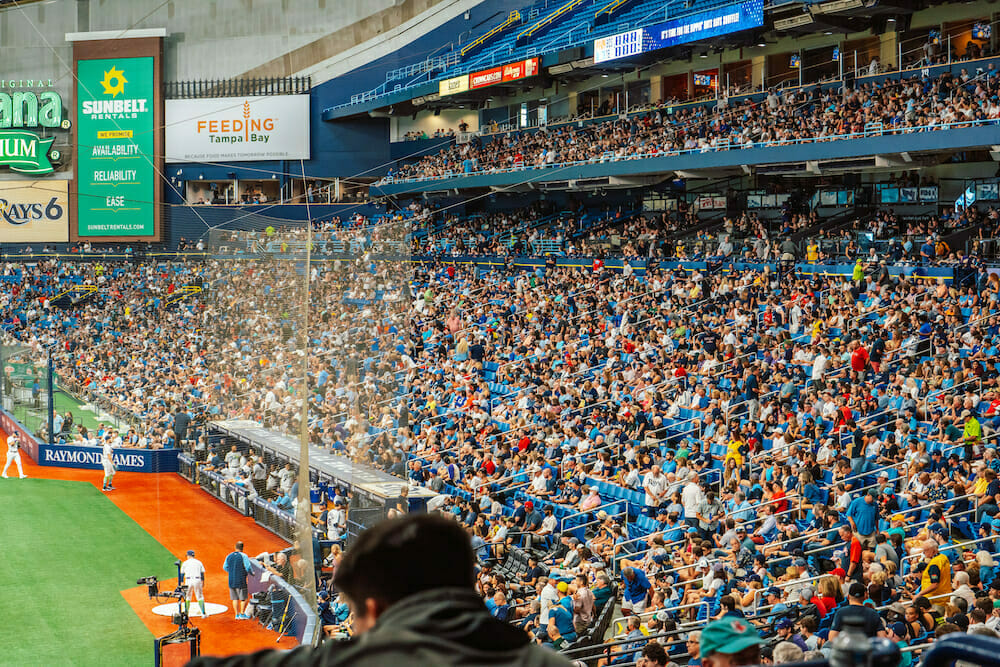 5. First Class Experience
Front row views, oversized leather seats, and endless buffet are all part of a first-class experience included in the DEX Imaging Home Plate Club. Start the night off with ballpark classics like pretzels and chips, and begin the first inning with a chilled shrimp cocktail, crispy chicken wings, and the chef's specials. Water, soft drinks, beer, and cocktails as well. Make it a night to remember and feel like a big shot for one game with their endless buffet.
Must-Go Places Before & After A Game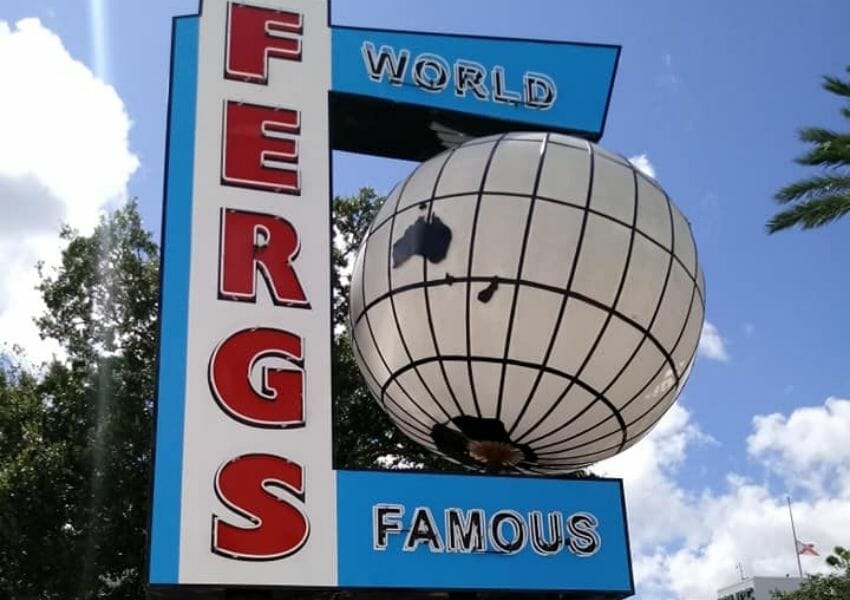 📷 Ferg's Sports Bar and Grill
Ferg's Sports Bar is a baseball throw away from Tropicana Field, the perfect place to pre-game or gather with friends after a Rays game! Located in the heart of town at 1320 Central Ave. has been serving patrons since 1992.
Chicken wings, burgers, seafood fresh from the local waters, and fan-favorite grouper sandwiches, plus your favorite frozen beverages and dozens of beers on tap, you can't go wrong with a legendary institution like Ferg's!
Monday | 11:00am–11:00pm
Tuesday | 11:00am–11:00pm
Wednesday | 11:00am–11:00pm
Thursday | 11:00am–11:00pm
Friday | 11:00am–1:00am
Saturday | 11:00am–1:00am
Sunday | 11:00AM–10:00pm
📍 1320 Central Avenue St. Petersburg, FL 33705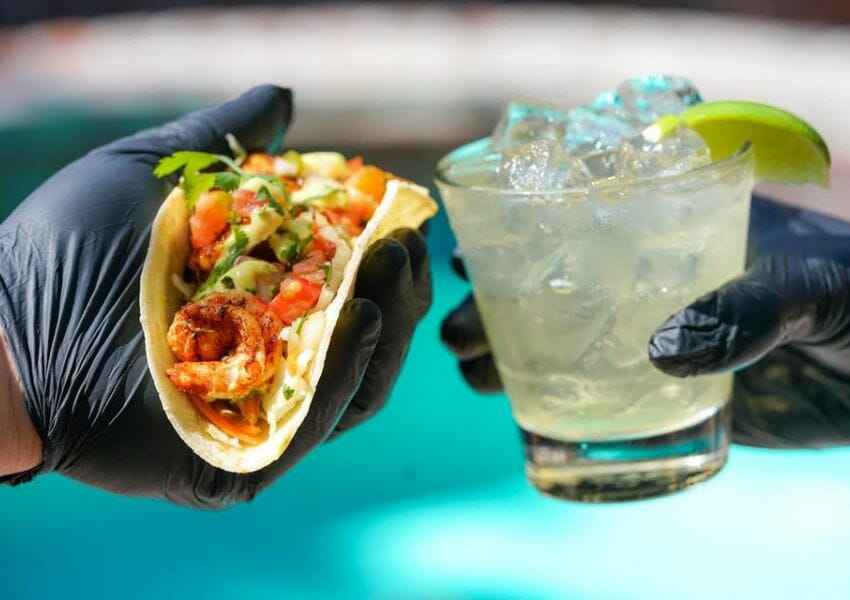 In the mood for tacos and tequila-filled margaritas? Red Mesa Cantina is the go-to spot!  Located at 128 3rd St S. in St. Pete, the restaurant dubs itself as a blend of Latin and Caribbean flavors including fresh ceviches and small plates. If you're attending a Sunday afternoon game at Tropicana Field, stop by for brunch, and start your day with Huevos Rancheros or their Breakfast El Gordo, the kitchen sink consisting of scrambled eggs, sausage, chopped bacon, ham, potato, grilled poblano peppers and onions, jack cheese, pico de gallo, topped with jalapeño cream sauce!
Monday | 11:00am–10:00pm
Tuesday | 11:00am–10:00pm
Wednesday | 11:00am–10:00pm
Thursday | 11:00am–10:00pm
Friday | 11:00am–11:00pm
Saturday | 11:00am–11:00pm
Sunday | 11:00am–9:00pm
📍 128 3rd St S. St. Petersburg, FL 33701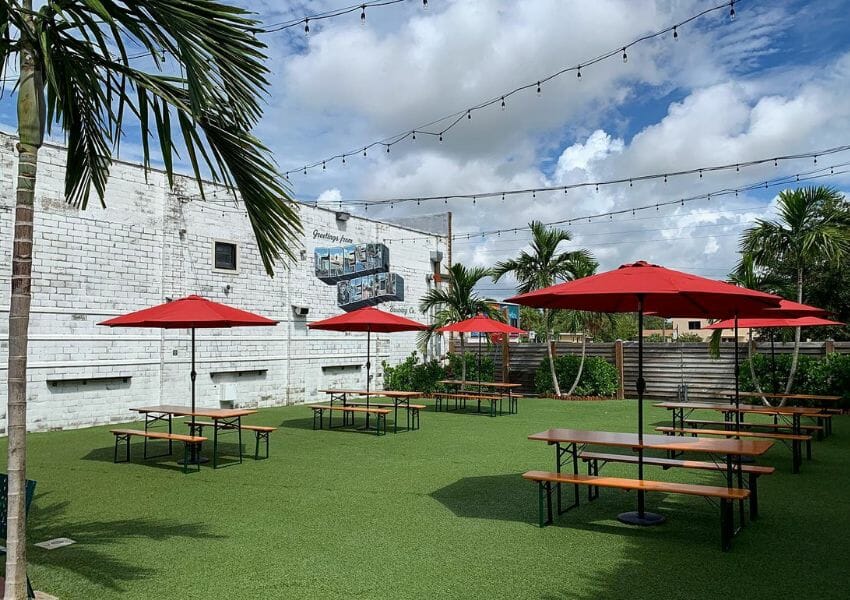 3. Green Bench Brewing Company
Enjoy an ice-cold IPA and your favorite ale in their taproom or large beer garden. Located in the heart of downtown St. Petersburg at 1133 Baum Ave N., Green Bench is open Tuesday-Sunday and on select Mondays for Rays' home games.
At Green Bench Brewing Company, St. Petersburg's first microbrewery, they craft unique beers, meads, and even ciders.  Their motto makes it clear why they are such a popular destination.
"It's more than beer. It's community."
Monday | Closed
Tuesday | 12:00pm–10:00pm
Wednesday | 12:00pm–10:00pm
Thursday | 12:00pm–10:00pm
Friday | 12:00pm–11:00pm
Saturday | 12:00pm–11:00pm
Sunday | 12:00pm–10:00pm
📍 1133 Baum Ave N. St. Petersburg FL 33705
Enjoy the Game at Tropicana Field!
Tropicana Field offers something for everyone, from pregame activities for families and baseball purists to those looking for a taste of the ballpark and even that VIP touch.
Parking and all purchases at the stadium are cashless and must be made via Rays Pay on the MLB Ballpark App, Apple Pay, Google Pay, or credit card. General parking for regular-season home games ranges from $20 to $30 depending on game and availability.
Pre-paid parking is available on a single-game basis in Lots 1,3,4,6 & 7. The cost ranges from $15-$25 and can be purchased in advance at raysbaseball.com/parking.
For More Things To Do In Tampa Bay