THE PLAYERS Championship is back, and we are here to tell you about the changes, COVID protocols, where to watch if you don't have a ticket, and so much more!
For those of you who aren't as familiar, this event happens at TPC Sawgrass Stadium Course and is the biggest sporting and social event of the year! Enjoy everything, from local food vendors, drink stations, Virtual Kids Zone, and so much more! What better way to watch some of the best golfers around the world?
We visited THE PLAYERS Championship this year on Tuesday, and we are excited to share our experience with you. Keep reading FORE more.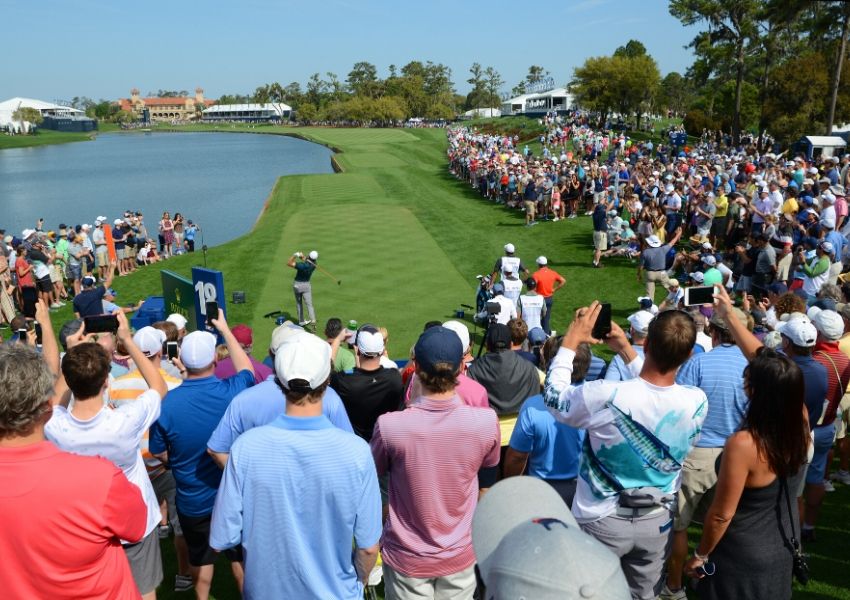 This year, there are many changes at THE PLAYERS Championship to keep COVID-19 safety precautions as the main priority. Head to the Know Before You Go page upon arriving at THE PLAYERS to learn about everything being put into place for fan safety!
This is a Bucket List event, so we have your guide to all the fun things happening at THE PLAYERS Championship 2021 and where to watch if you don't plan on going!
Things to Do at THE PLAYERS Championship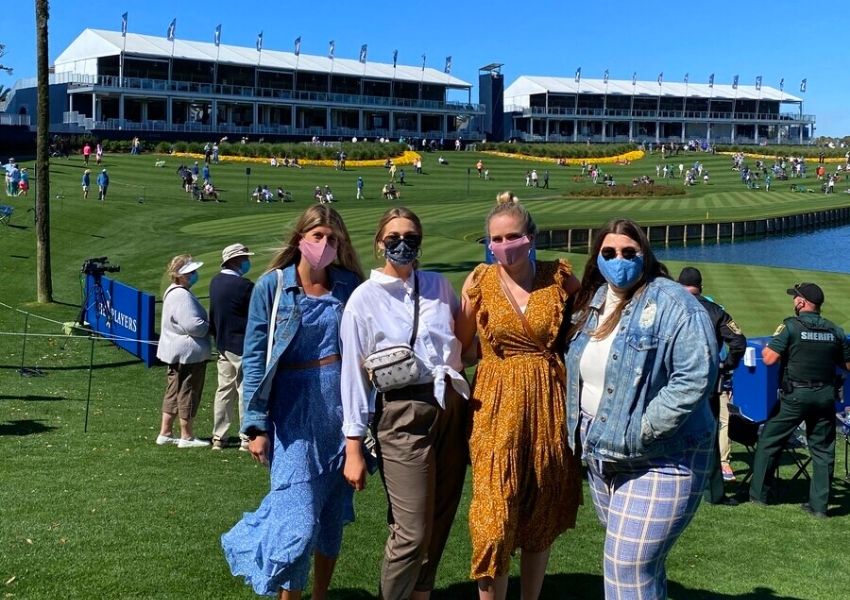 Virtual Kids Zone
The Kids Zone presented by Nemours Children's Health System looks different this year but is still just as fun! It will feature coloring pages, word searches, and more. Once you're finished there, head on over to the PGA TOUR's Links for Learning to find more activities for kids of all ages. 
There will also be a Nemours Kids Day Scavenger Hunt! There will be nine hidden Nemours Gold Squad Kid silhouettes all around the course for you, your friends, and your family to find! You will know the silhouettes based on their signature color, THE PLAYERS Championship gold.
If you're lucky enough to find a cutout joined by one of our Nemours volunteers, complete the task presented to you. While there, take a photo of the Nemours Gold Squad Kid silhouette or take a fun selfie! Feel free to post your journey on social media and tag @nemours and include #THEPLAYERS!
Shop
While you are at the PGA TOUR Fan shop, be sure to check out the awesome merchandise! Fun Fact: THE PLAYERS have partnered with Vineyard Vines on an exclusive t-shirt! 
Fun
Make sure to check out the practice grounds and watch your favorite players warming up. Pro tip: The backside of the practice grounds (left of #4 green) is only open to fans during the week of THE PLAYERS, so take advantage of the chance to see the pros practice up close!
Event Schedule - What to Expect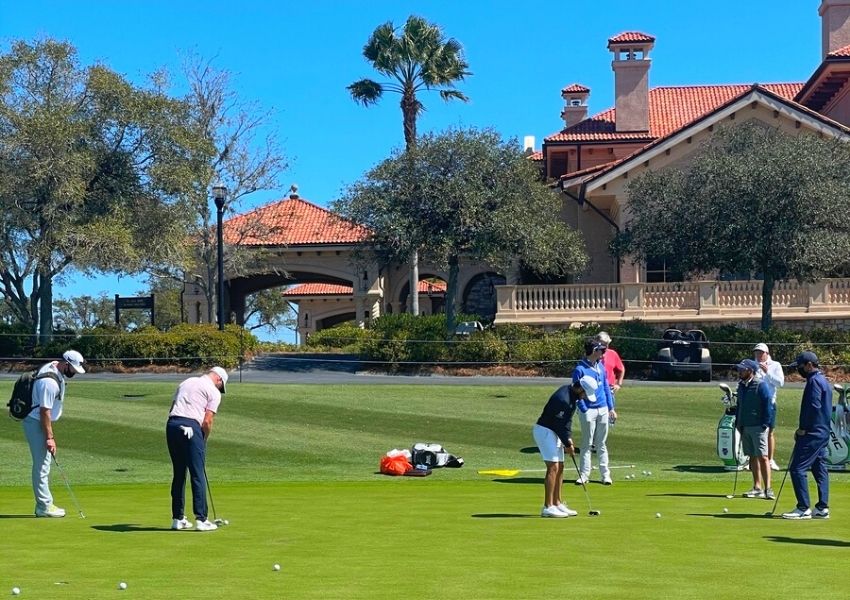 March 9th–14th | 8AM–6PM *ALL GENERAL ADMISSION TICKETS ARE SOLD OUT*
Youth 15 and younger are admitted free of charge when accompanied by a ticketed adult, and there is no limit to the number of youth fans admitted with that ticketed adult.
Tuesday
: Military Appreciation day & Practice Day for Pros • Gates open at 7:30AM
Wednesday
: Practice Day for Pros • Gates open at 7:30AM
Thursday
: First round of competition (threesomes off of No. 1 and No. 10) • Gates open at 7:15AM • Tee Time is 7:35AM Tickets
Friday
: Second round of competition (threesomes off of No. 1 and No. 10) • Gates open at 7:15AM • Tee Time is 7:35AM Tickets
Saturday
: Third round of competition (twosomes off No. 1) • Admission gates open at 8AM • Tee time 8:30AM Tickets
Sunday
: Championship Sunday – Final round of competition (twosomes off No 1) • Gates open at 8AM Tickets The course will close one hour after play every day. If you have any more questions about what to expect, check out
THE PLAYERS General Info page
!
Tuesday–Sunday: a parking pass is required every single day and must be purchased in advance.
Parking costs $15 on Tuesday and Wednesday and $40 on Thursday through Sunday.
Uber will drop off and pick up at the Couples Entry off of ATP Boulevard, which is just steps from the 15th hole.
Four or more park for free: These passes are limited and must be downloaded in advance.
For even more information and options for getting to and leaving THE PLAYERS, check out their parking tips!
Where to Watch If Not Attending
THE PLAYERS are offering Every Shot Live which will be available starting Thursday, March 11th. Every shot by every player will be live-streamed from a full-field tournament at THE PLAYERS Championship, allowing fans to follow any player in the elite field, all four rounds! Sign us up! You can also check out their Watch/Live Stream page to find out what channels and what times you can watch THE PLAYERS from your home! 
We are super excited about THE PLAYERS Takeovers this year because we get to experience PGA Tour Golf from local restaurants and golf courses this weekend. ABBQ, Hoptinger (Five Points and Jacksonville Beach locations), Margaritaville Beach Hotel, and V Pizza (Palm Valley location) will feature nightly food and drink specials and opportunities for fans to win PLAYERS Championship merchandise!
The Area golf courses that signed up include Blue Sky Golf Club, Eagle Harbor Golf Club, The Yards, Windsor Parke Golf Club, and Deercreek Country Club!