Here on the First Coast, long hot days call for tall cool libations! Mocktails fit the bill for those who prefer nonalcoholic drinks or simply want to indulge without overindulging. A mocktail offers all of the deliciousness of a cocktail sans the alcohol. Mocktails have become so popular that many bars and restaurants have developed creative menus of crafted drinks specifically catered to the genre. Exciting mixed concoctions, nonalcoholic beers, and naturally fermented juices are popping up on menus in local establishments all around the Bold City.
Check out These Spots for the Best Mocktails in Jacksonville
We've scoured town for the best mocktails in Jacksonville! Each takes a simple approach to mocktail creation; fresh ingredients, premium quality, and First Coast hospitality. When you're ready to try all of the area's innovative mocktails, check out these hot spots on Jacksonville's Mocktail Trail!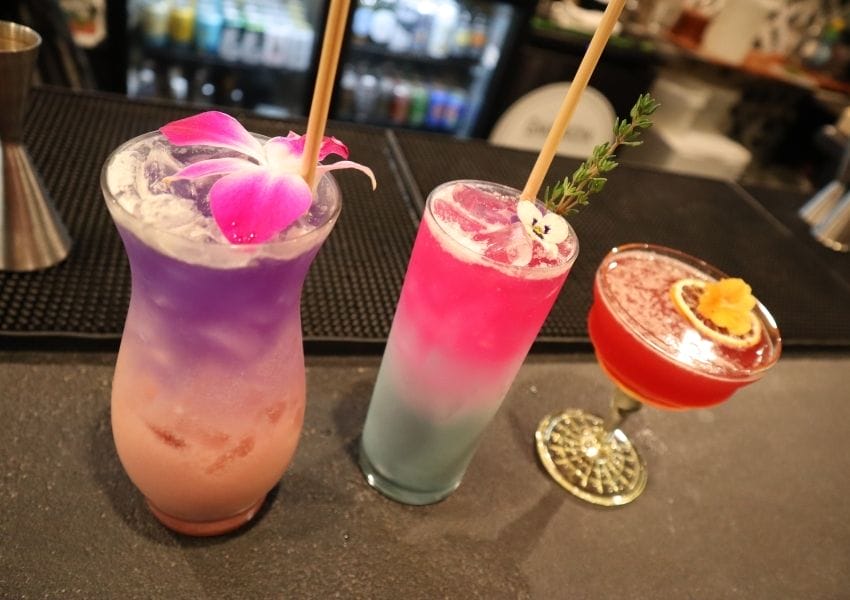 📷 Wildcrafters Booze-Free Bar | UNATION
1. Wildcrafters Booze-Free Bar
Billed as Jacksonville's first nonalcoholic bar, Wildcrafters Booze-Free Bar serves a diverse mix of delicious mocktails! Nestled in the trendy Five Points neighborhood, Wildcrafters meticulously makes teas, kava, and booze-free craft cocktails to delight your pallet. 'Sip' back and relax to local live tunes and enjoy an afternoon on into the evening with friends at Wildcrafters Booze-Free Bar, where the atmosphere and the mocktails are cool. 
Pro Tip: Fun events and great music throughout the week!
Monday | Closed
Tuesday – Wednesday | 2 pm- 10 pm
Thursday – Sunday | 2 pm- 11 pm
📍 2105 Park St, Jacksonville, FL 3220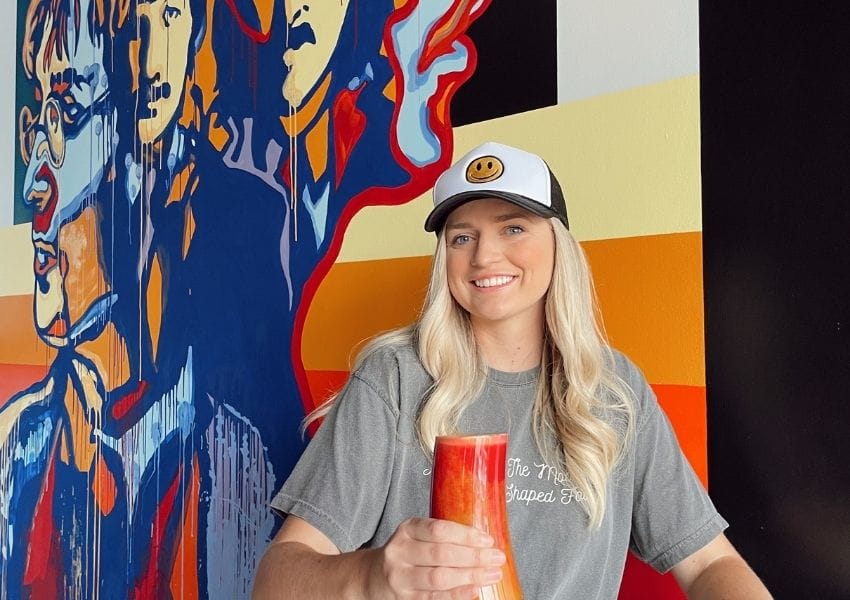 The Walrus is Murry Hill's fun and funky neighborhood hangout! You'll love absolutely everything about The Walrus, especially their mocktails and booze-free drink selections. With crafted juices like the Sunshine Superman, Daydream Believer, and the Dizzy Miss Lizzy, you'll find yourself so entranced with the mind-bending flavors you won't even miss the alcohol! You can eat, drink, and get your creative juices flowing in the laid-back, artsy setting at The Walrus. 
Pro Tip: All drinks are nonalcoholic (BYOB spirits to add if anyone in your party prefers alcoholic beverages).
Sunday- Tuesday | 11 am – 10 pm
Wednesday-Saturday | 11 am- 12 am
📍 948 Edgewood Ave S, Jacksonville, FL 32205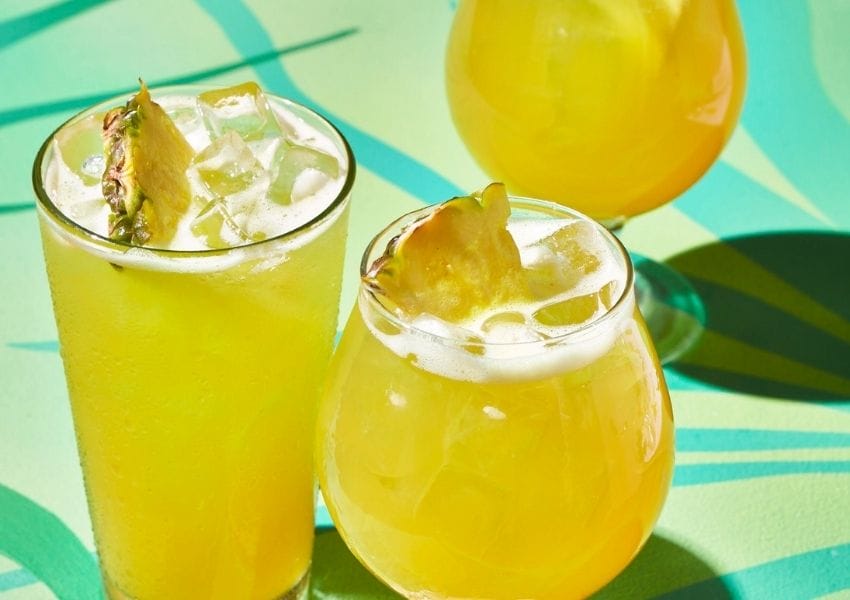 📷 Mellow Mushroom | Facebook
Known locally for producing a pizza of a higher order, Mellow Mushroom has made serving mouth-watering food and libations their mission along the First Coast. Mellow Mushroom has a long 40-year history of making tantalizing crafted mocktails using the freshest ingredients. With several locations around the First Coast, you can pop into a Mellow Mushroom just about anywhere in town! At Mellow Mushroom, you'll come for the mocktails and stay for the pizza!
Pro Tip: Try a mocktail made with one of the signature syrups!
Check website for location hours.
📍 River City, Avondale, Town Center, Jacksonville Beach, Fleming Island, St. Johns, & St. Augustine.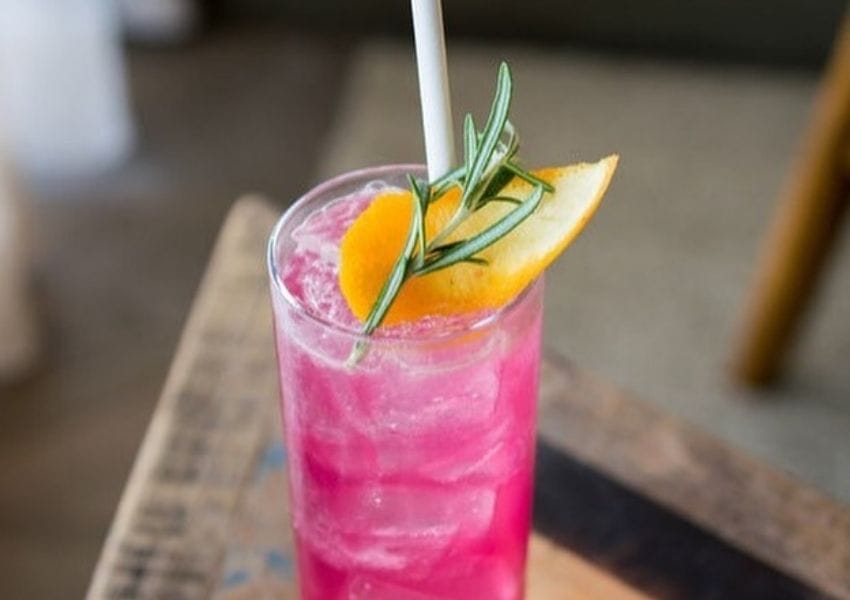 Located in the charming San Marco neighborhood, Town Hall is a community gathering spot where good food and drink are complemented by good company. At Town Hall, you'll be greeted by locals and engulfed in a west-coast vibe as you belly up to the bar for one of the city's best mocktails! Grab your mocktail and sink into Town Hall's comfy lounge, visit with old and new friends, and dine on dishes created by James Beard Nominated Chef Tom! Town Hall has it all!
Pro Tip: Try one of the handmade sodas for pure bliss!
Monday – Thursday | 4:30pm – 9 pm
Friday – Saturday | 4:30 – 10 pm
Sunday | 10 am- 2:30 pm / 4:30 pm- 9 pm
📍 2012 San Marco Blvd, Jacksonville, FL 32207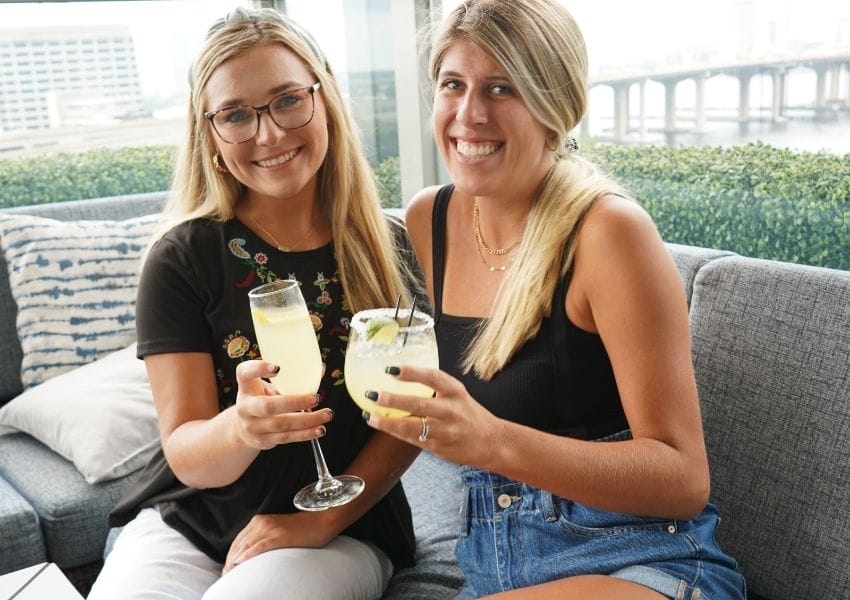 If you envision hanging out with friends or spending a romantic evening sipping mocktails overlooking the Jacksonville skyline and scenic river views, River & Post is here for you! Just stroll into River & Post for dinner and head up to the rooftop lounge for innovative mocktails and one of the city's best views. Located in historic Riverside, River & Post is a trendy urban hot spot with a jaw-dropping backdrop of the breathtaking Bold City that will keep you coming back for more!
Pro Tip: Go for brunch mocktails Sat/Sun 11 am-4 pm!
Restaurant: Monday | 4 pm-10 pm
Tuesday – Sunday | 11 am-10 pm
Rooftop Lounge:    Sunday |11 am-10 pm
Monday – Wednesday | 4 pm-10 pm
Thursday | 4 pm-11 pm
Friday | 4 pm-2 am
Saturday |11 am-2 am
📍 1000 Riverside Ave Suite 100, Jacksonville, FL 32204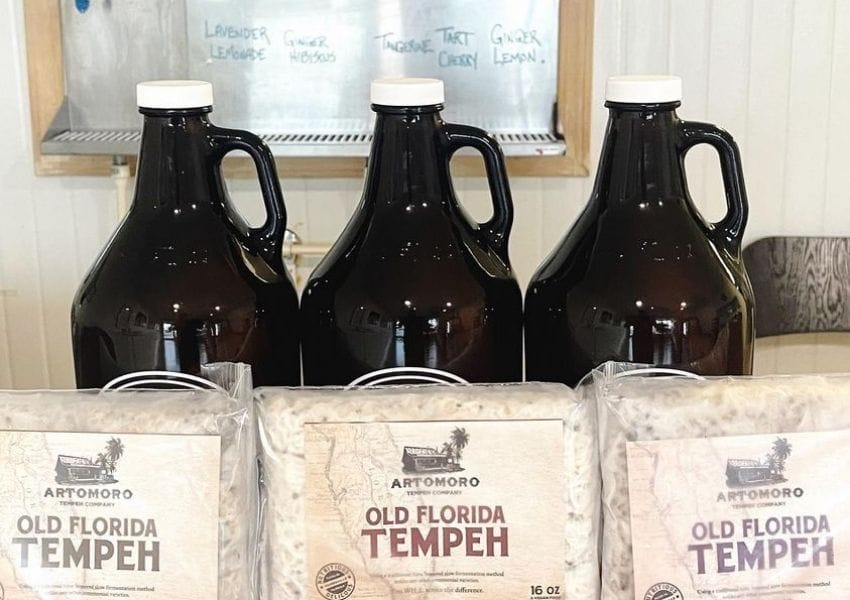 📷 Gnarbucha Kombucha | Facebook
The term 'mocktail' may not conjure thoughts of Kombucha, but it should! Gnarbucha Kombucha in Atlantic Beach is locally owned and lovingly crafts Kombucha, nature's fermented mocktail! A dangerously flavored beverage, Gnarbucha is handcrafted and packed with refreshing tart and sweet flavors that deliver healing probiotics in every sip! Gnarbucha's healthy benefits will leave you invigorated and ready to take on the day! Grab a glass or fill up your growler of Gnarbucha's inspiring natural mocktails!
Pro Tip: Check Facebook for Gnarbucha's farmer's markets schedule!
Monday – Tuesday | Closed
Wednesday – Friday | 12 pm- 4 pm
Sunday | Closed
📍 1257 Mayport Rd, Atlantic Beach, FL 32233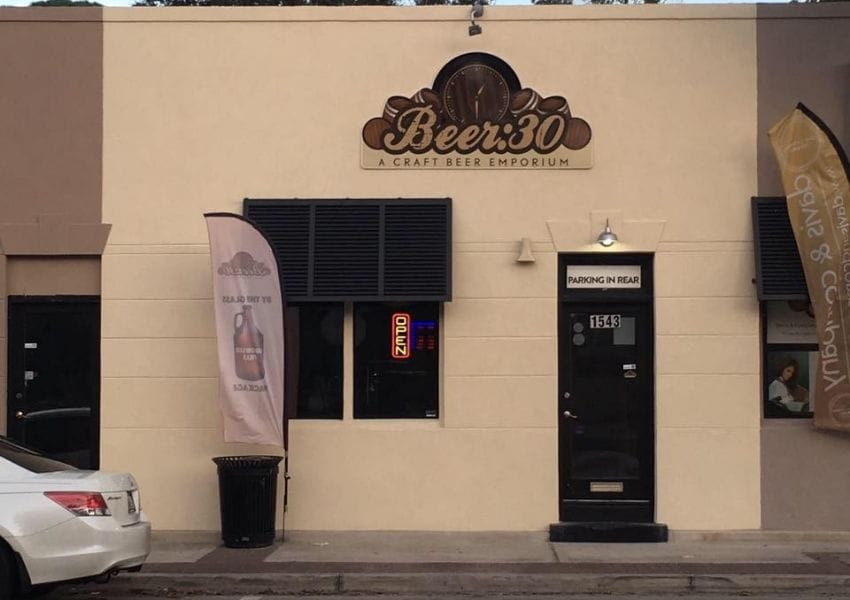 If you love the taste of an ice-cold beer but prefer a nonalcoholic version, head to Beer:30 in San Marco for a round or three of a beer lover's mocktails! Beer:30 is a paradise of all things Ale, Lager, Cider, and more! An authentic beer bar, Beer:30 not only has your grab-and-go craft options, but you can pull up to the bar to enjoy a pint of nonalcoholic brew. This local hangout is the best beer bar & emporium in town; quench your thirst at the Beer:30!
Pro Tip: Bring coins; it's an arcade beer bar!
Monday – Thursday | 12 pm- 9 pm
Friday – Saturday | 12 pm -10 pm
Sunday | 12 pm – 6 pm
📍 1543 San Marco Blvd, Jacksonville, FL 32207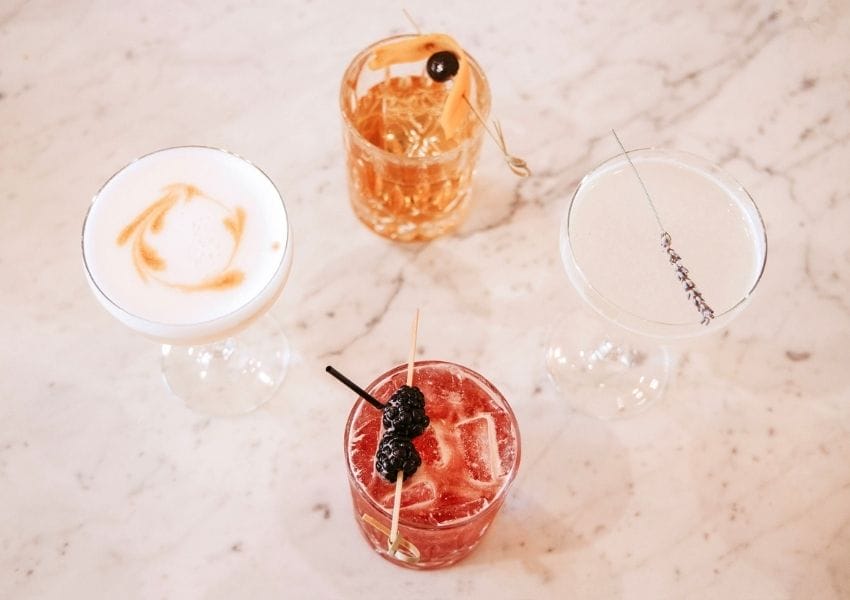 Attached to San Marco's rustic European Bistro AIX restaurant is its bohemian watering hole, Bistro X. At the black onyx bar of Bistro X, you'll find a plethora of mocktails designed to delight your tastebuds! Sip away on mocktail creations with your friends as the bustling sounds of live music fill the air. You will find yourself making Bistro X a part of your day, evening, and nighttime hot spots!
Pro Tip: Great place for date night mocktails!
Monday – Thursday | 11:30am – 10 pm
Friday | 11:30 am- 10:30 pm
Saturday | 5 pm – 11 pm
📍 1440 San Marco Blvd, Jacksonville, FL 32207
Find Your Happy Without the Hangover with Mocktails in Jacksonville
Jacksonville's mocktail scene has something for everyone! Jacksonville is the place to please your tastebuds, from urban modern mocktail blends overlooking the city's skyline to sipping fresh, homemade Kombucha at a local farmer's market! Whether you're hanging with friends, out on a date, or seeking healthy options for your family, you'll find your 'happy without the hangover' with mocktails in Jacksonville.