Florida is theorized to have the largest collection of freshwater springs in the world, with over 700 listed locations. These crystal-clear pools are created from rainwater seeping into Florida's underground thick sequence of limestone and dolomite rocks, called aquifers, where it is cooled and purified. The water is eventually forced up through caves where the ground is the closest, creating spring formations.
Over generations of history, Florida's springs were said to contain healing properties by both native populations and American settlers. Either science or folklore, it could just be that it's so hot here that Florida decided to do us a favor by letting us cool off. And at an average constant of 72 degrees–we're thankful!
If you're thinking about taking a pilgrimage to one of Florida's mystical springs, we've got you covered. We've created a list of unique springs around Jacksonville that you can plan your weekend around.
Also, don't forget to follow Stuff to Do Jacksonville on Facebook, Instagram, Twitter, Pinterest, and TikTok for the latest updates on new events and businesses all around town!
Unique springs in Florida you have to see to believe
📷 Florida State Parks - Facebook
1. Florida Caverns State Park
Take a tour to Florida Caverns State Park and cool off in one of their spectacular cave tours (it's 62 degrees year-round) or swim in Blue Hole Spring.
You'll be able to see stunning stalagmites, stalactites, rimstone pools (one is shaped like South America), and soda straws that are approximately 38 million years old during the guided tour of the underground caverns.
It's truly a unique spring in Florida!
📍 3345 Caverns Rd, Marianna, FL 32446 
⌛ 3.5 hours from Jax
2. Wes Skiles Peacock Springs State Park
Peacock Springs State Park has a spring run and six sinkholes, all in near pristine condition. There are also award winning nature trails and you'll beat the crowds that usually gather at Ginnie. These beautiful turquoise waters are tropical and completely intact without tons of man-made structures around them.
📍 180th St, Live Oak, FL 32060
⌛ 3.5 hours from Jax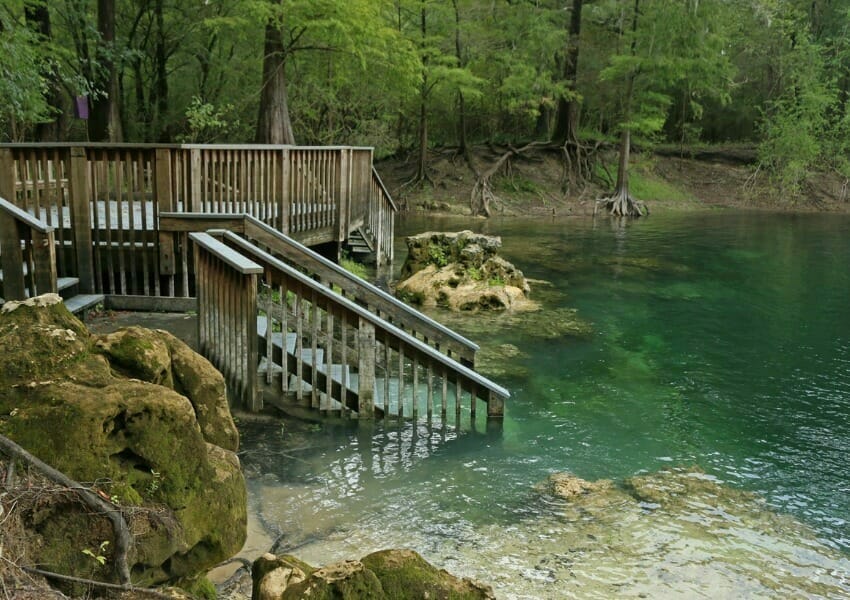 3. Troy Springs State Park
This 70-foot-deep spring is often overlooked but what makes it special is not only its remote location, it also has the remains of the Civil War-era steamboat, the Madison, which arrived there in 1863 to escape northern forces.
Originally intended for steaming through the Suwanne River, the Madison was jerry-rigged to be a gunboat for the Confederate army. It was purposely scuttled in the spring to prevent it from getting into Union hands, and today, its hull and rib timbers can be seen below the spring's surface.
This unique spring is great for the inner Indiana Jones that is wanting to feel some underwater adventure.
📍 674 NE Troy Springs Rd, Branford, FL 32008
⌛ 2 hours from Jax
4. Devil's Den Prehistoric Spring
This natural wonder is a prehistoric spring inside of an underground cave and contains many extinct animal fossils dating back to the Pleistocene Age! While tourists can't take the day to swim in the waters, thrill-seekers are allowed to snorkel and scuba the privately-owned site.
The den is formed by a "karst" window, which occurred when the roof over a subterranean river collapsed. It is truly a magnificent hidden world that looks like it's straight out of the Goonies!
📍 5390 NE 180th Ave, Williston, FL 32696
⌛ 2 hours from Jax
Blue Springs is not only gorgeous but home to nearly 500 manatees! It one of the best places in Florida to see and learn about them. From mid-November to March, hundreds of manatees congregate in the crystal clear waters to stay warm in the year long72 degree spring. A boardwalk around the spring allows visitors to get great views of the manatees–where you're able to watch them socialize and mothers nursing their calves or even giving birth!
Outside of manatee watching, the park offers great paddling, swimming, snorkeling, and scuba diving experiences.
📍 2100 W. French Ave. Orange City FL 32763
⌛ 2 hours from Jax
📷 Weeki Wachee - Facebook
In the 1960's Weeki Wachee Springs is where Elvis Presley would go to watch mermaids.
As strange as it sounds, it's true. These days, you can still catch the attraction like Elvis did at the classic underwater mermaid show, which performs musical numbers at their 400-seat auditorium.
Additionally, Weeki Wachee also features the Buccaneer Bay water park, which hosts two huge water slides. Camping, swimming, canoeing, and exhibits are also available to tourists interested in one of the most iconic Florida roadside attractions.
📍 6131 Commercial Way, Spring Hill, Florida
⌛ 3 hours from Jax
📷 Florida State Parks - Facebook
7. Ruth B. Kirby Gilchrist Blue Springs State Park
The newest addition to Florida's State Parks, this spring is one of the biggest and most gorgeous you'll experience! Compared to other spings, Gilchrist Blue has one of the clearest waters and photogenic landscapes. In addition, it's home to a diverse number of turtles, fish, and other wildlife creatures which can be observed in the spring with absolute clarity.
Located in High Springs, campers can also check out the other springs on-site: Little Blue Spring, Naked Spring, Kiefer Spring, and Johnson Spring–which are also photogenic and open for swimming.
📍 7450 NE 60th St, High Springs, FL 32643
⌛ 1.5 hours from Jax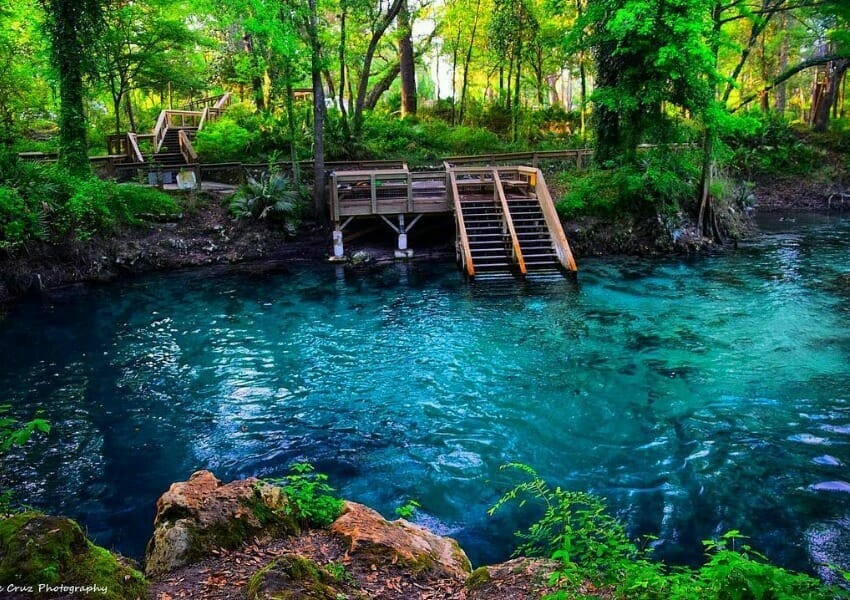 📷 Florida State Parks - Facebook
8. Madison Blue Springs State Park
Madison Blue Springs appeals to the inner Tarzan in us all as one of the most breathtaking first-magnitude springs. In fact, it was voted the #1 swimming hole in the country by USA Today!
82-feet wide, this bubbling crystal-clear spring is taking first place in beauty and picturesque views. Connected to the Withlacoochee River, this spring is great for paddling and picnicking along its lush banks.
📍  8300 FL-6, Lee, FL 32059
⌛ 1.5 hours from Jax
More unique natural springs in Florida
There are so many beautiful natural springs in Florida that it's hard to keep up. Check out this map with all the springs around the state so you can find the best springs near you.
Check out this video of all of our favorite springs around Jacksonville!
If you're still hungry for more adventure, check out these articles below! We're constantly on the hunt for the most fun in Florida and around Jacksonville! 
Also, be sure to follow us on Facebook, Instagram, Twitter, Pinterest, and TikTok for updates on events and businesses all around Jacksonville!